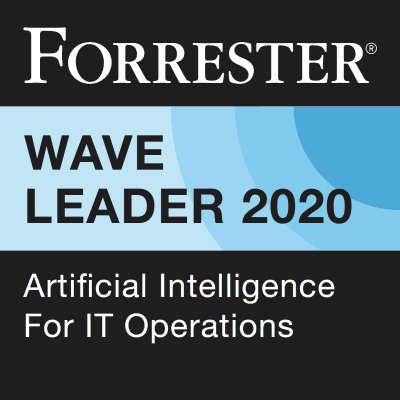 We are excited to announce that Dynatrace has been named a Leader in the Forrester Wave™: Artificial Intelligence for IT Operations (AIOps), 2020 report. Forrester's analysts scored Dynatrace the highest among the eleven companies evaluated in the Current Offering category and awarded Dynatrace the highest score possible in sixteen evaluation criteria. We believe this placement recognizes Dynatrace's leadership in applying AI, automation, and advanced analytics to business and operations use cases to provide predictive and prescriptive answers to IT issues in real time.
Forrester's report states, "Dynatrace offers intuitive and seamless dependency mapping capabilities that provide users with a consistent view across services. It has invested heavily in usability of the solution and the flexible UI design keeps practitioners in context when exploring performance issues. Other strengths include microservices, transaction, and customer experience (CX) monitoring, and intelligent analytics. Reference customers liked the flexibility of the system and the embedded intelligence layer."
That embedded intelligence layer is what cuts through cloud complexity to automatically pinpoint an anomaly in a serverless app, Kubernetes pod, or cloud instance, and provides answers that are accurate and reliable enough to trigger auto-remediation procedures before users are affected.
A new wave of innovation for AIOps
We believe the new Forrester Wave for AIOps confirms Dynatrace's recognition that AI and automation have radically changed the game in operations and are driving the next innovation cycle in enterprise software to help organizations respond faster and more accurately to anomalies.
But not all AIOps solutions work the same way. Most approaches to AIOps rely on machine learning and statistical analysis to correlate metrics, events, and alerts using a multi-dimensional model. Once that data is correlated, however, determining root cause still requires manual analysis that leverages models built on historical data. Machine learning models also take time to build, which makes it difficult for them to pivot and scale with dynamic cloud-native environments.
A radically different approach to AIOps
"Traditional approaches to operations work perfectly…for a world that no longer exists," says Steve Tack, SVP Product Management, Dynatrace. "AIOps solutions need to do more than just provide insight into different technology components. They need to automate anomaly detection and root-cause analysis to provide answers that leverage built-in domain expertise, not just provide metrics that you need tribal knowledge to understand."
Dynatrace's approach to AIOps relies on deterministic, fault-tree analysis to automatically pinpoint the root cause of a problem and its business impact. Dynatrace continuously auto-discovers and maps hybrid, multicloud environments, and all the applications and processes that run on them. With this real-time view, Dynatrace uses its AI engine, Davis®, to process billions of dependencies across the full stack in milliseconds, and automatically identify problems and their precise root cause. This approach enables customers to monitor their infrastructure and applications in full context, with built-in user experience data and business-outcome KPIs that provide actionable, automatable answers to stakeholders across the organization, from digital experience management to toolchain integrators.
Transforming the way people work
The real opportunity of this comprehensive approach is to expand the answers and insights of intelligent observability beyond AIOps into the whole organization.
"Dynatrace's approach to AIOps makes the organization's business objectives a team sport," Tack says. "You can make the cloud work smarter with automation tools that are already in place, like ServiceNow and Ansible, so you can take broader actions that have impacts for different stakeholders at different points of the information life cycle. You can still have a single-domain impact, but the real potential is to provide value across the whole enterprise."
This approach also helps ITOps teams spend less time in incident-resolution war rooms. "Instead of 30 people on a call, you might have three, or maybe they're just on Slack," Tack continues. "By the time an alert happens, analysts have the root cause in front of them, and a recommendation about how to fix it." Precise root-cause answers also mean that teams can automate their hybrid/multicloud operations and enhance their performance and reliability. "It's transforming the way people work," Tack says.
Forrester Wave for AIOps clarifies options
The Forrester Wave is a buying guide that helps organizations consider their purchasing options in the technology marketplace. The AIOps Forrester Wave focuses on the core functionality that AIOps solutions should offer and identifies the leading vendors that provide AIOps solutions.
Update: You can take a deeper look into the latest, full Forrester Wave for AIOps 2022 report here.
To learn more about Dynatrace's approach to AIOps, see the e-book, AIOps Done Right.
We also encourage you to sign up for the on-demand webinar series, AIOps with Dynatrace software intelligence, which describes and demonstrates how it all works.