In early 2014, Dynatrace embarked on a journey to validate the effort and energy that our team has put into developing a world-class product. Most organizations offer a type of certification (think Cisco CCNA, etc.) that are used to show that an individual is sufficiently competent in a product to be granted a certificate showing just that. The Dynatrace Education team created an exam for our leading product–at the time AppMon. In the first few months, we saw significant uptake in this exam which bested even our highest expectations.
The Dynatrace Certification Program is complete with three levels, each building on the previous certification level.
Associate – The Dynatrace Associate Certification validates that you have knowledge of the Dynatrace infrastructure, system capabilities and components, supported technologies, reporting, and analysis features and concepts. This level of certification is intended for individuals who have theoretical knowledge and some hands-on experience with Dynatrace.
Professional – This two-part certification comprises both a written and practical exam. The Dynatrace Professional Certification validates that you have knowledge of the Dynatrace infrastructure, data collection and analysis, integration points and visualization concepts. This level of certification is intended for individuals who have theoretical knowledge and hands-on experience with data analysis for Dynatrace.
Master – The highest level of Dynatrace certification, is not administered via an exam but through a process to determine whether an individual has the knowledge and skillset required to excel with Dynatrace. To become certified as a Master, you will need to demonstrate that you are a true master of the entire product, from planning and architecture design, deployment execution, and troubleshooting of an installation of the product, using the product in a sophisticated set of application problem scenarios.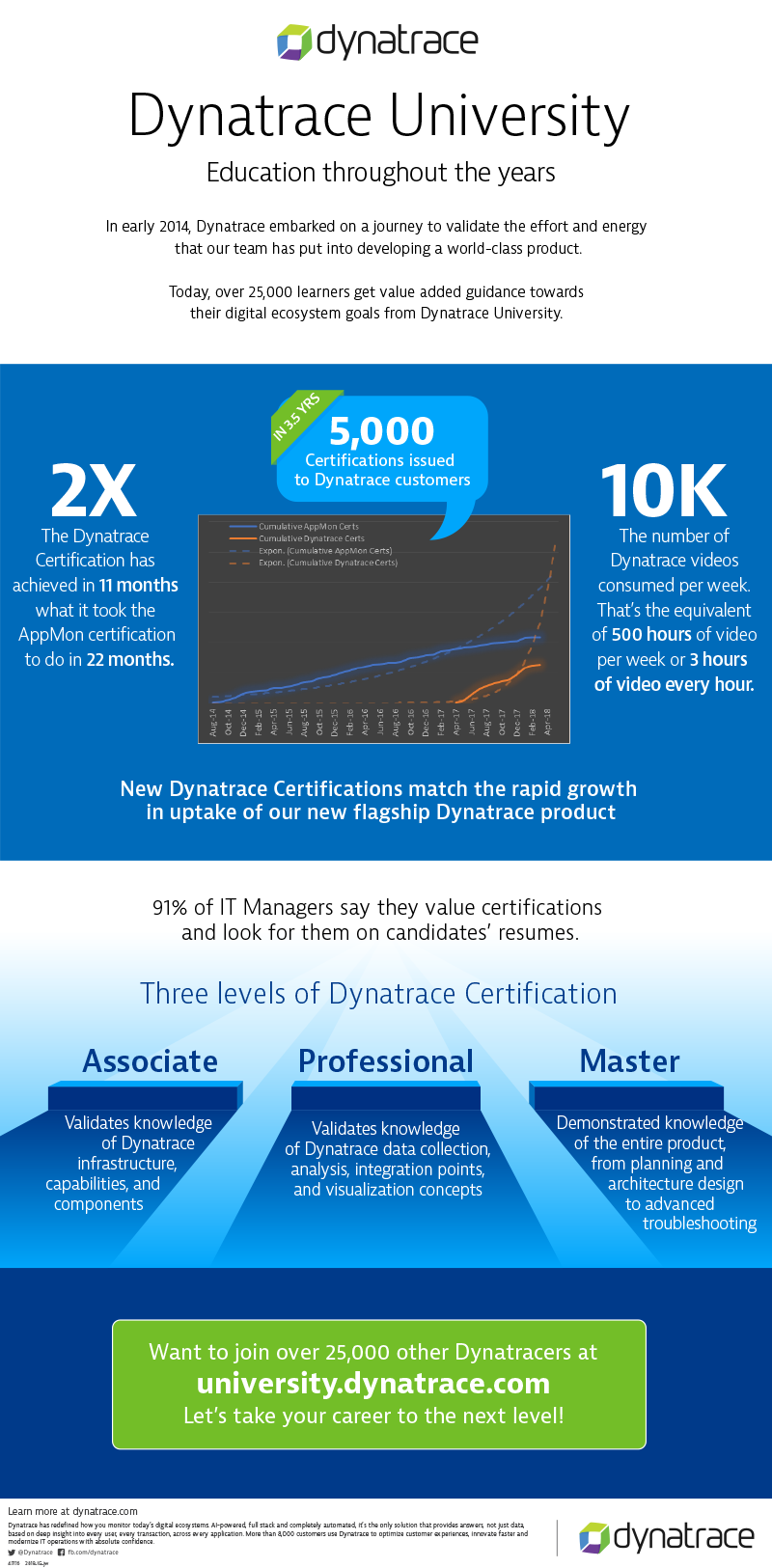 Download the PDF version here.
Certifications validate a user's knowledge and highlight the potential of what a user can do using the tool.  Over the years, the Dynatrace certification program has taken off and we can now claim several thousand individuals certified.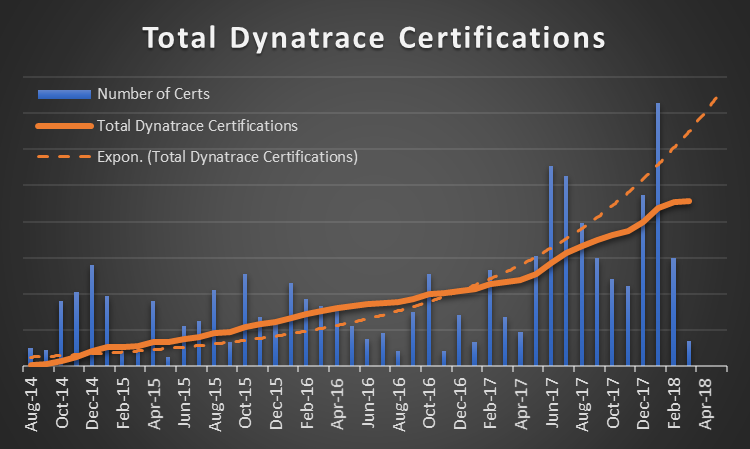 In 2017, the Digital Performance Management (DPM) space had shifted, and Dynatrace led this shift by introducing our new flagship product Dynatrace. Not only is Dynatrace one of the most innovative companies in the DPM arena (living in the Gartner MQ Leaders Quadrant for the past 8 years), but Dynatrace–the product–is also one of the most innovative. Having been designed for the cloud, by an R&D team tasked with creating a cloud first product, Dynatrace has grown leaps and bounds over the last few years.
To prepare for this shift, our Dynatrace Education team created the new Dynatrace Associate exam in May of 2017. Initially expecting the same amount of uptake that we had seen several years prior with the AppMon Associate exam, the team was excited to see that the uptake was much, much greater.
We have had as much uptake in the 11 months that the Dynatrace Associate exam has been available that our AppMon Associate certification had in two years!!!
Dynatrace is constantly pushing itself through our release cycle (26 per year), and our Dynatrace Education team is right there with them. With each new release, our team is 100% focused on the dynamic ecosystem that our product exists in. We are constantly learning and building out our knowledge of the Digital Performance Management ecosystem and incorporating that into our online education.
The growth rate of the Dynatrace Certification matches that of the gravitation of our users to Dynatrace. It also highlights the importance of Dynatrace Education and certifications to our global customer and partner audience.
As it stands, we have issued over 5,000 certifications in nearly four years, and our Online Dynatrace University averages 800-1000 unique learners per week! These individuals are consuming between 350-500 hours of online education per week!! Dynatrace doesn't only offer online eLearning, but we also offer virtual Instructor Led Training (vILT) which sees just shy of a thousand attendees annually.
There is clearly a hunger for knowledge amongst our customers and partners!
"The training didn't just show us how to use the product. We are now looking at our applications and making decisions through a different proactive lens.  A lens that shows us the problem!"
—VP, Digital Application Management, Large Financial Organization
The Dynatrace certifications are designed to show the aptitude and high level of attainment that it takes to drive your deployments, and the certifications are based on real-world use cases. Therefore, we encourage anyone who wants to attempt a certification, to look at our vILT courses first to prepare and get a taste of what the certification exam will cover.  You will receive a great product education experience and you will also be well on your way to certification if that is a goal you have set.  Everything that you need to get started can be found at Dynatrace University.