Digital experience is a highly critical aspect of customer and brand satisfaction. Your customers expect high speeds, constant availability, and predictable outcomes. When done correctly, the technology moves to the background and what takes focus is the incredible and seamless experience provided by your enterprise. The vision of many companies is to have an experience that constantly adapts to the needs of individual customers.
But even the best web metrics and clicks don't provide the full picture unless you can see what your customers see. Also, different teams across the organization historically use different tools, which creates the challenge of pulling together data from multiple tools and creating a common understanding of customer journeys and satisfaction.
Dynatrace digital experience monitoring with Session Replay lets you understand digital experiences as a whole
Dynatrace is proud to introduce Session Replay, which completes the digital experience monitoring capabilities of our software intelligence platform. With Session Replay, you can capture, index, and visually replay the complete digital experiences for every user. You can record all customer interactions with your web application and replay each click and action in a movie-like experience.
Digital experience monitoring in Dynatrace, which combines Real User Monitoring, synthetic monitoring and now Session Replay, provides everything you need to understand the digital experience as a whole and continuously improve it to provide unmatched digital experiences for your customers. Session Replay makes it easy for your QA teams to reproduce production issues and your developers can bridge the gap between code and real life. And, your executives will love it because they get to see how well your newest features are received by customers.
Providing value across your organization, Dynatrace digital experience monitoring with Session Replay:
Increases conversions, customer satisfaction, brand confidence, and loyalty.
Accelerates time to market in fixing malformed pages, infinite spinners, and production-critical errors.
Shortens mean time to resolution (MTTR) for issues.
Reduces costs and call times.
Provides precise direct feedback cycles for UX, developers, usability experts, and business owners about problems, opportunities, errors, usability issues, and customer interest.
All-in-one, easy, automatic
Dynatrace Session Replay provides native support for single page applications and JavaScript frameworks, overcoming the limitations of traditional network-based approaches. It easily and automatically provides a movie-like experience of each individual customer experience in 4K even within highly dynamic environments.
Issues seen with Session Replay can be tracked through the entire cloud stack to the precise root cause, even down to a specific line of problematic code.
"We are always focused on the guest experience at Royal Caribbean International, and as we move workloads to the cloud, the smooth operation of the digital channels is increasingly important," said Carlos Gutierrez-Menoyo, Manager of eCommerce BizDevOps & Support, Royal Caribbean International®. "Dynatrace® has developed an all-in-one solution where it's all streamlined, meaning we can concentrate on optimizing the digital experience for our visitors as they find their ultimate vacation."
Session recordings at your fingertips
Once you activate Session Replay, user sessions are automatically recorded including actual mouse movements, storing exactly what the user sees. By clicking the Play button for a specific customer journey on the user sessions page, you can see how the user interacted with your application and what they saw.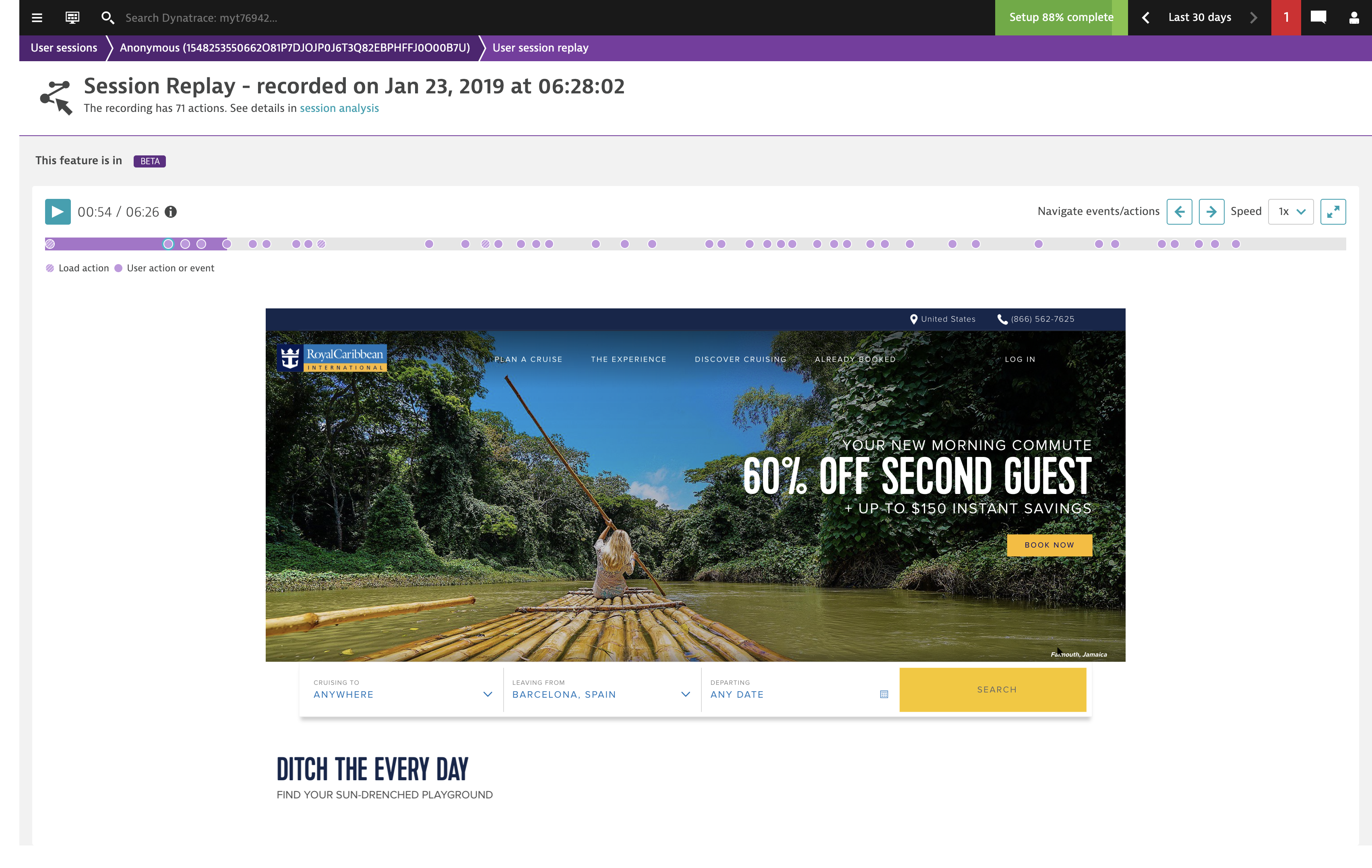 Personal data protection
Because Session Replay records every user interaction and captures all input values, protecting sensitive user data during Session Replay is a must. This is why Session Replay is set up to mask all user input values by default. Additional settings for further masking of specific content and user-identifying attributes are also available.
Several masking options are applied by default to protect all sensitive user data. Most web applications use a combination of the following:
Form field masking for all form elements.
Password field masking for all password fields.
Content masking for data that is collected from masked input fields and displayed on a different page.
Attribute masking for hidden attributes.
Enable Session Replay
If you wish to enable Session Replay for your application, ensure that your system meets the following prerequisites:
Dynatrace version 1.164
To ensure proper JavaScript tag injection, OneAgent version 1.163 must be installed on the host where application sessions are to be recorded (OneAgent minimum version 1.157 is required for all other monitored hosts in your environment)
Real User Monitoring has been enabled for your application (see instructions below)
Current Dynatrace Digital Experience Monitoring license
Managed deployments only: A secondary disk configured to store user session data
To enable Session Replay
Select Applications from the navigation menu.
Select the application you want to configure.
Click the Browse […] menu button and select Edit.
From the Application settings menu, select Session Replay.
Are you interested?
Dynatrace will launch the Session Replay beta program at the end of February 2019. During the beta period, Session Replay usage will be charged against your licensed DEM units. If you're interested in participating in the Session Replay beta program, contact our DynatraceOne team by using the live chat provided in Dynatrace.