We've been marketing AI as a key differentiator for nearly five years at Dynatrace. Problem is, these days everyone else is too – making it even harder to figure out if your message is getting through. But, is AI a hype or reality?
We've been marketing AI as a key differentiator for nearly five years at Dynatrace. Problem is, these days everyone else is too – making it even harder to figure out if your message is getting through.
And, to make matters worse, the technical audience we market to are skeptical of marketing jargon, which means, no matter what us marketers say – they probably won't believe it anyway. And why would they? When the software and product(s) they've been working with for years operate "so well" and gets the business from A to B.
That's why it's so easy to dismiss new technologies today. Companies are skeptical and resistant to change. But one of my favorite quotes comes from Andy Lofthouse, Senior IT Analyst at Virgin Money who said to me at our Perform event;
"There is no way I believed Dynatrace could do what they said they could do."
"And I replied ?"
"I was wrong."
So, reminiscing on this reaction, I wanted to test our community and see if my theories were correct.
I asked some very simple questions of our AI engine Davis®.
Do you trust the answers it provides?
Did you think Davis was going to help you prior to using Davis? (Basically, are you a skeptic!)
Did you think finding the root-cause with Davis was possible? I.e. let's get specific about the primary answers it provides and whether it was possible.
The results didn't shock me, but maybe if you're reading this and are one of the skeptics out there, the results might shock you.
Do you trust the answers Davis provides?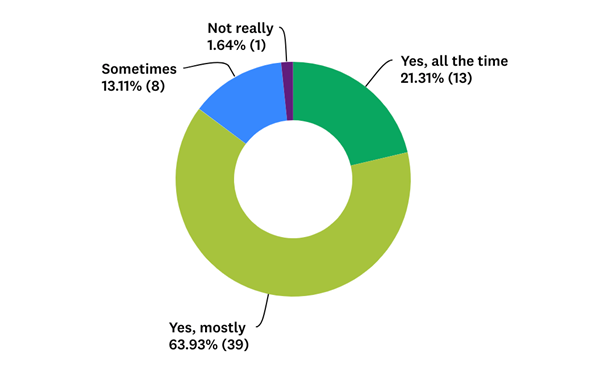 Approximately 85% of respondents said they trust the answers either all the time or most of the time. Which is very high considering the next answer…
Were you skeptical about an AI engine's ability to transform or help improve your IT/Cloud operations?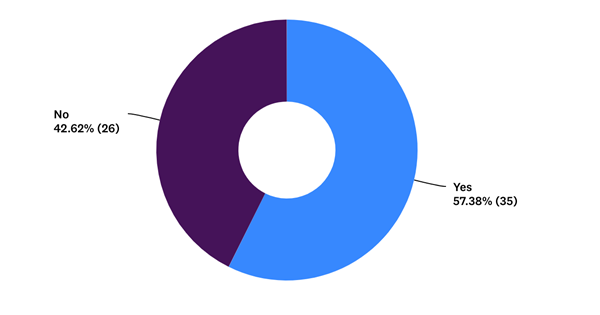 The majority – almost 60% – were skeptical of using an AI engine to help them in their role. So, wait a second. First answer was, "Yes, I trust the answers", but the second answer was, "I didn't beforehand". So, we asked another question:
Did you believe it was possible to instantly pinpoint the precise root cause of a problem before using Davis?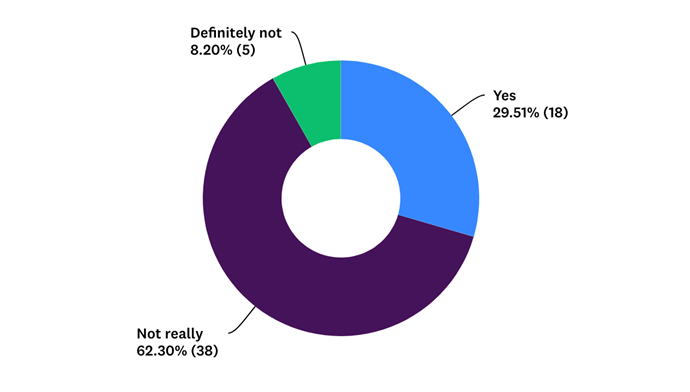 One of the primary, but not only, use cases for using an AI engine is to be able to pinpoint precise root-cause of performance issues. Again, just over 70% of people didn't think this was possible.
This is a big statistic because it potentially means that people were – and likely still are – working manually and using basic methods to find the root-cause of issues. And, what we've come to see over the last five years is, these old methods are inaccurate and time-consuming. As a result, IT teams are spending too much time findings problems, rather than focusing on more important tasks such as development and innovation.
Doing business with Davis
So, how can we convert those skeptics to successors?
It's easy to show a few numbers about how many people use Davis and trust the answers provided, but to convert those that don't trust the answers from Davis let me give you a little more insight into our AI engine; looking at what it does and how it helps.
What is Davis?
Davis is our AI engine, built at the core of our Software Intelligence Platform, Dynatrace.
Automatically processes billions of dependences to serve up precise answers.
Deterministic AI engine that identifies the actual root-cause with unmatched precision, in real-time.
But it's easy, as a marketer especially, to say all of the above. But as I said at the start; most technical customers we sell to don't believe or trust us marketers. But maybe skeptics trust our customers, who live and breathe Davis, as the results they've found have been phenomenal:
Our survey found since using Davis, 81% of respondents have saved more than 30 minutes each day. And that's not all. Users have been able to improve IT productivity (39%), get answers quicker and resolve problems faster because Davis provides all the information for them (30%) and over three quarters (77%) are using Davis to better understand user experiences. And, with the latter becoming an increasingly important focus for enterprises today – why wouldn't you want to use an AI engine? Or more specifically, Davis?
But if you're still not convinced – here's what our customers have to say about Davis:
"Davis picks up things we weren't even looking for before. Traffic levels have increased, an indicator to say something's changed – no one sets a dashboard up for that, it's just Davis telling us." – Chris Deane, EE.
"The Dynatrace AI tells us the truth and you can see the problem, record it and go through all the layers and there's the answer." – Mark Forrester, Mitchells & Butlers.
"The AI gives us meaningful insights for proactive problem remediation, true value." – Eric Harris, DISH
"The AI gets us that bang for the buck, root-cause analysis. When you've got 300,000 dependencies that for a human takes time. With AI built at the core, and the root-cause analysis and user session compiling you get the whole visibility and that solves problems for us because it tells us exactly where to look, what the problem is and then we can focus on solving it." – Gary Carr, American Fidelity
Does this sound like something you need? Find out more about Davis can help you here – or hear our customer success stories first-hand at our Perform event in Las Vegas this coming February. Or, if you're already using Davis – tell us about your experience by taking the survey yourself.