It's been a few weeks since Gartner released their annual Magic Quadrant for Application Performance Monitoring (APM), which not only recognized Dynatrace as a Leader, but positioned us highest for ability to execute and furthest for completeness of vision.
After having time to reflect, I wanted to share my thoughts on what this recognition means for our partners. But first, I want to voice my appreciation to all our partners for their role in our Dynatrace success. Without our partners constantly pushing us to innovate and develop the best product possible, we don't believe we would have been positioned where we are.
We believe being named for our highest and furthest overall position for our ability to execute and completeness of vision is a true acknowledgement of the journey we embarked on over the last few years; reinventing our platform from the ground up, architecting and engineering AI, automation, scalability, and many more enterprise grade features at the core of the new Dynatrace platform to address the challenges we saw coming.
So, what do we believe this recognition from Gartner means to our partners? Well, there's always a lot of noise made by all vendors following a major report like the Gartner Magic Quadrant for APM being published, but this year's report highlights the business opportunity for Dynatrace partners more than any other has done before.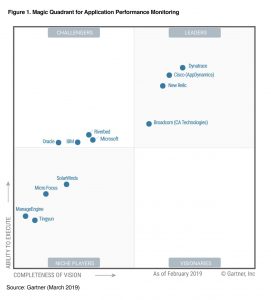 Cloud challenges become partner opportunities
Enterprises are encountering significant challenges as their industries evolve, and as new competitive threats emerge from highly agile newcomers and existing competitors who are already embracing this change.
As a result, enterprises must transform themselves to become high performance software development and operations organizations. They achieve this through adoption of cloud platforms and embracing cloud native application development to create an unfair competitive technology advantage in their markets.
But, building and operating these new cloud platforms and cloud native technologies is proving extremely difficult for enterprise IT departments that don't have the resources, skills, experience, or scale required to deliver successfully.
This gap, however, creates a massive opportunity for Dynatrace partners, who specialize in delivering projects that involve one or a combination of multiple IT disciplines and technologies. Customer projects include DevOps and NoOps adoption, building new cloud native applications that leverage automated CI/CD pipelines and containers, running large scale IaaS and PaaS environments, ITSM integration workflows and automation, and more.
Beyond APM, to software intelligence and more with Dynatrace
Despite the challenges enterprises face, Dynatrace helps businesses succeed by taking a different approach to monitoring and moving beyond APM.
Reinventing our platform with AI at the core, enables monitoring across all applications and infrastructure to provide insights into areas which where once never accessible. This results in a much larger scope of opportunity for our partner engagements and provides partners with the data and intelligence they need to successfully achieve project goals and business outcomes for their clients rather than simply managing APM tools.
With the ability to do significantly more than traditional APM, Dynatrace partners are constantly finding new ways to help deliver enterprise projects and as a result push Dynatrace to innovate further. In doing so, we believe this has enabled us to strengthen our status and leadership in the market and not only put a vision in place but execute it effectively.
Product alone is not enough
Offering a platform alone isn't enough in today's fast-moving cloud landscape. Instead, it's about having a platform that offers the technical capabilities needed in combination with our partners skills, experiences, resources, and scale that are truly helping our enterprise customers transform their businesses successfully.
And, in turn, it's the feedback and vision provided by our partners that allows us to continue to look ahead to the next challenge on the horizon.
That's why we believe we have gained this recognition within Gartner's 2019 Magic Quadrant for APM. From offering all the capabilities of APM – and more – we will continue to do this in the future, as we continually innovate our product and better our partner experience.
Want to know more?
The 2019 Gartner Magic Quadrant for APM is now available to download, and you can check it out here and read why we achieved the recognition we did.