Is your company running Hackathons, Hackdays, Hackfests, Codefests or Innovation Days? If not, you should consider including that into your "DevOps Cultural Change" agenda as hackathons result in the following benefits:
Improved Cross Team Collaboration
Better creativity from your engineers
Improved the standing of IT with business
Creates innovation for your organization
Educates your employees on new technology & processes
If you think "Well, that's easy to say but where's the proof?" then please don't take my word for it, but instead Paul Younghusband, CTO at END. Paul recently joined me on one of my Performance Clinics, which you can watch in our on-demand webinar library or stream it via YouTube, and he gave some eye-opening insights about how they run hackathons, ways to sell it to leadership & business and how it benefits their employees and improves culture.
Unleashing creative spirit increases engineering happiness
One of the most interesting things Paul said was that normally engineers are told by businesses what to implement. This approach gives them limited room for creativity if they are given exact guidelines on how new features should look and how users should navigate through their online journey.
In a hackathon, however, the engineers can define their own projects and come up with their own features that they think will benefit the business. This truly unleashes the creativity within engineers and ultimately makes them happier in their job.
One of these examples is what you see in the image below – a team in their recent Dynatrace-focused Hackathon built an app that's extracting live business data from Dynatrace and plotting it on this world map. Every time a new sale comes in, data such as the region and revenue show up in the map as well as in the ticker giving business a real-time dashboard to understand whether their marketing campaigns work as expected or not: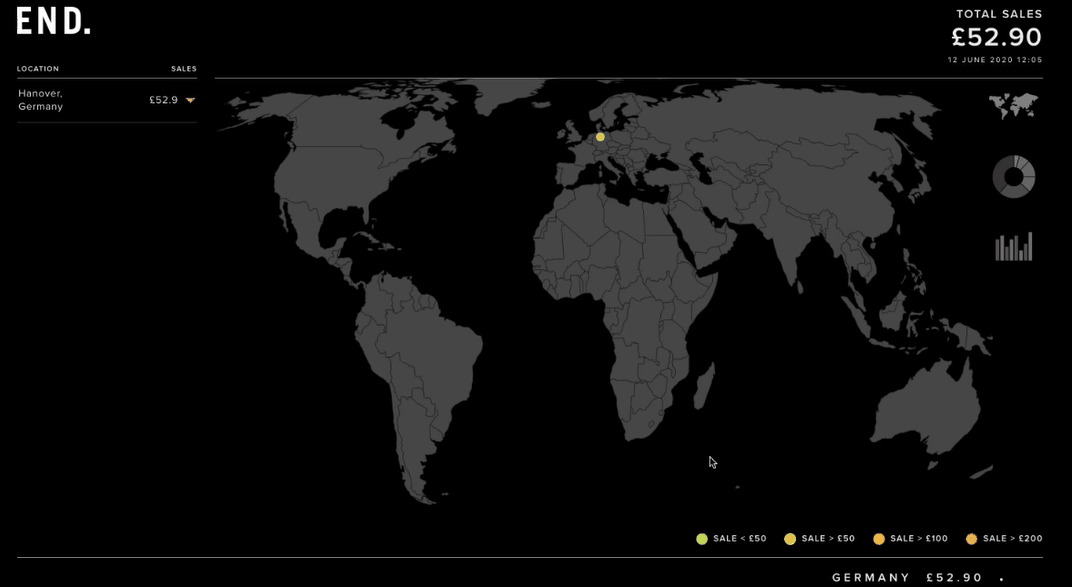 Increases standing of IT with the Business
One aspect Paul highlighted is that business got invited to the final presentation at the end of the hackathon week. He said that this is always an eye-opener for the business to see all the creative ideas like the one mentioned above. This truly helps to close the gap between business and IT, as both have ideas to contribute to the overall success of the company.
Another example that got business excited was a project by another team that focused on better detection of bots. END. runs online raffles from time to time but many end-users voice their frustration on social media that they never win. One of the suspects is that sophisticated bots are faster than humans and win all the prizes. This is similar to bots that buy concert tickets within seconds once a new show goes online – leaving the real fans without a ticket to their favorite band.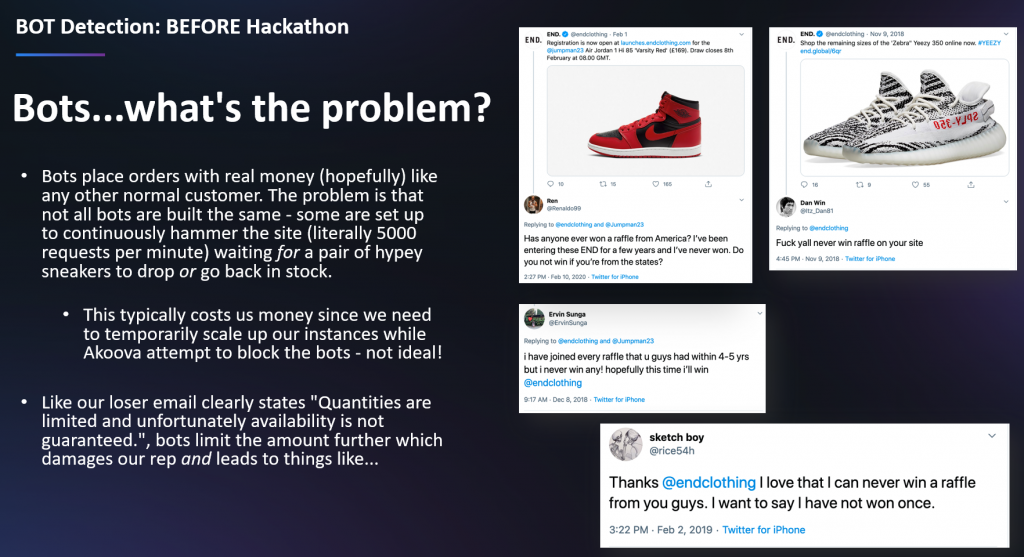 To address this problem the team built an app that leveraged Dynatrace RUM data to detect users with certain click behaviors and therefore mark them as potential bots and block them for certain activity.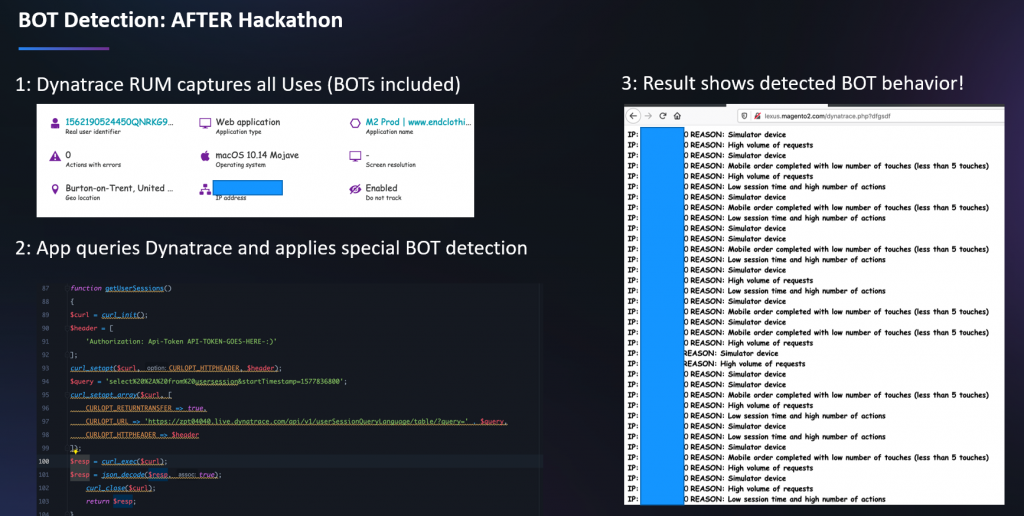 Educates engineers on new technology
One benefit of hackathons is however clearly the exploration of new technology. One of the teams at END. decided to explore the monitoring capabilities of Dynatrace as it comes to Kubernetes – which is also becoming one of the future platforms for the company.
Dynatrace has recently announced several new capabilities as it comes to monitoring Kubernetes workloads and the team was able to leverage the OneAgent technology as well as the Kubernetes Monitoring Integration to get full-stack visibility into this dynamic environment: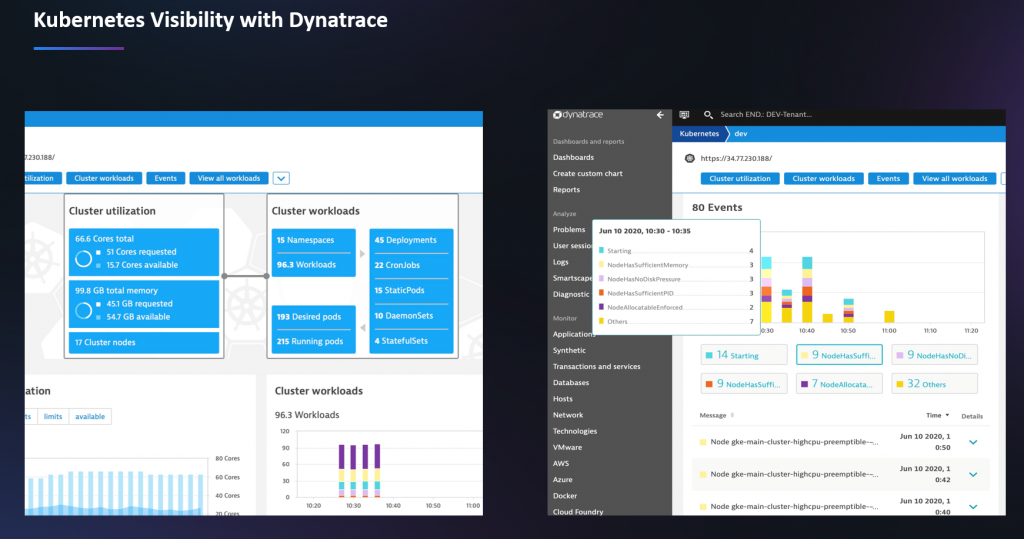 To hack or not – That is not the question
I hope you find time to watch the full Performance Clinic episode and hear directly from Paul on how they plan, execute, and leverage hackathons in their organization. Hearing his arguments and benefits makes me believe that these events are underestimated as it comes to bridging gaps between different departments in an organization. They are a great way to help you with your cultural transformation which we have heard many times accounts to about 80% of overall transformational challenges.
So – the question is not "To hack or not". The question is: "When is your next Hackathon?"