Dynatrace built from the ground up to monitor web-scale environments
Traditional monitoring doesn't scale
---
The monitoring tools that may have served you well in the past were never designed to handle elastic cloud infrastructure deployments, microservices and containers, and IoT.
Every APM solution—except Dynatrace—is still built on top of an older single-server architectural paradigm and, by extension, still relies on the traditional alert-based monitoring approach.
But that architecture isn't nearly resilient enough for today's highly distributed and dynamic environments, and trying to monitor them manually by watching dashboards just doesn't work anymore.
So we came up with a totally different approach
---
The new reality of today's application landscape requires a new way to monitor. Dynatrace was developed from the ground up around a highly elastic cloud-native architecture and artificial intelligence to scale up and out to 100,000+ hosts in even the most diverse and complex environments.
Instead of making you try to keep up with everything manually, Dynatrace automates all the discovery, modelling, and analysis so you can deliver exceptional application experiences at the speed of modern business.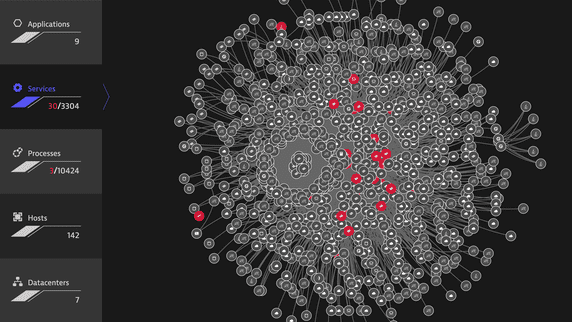 Why Dynatrace scales, and traditional tools don't
---
| With Dynatrace . . . | With traditional monitoring tools . . . |
| --- | --- |
| One single agent per host monitors everything—out of the box | Multiple agents per host—manual configuration required |
| All metrics unified in single data repository | Different data sets stitched together |
| Cloud-native elastic grid architecture scales to 100,000+ hosts | Legacy architecture restricts size of monitored environment |
| Automatic topology discovery and mapping of entire stack—every component, every dependency, every technology—end to end | Constant manual reconfiguration of rapidly changing topology—with limited visibility of dependencies |
| Machine self-learning continuously and automatically understands "normal" behavior for your specific system | Thresholds need to be set manually—an impossible task with ephemeral services and dynamic cloud instances |
| Auto-discovers and monitors containers without touching images | Need to manually instrument containers individually |
| Native support for PaaS platforms and IaaS components | Limited support for PaaS and IaaS technologies |
| One single actionable notification—no alert storms! | You get flooded with alerts |
| AI automates analysis—proactively identifying anomalies and pinpointing underlying root causes | You still have to analyze everything manually—usually only after the problem has already hit customers |
| Open APIs and out-of-the-box integration with orchestration layer tools | Limited support for orchestration layer tools |
See how else Dynatrace compares to traditional monitoring
Cloud-native apps need cloud-native monitoring
---
We made the transformation to cloud-native ourselves, so we know firsthand how to build a solution that won't break at web-scale. Dynatrace architecture uses the most robust enterprise proven cloud technologies to be even more resilient and available than the system it monitors.
Runs on Amazon Web Services (AWS), across 4 availability zones
AWS elastic load balancing (ELB)
Cassandra-based Hypercube storage
Elasticsearch-based search engine
Never runs beyond 2/3 capacity
Amazon EC2
Amazon RDS
Amazon S3

Amazon Web Services (AWS)

AWS Elastic Load Balancing (ELB)

Cassandra

CloudTrail
Cloudwatch
Elastic Beanstalk
Elastic Block Store

Elasticsearch
The scalability challenge of big data
---
As your application environment scales up and out, the volume, variety, and velocity of data multiplies exponentially. With the traditional monitoring approach, you'd drown in this web-scale sea of data before you uncovered meaningful insights.
That's where artificial intelligence comes in. AI can absorb huge amounts of information, automatically "connect the dots" between billions of metrics and millions of dependencies, and perform in milliseconds the kind of analysis that takes hours or days with the traditional manual monitoring approach.

Double the number of apps you monitor
---
Analysts estimate that most organizations typically monitor no more than 5% of their apps for performance and availability. That puts a lot of business at risk, but the reality is that there just isn't enough time or manpower to monitor everything if you're using traditional tools.
Automated AI-powered monitoring can double the number of your monitored apps—literally right away, with no additional headcount or infrastructure investment.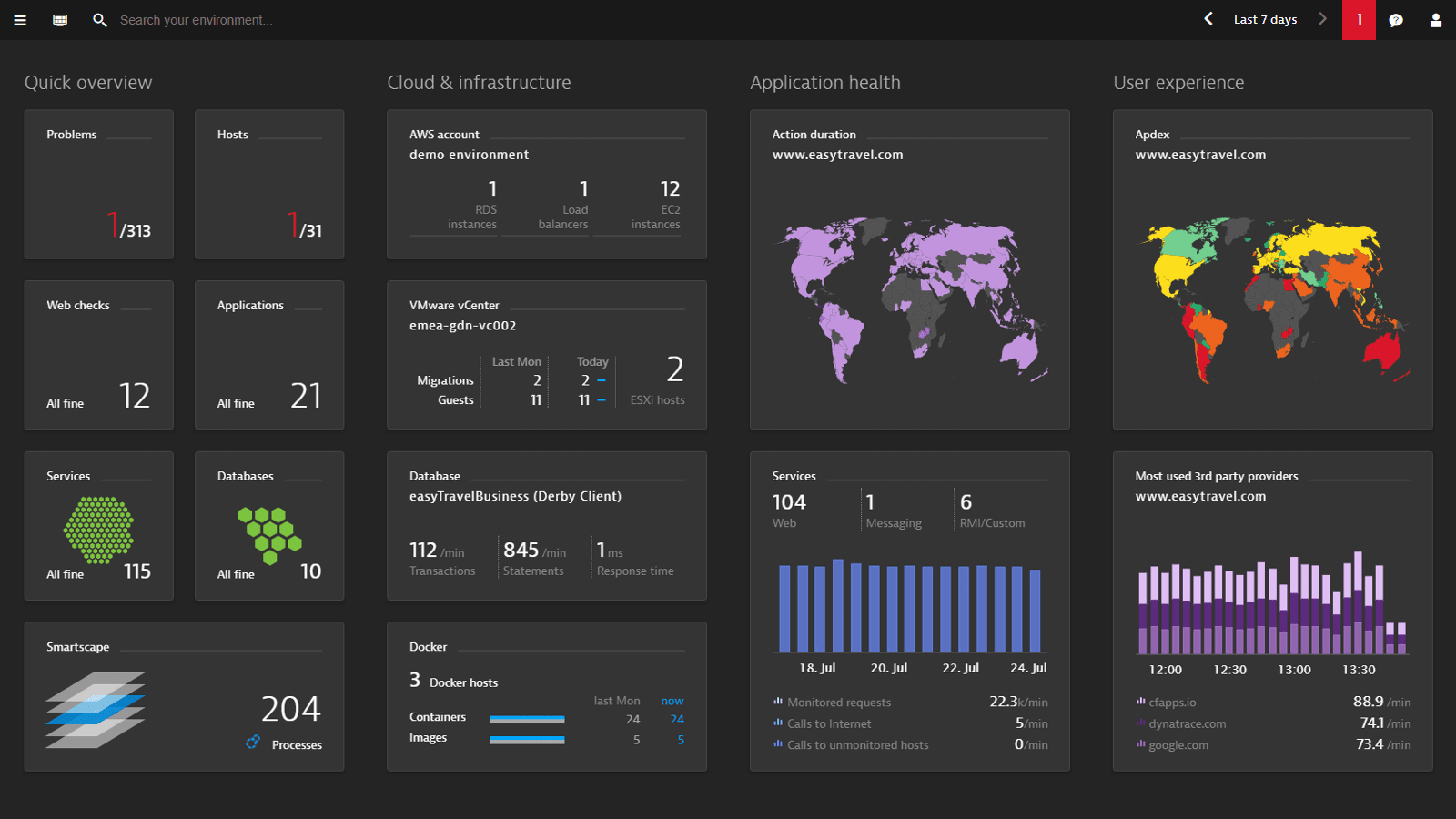 Future-proof your monitoring
---
Dynatrace integrates seamlessly with the technologies of today—and tomorrow. We're cloud-native ourselves, so we built a solution that welcomes modern technologies. In fact, the more diverse your ecosystem, the more you need Dynatrace.
Pay as you grow: Dynatrace elastic pricing models
---
Dynatrace offers different flexible pricing models to meet your business needs. With our pay-as-you-go philosophy, you pay for only what you use—whether that's full-stack application monitoring, real user monitoring, cloud infrastructure monitoring, synthetic monitoring, or some combination.
Or get full-featured Digital Performance Management for enterprise and web-scale environments.
And there's no charge for your first 15 days of monitoring.
Purely consumption-based pricing model (Dynatrace SaaS)
Either perpetual licenses or annual plans for enterprise and web-scale monitoring (SaaS and Managed)
Are you a managed service provider looking for a monitoring solution for your customers? Look no further and contact us today!
Start your free Dynatrace trial today!
---
You'll be up and running in under 5 minutes:
Sign up, deploy our agent and get unmatched insights out-of-the-box.
Just a few of our enterprise customers
Vision and Execution leader
---
Positioned furthest in Completeness of Vision and highest for Ability to Execute: The Gartner Magic Quadrant for Application Performance Monitoring (APM).
Download the report