Dynatrace architecture
Built cloud-native to be highly scalable, available, and secure
Try for free
See the magic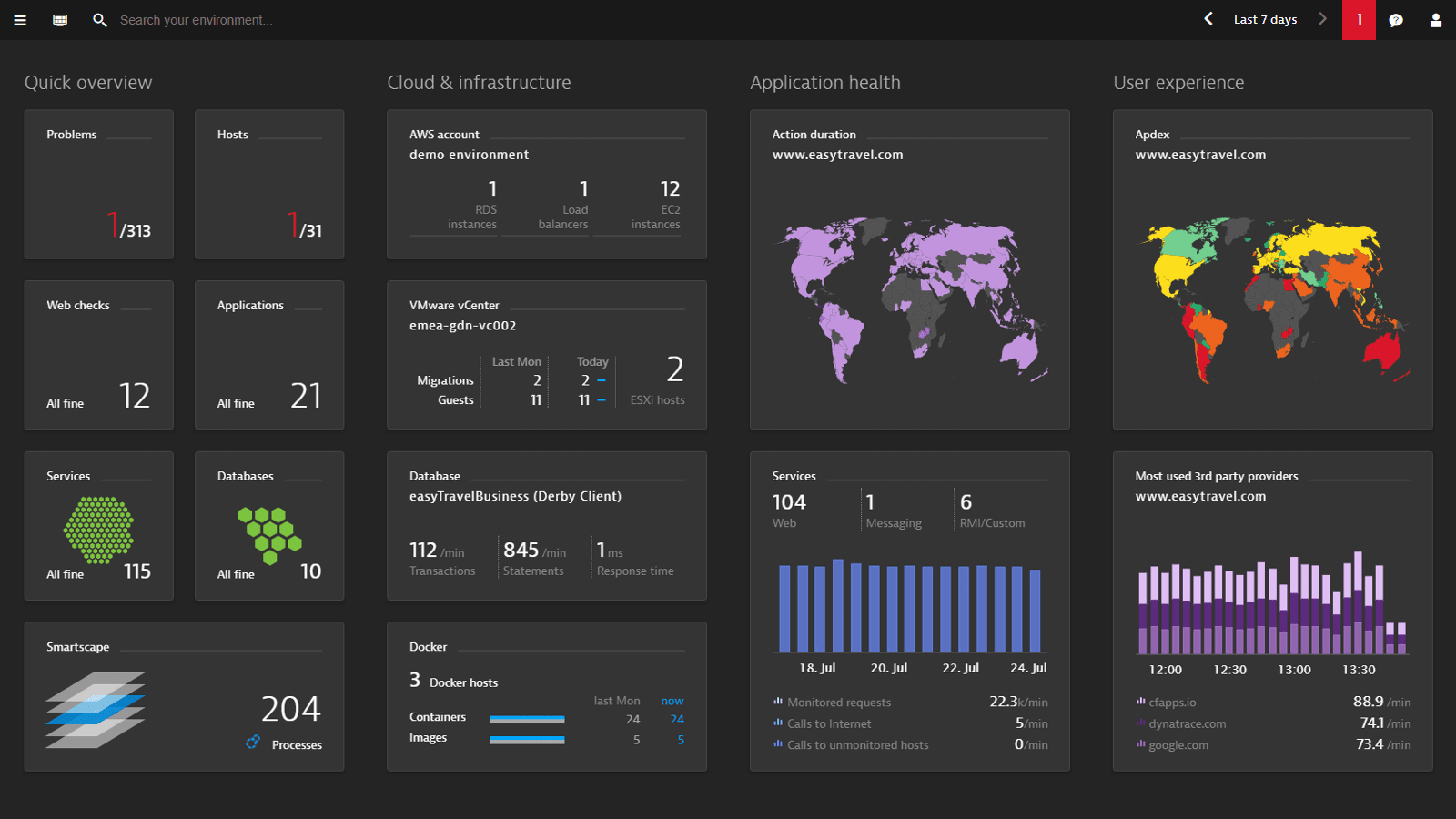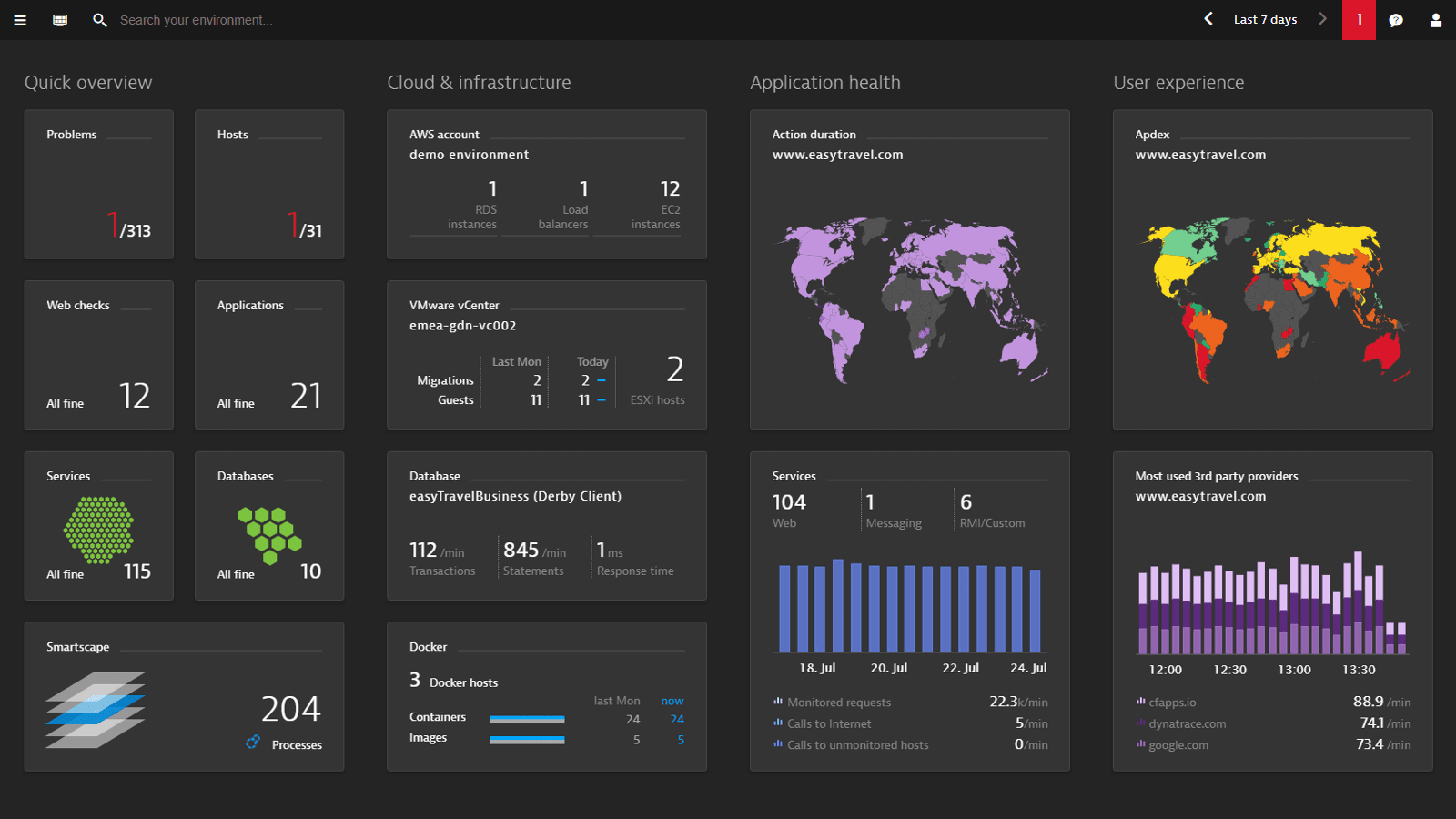 Both Dynatrace SaaS and Dynatrace Managed deployment models share the same underlying cloud-native web-scale architecture. While SaaS operates entirely in the cloud, with Managed you set up a self-contained cluster node on your own infrastructure to host your monitoring environment.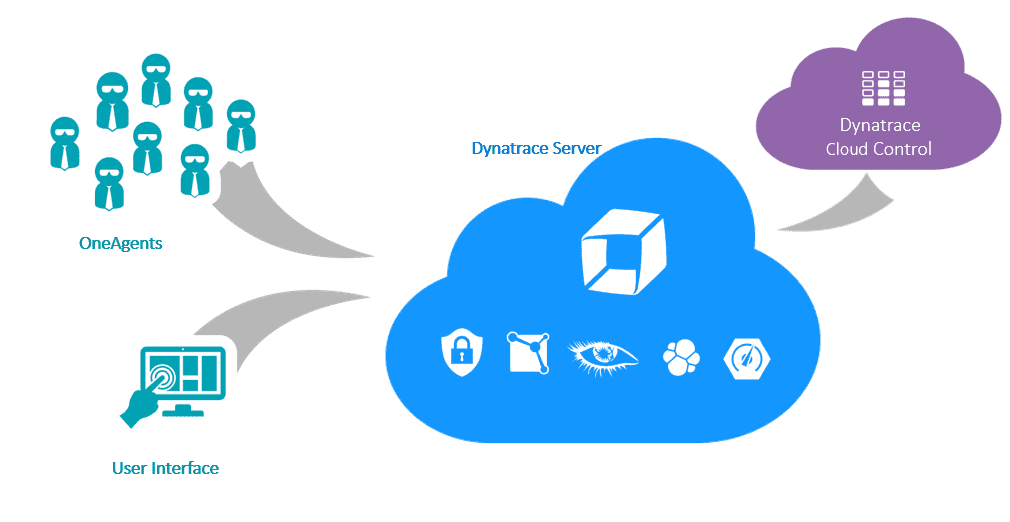 Dynatrace SaaS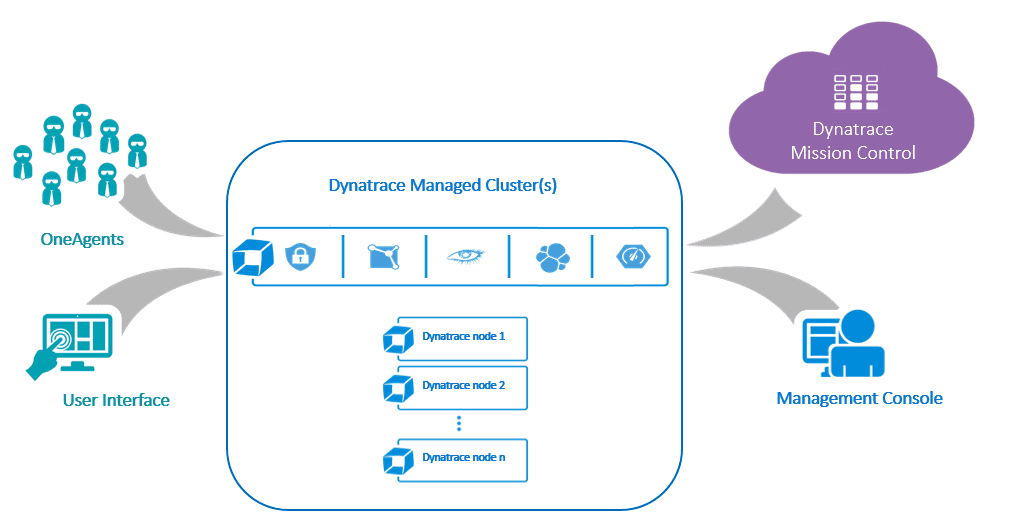 Dynatrace Managed
Built cloud-native to monitor at hyperscale
---
Dynatrace is the only solution on the market architected with dynamic, web-scale cloud-native technologies.
Running on Amazon Web Services (AWS), Dynatrace is built on an elastic grid architecture that scales to 100,000+ hosts easily. We use the most robust enterprise-proven cloud technologies to provide a monitoring solution as resilient and available as the systems it monitors.
Amazon EC2
AWS Elastic Load Balancing (ELB)
Cassandra-based Hypercube storage
Elasticsearch-based search engine
Amazon Elastic Block Store (EBS)

Amazon Elastic Compute Cloud (EC2)

Amazon RDS

Amazon S3

Amazon Web Services (AWS)

AWS Elastic Beanstalk

AWS Elastic Load Balancing (ELB)

Cassandra

CloudTrail

Cloudwatch

Elasticsearch
Designed for "always-on" availability
---
Dynatrace runs across six AWS regions covering eight locations - US East (Virginia), US West (Oregon), Europe (Ireland, London*, Frankfurt*), Asia Pacific (Sydney), Canada (Toronto*), and South America (Sao Paulo*) - operating in at least three availability zones for each region.
* tenant creation provided by support
AWS Auto Scaling and Elastic Load Balancing capabilities ensure that new Amazon EC2 instances spin up automatically to meet spikes in demand and/or traffic.
Real-time failover redundancy built into all system components.
Automated management layer detects faulty components and replaces them immediately.
One-third of excess capacity in our clusters always reserved for real-time failover and ability to cope with peak loads in real time.
Guaranteed ≥99.5% uptime.
Secure by design
---
Dynatrace has been designed on industry best practices such as encrypted transmissions, cross-site scripting prevention, firewalls, regular security updates, security scans, and vulnerability assessments to ensure the security of your data. Auditing, access restrictions, and secure decommissioning of data storage complement the design.
Because Dynatrace is hosted in the AWS cloud, it benefits from Amazon's secure, world-class data centers, which are certified for ISO 27001, PCI-DSS Level 1, and SOC 1 / SSAE 16.
Dynatrace has received SOC 2 Type II certification for security and availability.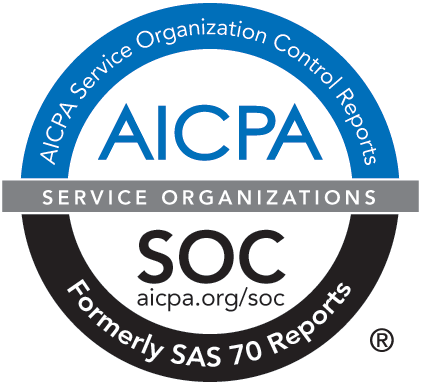 ---
Dynatrace Managed Cluster
Your Managed Cluster is the monitoring environment where the single OneAgent sends the data and where the AI-powered root cause analysis and fault domain isolation takes place. It includes all your dashboards, charts, and reports.
Just 1 installer, 1 command, sets up the specialized components that comprise your Managed Cluster.
Pre-configured Java Runtime Environment—no operating system settings are affected
Cassandra-based Hypercube storage
Elasticsearch-based search engine
Dynatrace Server
Mission Control
Dynatrace Mission Control is dedicated 24x7 support team that automatically and proactively takes care of all the operational management:
Health checks
Scaling verification
Upgrades
Any troubleshooting when you run into problems.
Communication with Mission Control is outbound-only: Dynatrace doesn't push anything into your system.
Management console
This is your "command central" where you can set up permissions and access rights, authenticate users, manage multiple cluster nodes, import user groups or accounts that need access to Dynatrace Managed, etc. Dynatrace integrates seamlessly into any enterprise ecosystem, with full multi-tenant support for:
User management systems like Active Directory
Authentication protocols: LDAP, SAML for single sign-on (SSO), OpenID Connect
Certificate management
Relevant information
---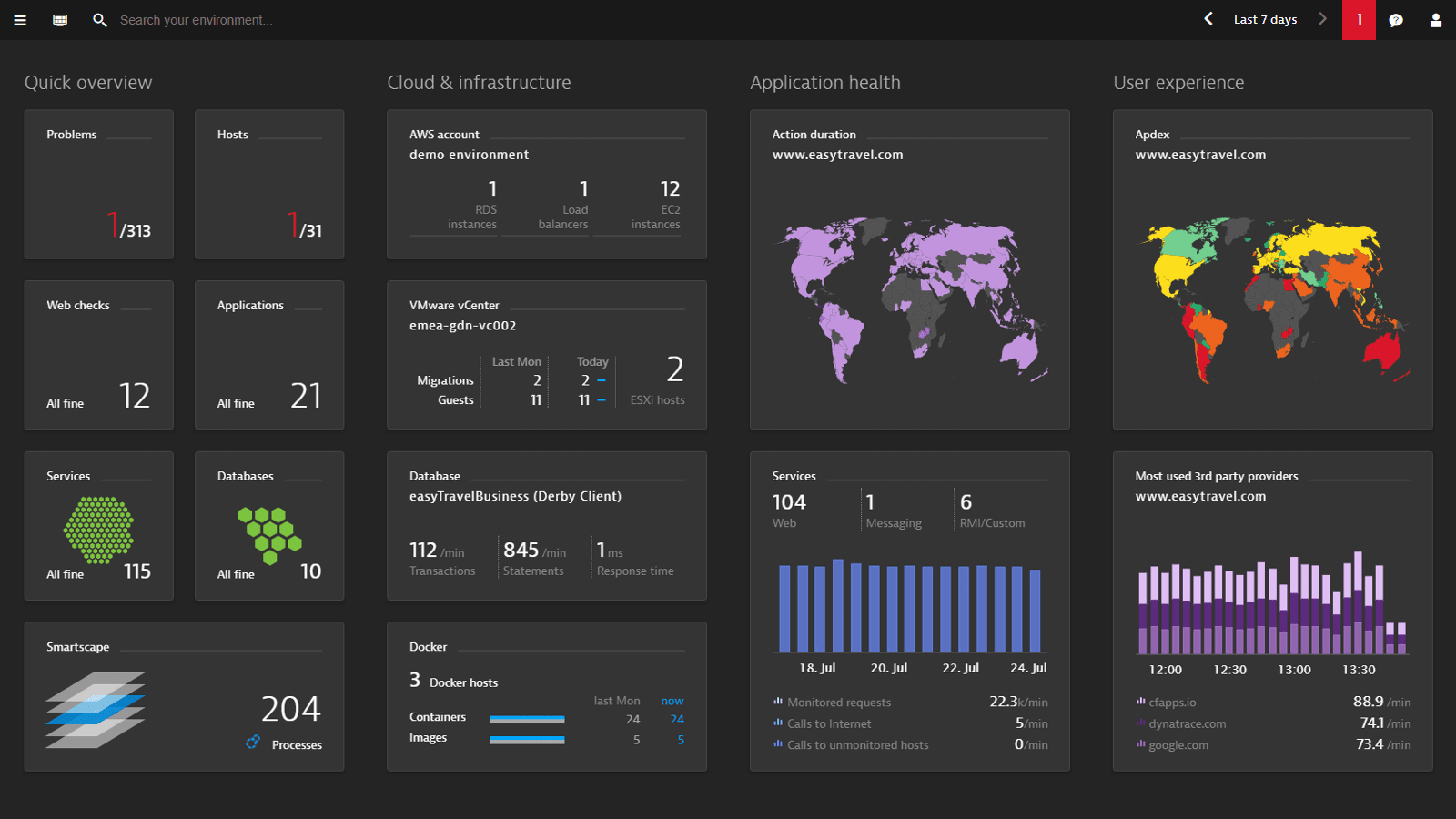 Start my 15-day free Dynatrace trial!
---
You'll be up and running in under 5 minutes:
Sign up, deploy our agent and get unmatched insights out-of-the-box.
Just a few of our enterprise customers
Dynatrace named a 2021 Gartner
Magic Quadrant Leader
---
2021 Gartner Magic Quadrant for APM
Named a Leader for the 11th consecutive time
Download report
2021 Gartner Critical Capabilities for APM
Scored highest in 4 out of 5 use cases
Download report