At Perform 2018, Zurich North America walked us through their strategic approach to digital transformation, with a goal of providing a universal desktop for insurance underwriting.
A long time ago, they started with only using DC RUM (data center real user monitoring), which was an effective, non-intrusive choice for monitoring business applications. As their organization evolved, Zurich found themselves with hundreds of applications and started the evolution of end-to-end APM.  With a lot of 3rd party applications in the cloud, visibility was crucial.
With high demands on performance and usability, monitoring was key. That's what led Zurich to the Dynatrace platform – all apps, all users, all transactions, full stack, automated.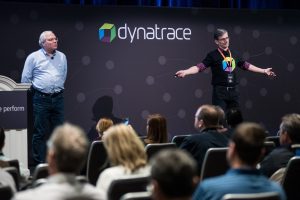 "Use the right application to get the visibility you want", Leonard Nielson, Network/Application Performance Engineer at Zurich, said to the Perform audience. Zurich uses Dynatrace to get the job done on the client side for digital experience, as well as for the data center side, with application performance.
Zurich's digital transformation led them to the universal desktop:
Core application is SalesForce Service Cloud w/ Lightning Framework
Additional legacy applications are ingested with each release
Some new applications are native SalesForce
With Dynatrace, they get a universal desktop monitoring solution. Here are some of the benefits Zurich have received by using Dynatrace as a strategic platform:
Accurate response time
Business metrics/SLAs
3rd party visibility
Transaction tracing
Fast implementation
Infrastructure insight
Deep app code insight
The journey of digital transformation continues with Zurich & Dynatrace as they explore tighter tool integration. For more information, check out our Perform highlights to access all the videos and presentations.