Over the last few years, Dynatrace and Microsoft have partnered to help the world's largest organizations tame hybrid, multicloud complexity and accelerate digital transformation. Some time ago, we announced monitoring coverage for all Azure Monitor services, as well as the ability to purchase the Dynatrace Software Intelligence Platform through the Microsoft Azure Marketplace. Now, Dynatrace and Microsoft have further deepened their partnership by making Dynatrace for Azure generally available. Dynatrace for Azure provides all the unique capabilities of the Dynatrace Software Intelligence Platform on Microsoft Azure with native integration into the Azure Portal.
Using Dynatrace on Microsoft Azure allows customers to leverage all the benefits of the Dynatrace platform's underlying cloud-native, web-scale architecture while operating entirely in the Azure cloud.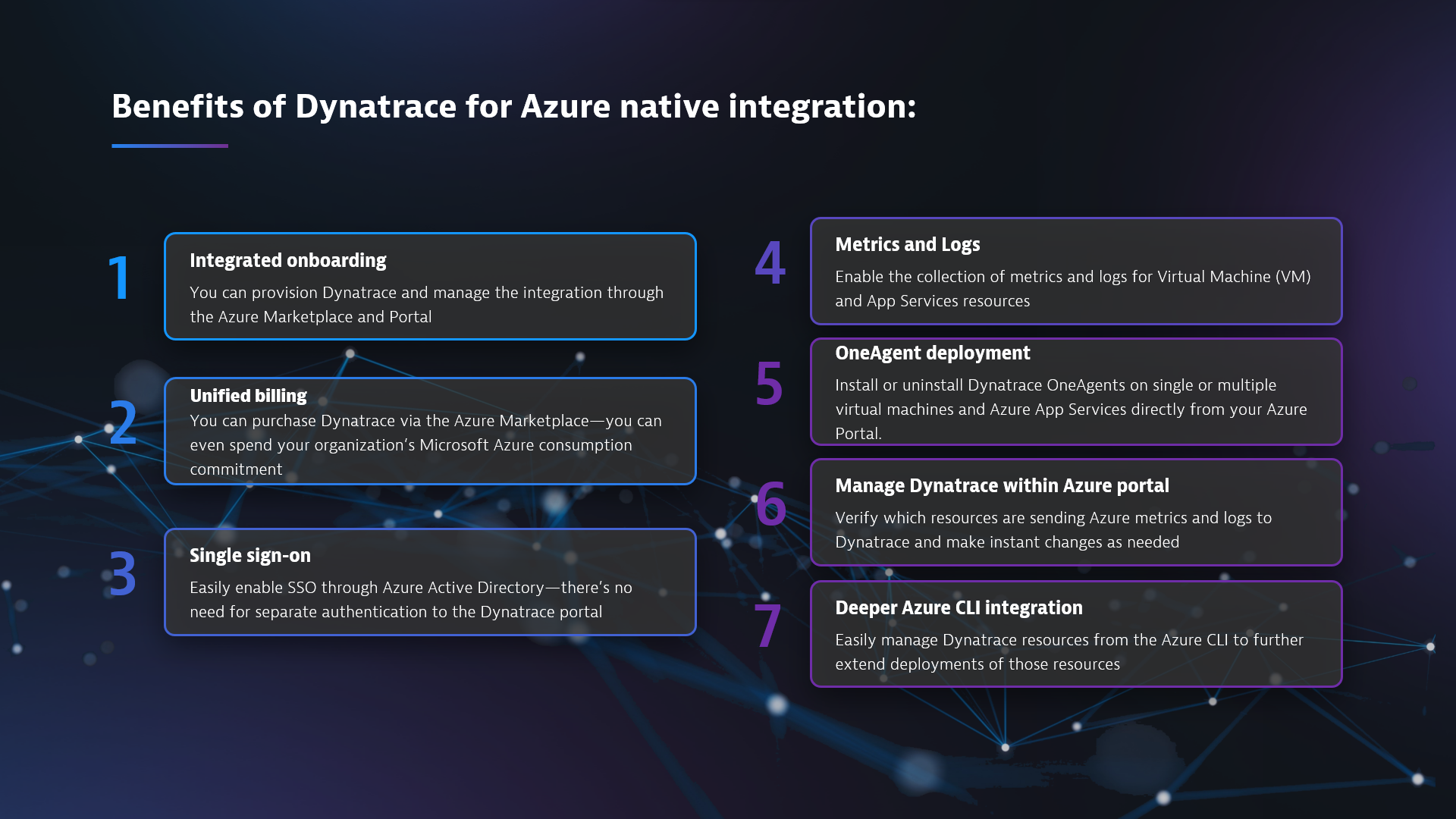 Furthermore, Dynatrace for Azure native integration gives Microsoft Azure customers a seamless experience for Dynatrace automatic and intelligent observability and runtime application security in and from Azure. The benefits of this native integration include:
Integrated onboarding: You can provision Dynatrace and manage the integration through the Azure Marketplace and Portal. The seamless onboarding experience sets up Dynatrace automatically. Monitoring the health and performance of your workloads—whether based in Azure or other cloud providers—is established in minutes with just a few clicks. Monitoring of selected Azure resources in your Azure subscription is established automatically.
Unified billing: You can purchase Dynatrace via the Azure Marketplace—you can even spend your organization's Microsoft Azure consumption commitment. Dynatrace costs are reported through Azure monthly billing, making it easier to procure and align Azure and Dynatrace sales.
Single sign-on: You can easily enable SSO through Azure Active Directory—there's no need for separate authentication to the Dynatrace portal. This improves security and compliance and creates a single source for troubleshooting, performance optimization, and cross-team collaboration.
Metrics and Logs: You can enable the collection of metrics and logs for Virtual Machine (VM) and App Services resources by installing Dynatrace OneAgent on those resources. Furthermore, you can activate the sending of Azure subscription activity logs and resource logs to Dynatrace.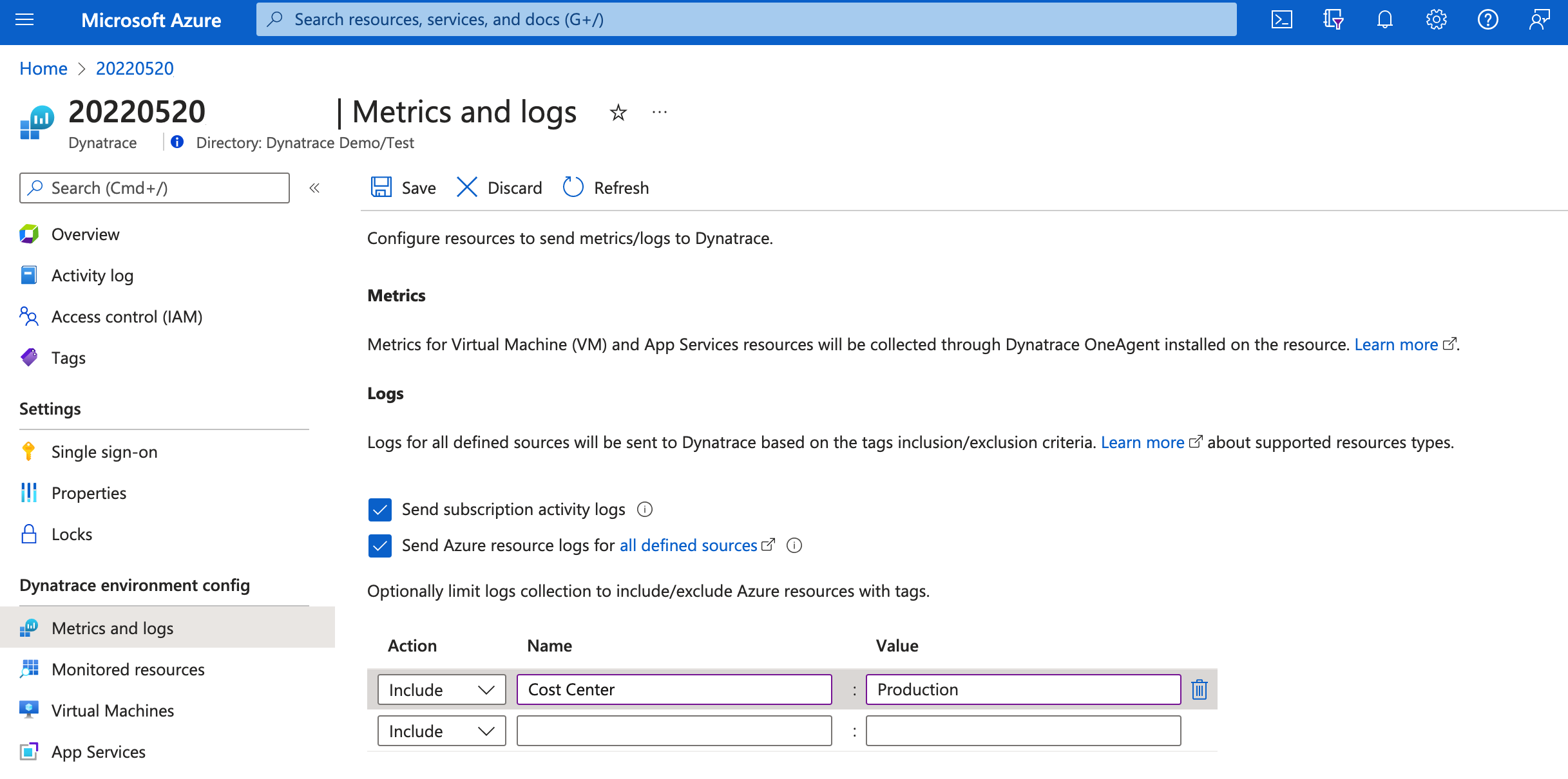 OneAgent deployment: You can install or uninstall Dynatrace OneAgents on single or multiple virtual machines and Azure App Services directly from your Azure Portal.
Manage Dynatrace within Azure Portal: Within your Azure Portal, you can verify which resources are sending Azure metrics and logs to Dynatrace and make instant changes as needed.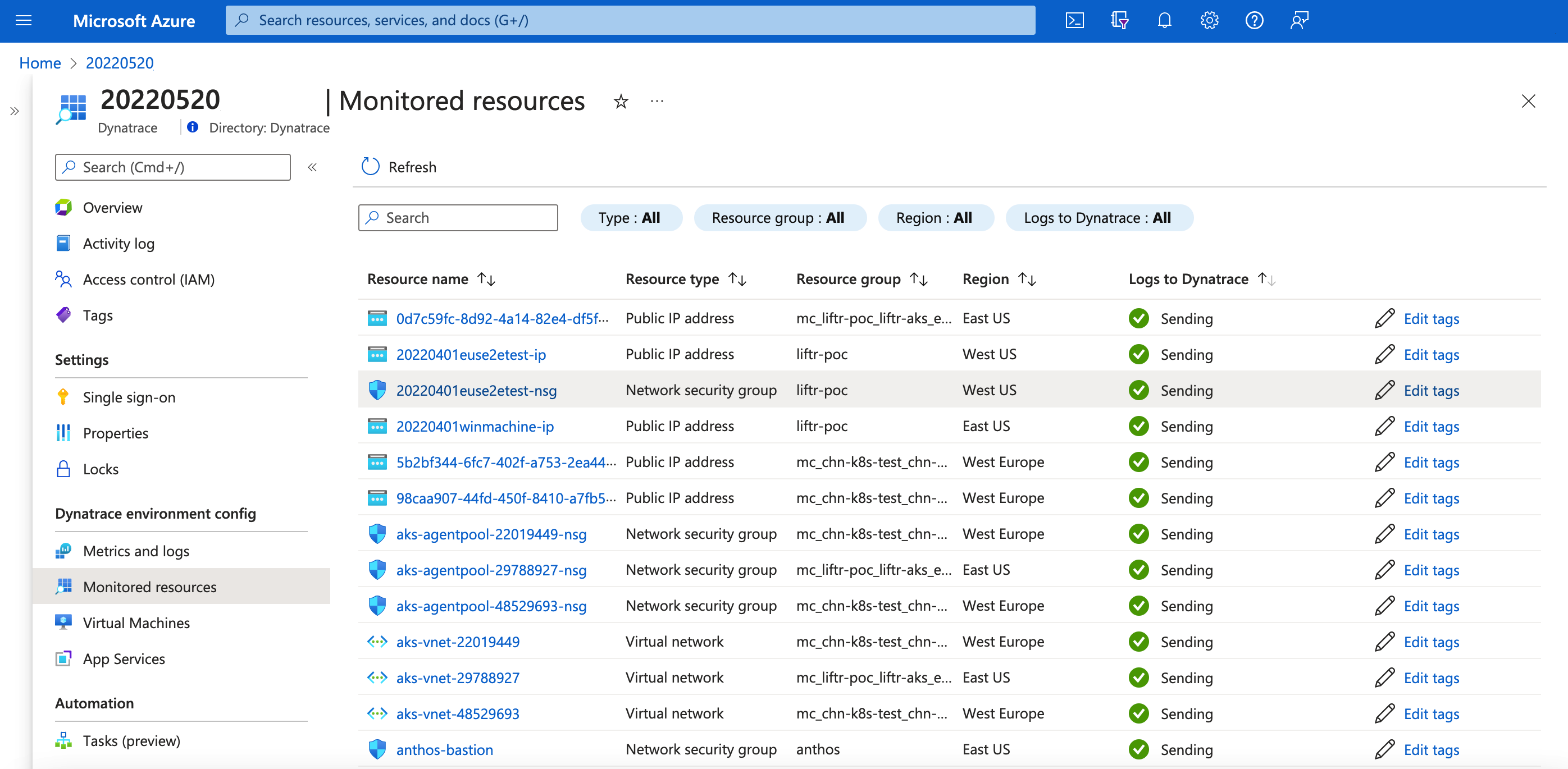 Deeper Azure CLI integration: You can easily manage Dynatrace resources from the Azure CLI to further extend deployments of those resources with ARM templates or other third-party IAAC platforms, such as Terraform.
Dynatrace and Microsoft expand their partnership
"Microsoft is committed to providing a complete and seamless experience for our customers on Azure," says Balan Subramanian, Partner Director of Product Management, Azure Developer Experiences, Microsoft. "Enabling developers to use their most loved tools and services makes them more productive and efficient. Azure native integration of Dynatrace makes it effortless for developers and IT administrators to monitor their cloud applications with the best of Azure and Dynatrace together."
By providing customers with the most comprehensive, intelligent, and easy-to-deploy observability solution in the market, Dynatrace and Microsoft have laid the groundwork for organizations to successfully migrate to cloud environments and continuously modernize with speed and scalability.
"Deep and broad observability, runtime application security, and advanced AI and automation are key for any successful cloud transformation," said Dynatrace Senior Vice President of Product Management, Steve Tack. "Through the Dynatrace platform's integration with the Microsoft Azure Portal, customers now have immediate access to these capabilities. This integration delivers answers and intelligent automation from the massive data volume generated by modern hybrid-cloud environments, which enables flawless and secure digital interactions."
How to get started
The collaboration and native integration between Dynatrace and Microsoft—which is now generally available for all Dynatrace and Azure customers—makes it easier than ever to use the Dynatrace platform's observability, security, AI, and automation to enable your successful cloud journey. You can check out the new Azure integration on the Azure Marketplace. For further information, don't hesitate to contact us.