Successful digital transformation requires visibility across silos of technology, development, and operations. While tracking some of this information can be relatively simple, gaining visibility into third-party applications–"black boxes"—is a serious challenge for many organizations.
BUT the Ulta team uses Dynatrace as a lighthouse in the fog, adding visibility and insight to performance, execution and metrics that were previously obscured by black boxes.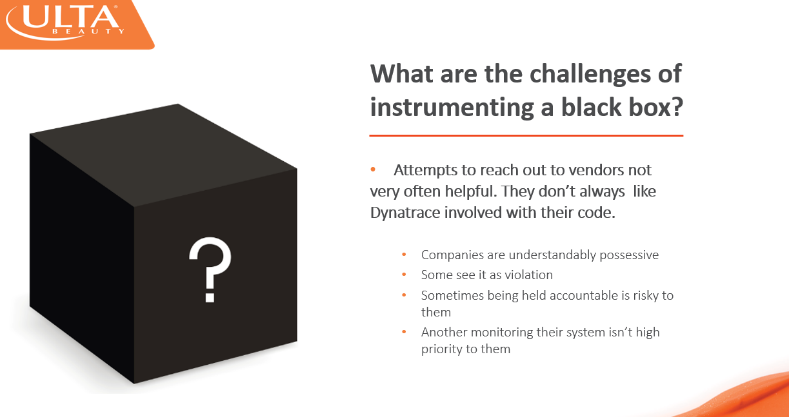 Check how, with increased visibility to application performance, the Dev team better understands previously hidden elements that impact customer experience.
Discover how business stakeholders gain visibility that supports the bottom line, and, how operations can speed remediation to support a faster and more agile digital business
"Collaboration shows the way! With Dynatrace, we provide valuable new visibility to decision makers about the health and quality of the third-party black boxes." Said Omar Konkobo (Sr IT Manager DevOps of Guest-Facing Systems) and Rob Murphy (Sr Architect, Enterprise Performance Engineering) at Ulta.
Transform your way of thinking: From FIRE-FIGHTING / REACTIVE to PROACTIVE / PREDICTIVE
For Ulta Beauty, Dynatrace is "A Lighthouse in the night" and why? Here is what said "word to word" Rob Murphy, Senior Architect at Ulta Beauty: "When I'm looking for a needle in a haystack it's nice to have a tool that gives me:
Incident management: Warning me that there's a needle in the haystack
The business transaction: A 1 Tesla electromagnet that can get me the needle.
The PurePath: A 1M Candlepower searchlight tat lights the haystack and the needle up.
Dynatrace lets me find the needle without just burning the hay and rebooting everything."