On the Tech Transforms podcast, sponsored by Dynatrace, we talk to some of the most prominent influencers shaping critical government technology decisions.
On Episode 52 of the Tech Transforms podcast, Dimitris Perdikou, head of engineering at the UK Home Office, Migration and Borders, joins Carolyn Ford and Mark Senell to discuss the innovative undertakings of one of the largest and most successful cloud platforms in the UK. With the platform hosting more than 3,000 technical users and millions of end users, Dimitris sheds light on his experience with site reliability engineering (SRE), user experience, and service monitoring.
Make sure to stay connected with our social media pages. Tag us with #TechTransforms to be featured on our pages!
UK Home Office: Metrics meets service
The UK Home Office is the lead government department for many essential, large-scale programs. In this episode, Dimitris discusses the many different tools and processes they use. From development tools to collaboration, alerting, and monitoring tools, Dimitris explains how he manages to create a successful—and cost-efficient—environment.
One way the agency saves money and resources is by shutting down the test environment every night and on the weekends.
When the UK Home Office first shut down these programs, the artificial intelligence-based tools had to adapt to the environment disappearing overnight. Luckily, the AI models have come a long way in learning what happens every evening. Now, shutting down systems daily helps the agency focus its cloud initiatives and save costs. It also helps reduce the agency's carbon footprint.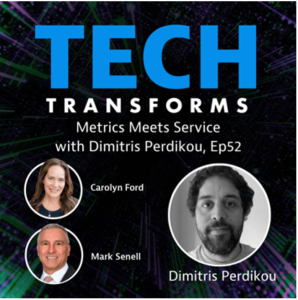 Tune in to the full episode to learn more about the UK Home Office's cloud journey and how Dimitris navigates this large-scale environment to deliver essential services efficiently.
Follow the Tech Transforms podcast
Follow Tech Transforms on Twitter, LinkedIn, Instagram, and Facebook to get the latest updates on new episodes! Listen and subscribe on our website, or your favorite podcast platform, and leave us a review.