On the Tech Transforms podcast, sponsored by Dynatrace, we talk to some of the most prominent influencers shaping critical government technology decisions.
Nihal Krishan's work as a technology reporter at FedScoop places him at the nexus of politics, policymaking, and technology. As a result, he has access to a variety of insights and opinions on new and emerging technologies. In a special two-episode podcast, Krishan shares his thoughts on artificial intelligence (AI), specifically around two wildly popular, yet extremely contentious apps: ChatGPT and TikTok.
In Episode 58 of Tech Transforms, Krishan joins me and Mark Senell to discuss some of the reasons why people love ChatGPT: its effectiveness, its ability to deliver useful or helpful content, and more. Krishan also shares the darker side of the application, including the lack of established fact-checking and the use of personal information scraped from the internet without individuals' consent. The conversation also touches on the federal government's reservations around security and its cautiously optimistic approach to ChatGPT.
Finally, Krishan summarizes some of his top takeaways from the Stanford Institute for Human-Centered Artificial Intelligence's 2023 AI Index Report, including the following:
The U.S. government's AI spending, which has more than doubled since 2017.
Industry adoption of AI and the impact on rules and regulations.
AI's environmental impact.
The rapidly increasing misuse of AI.
Are TikTok and ChatGPT trustworthy?
Episode 59 — Part Two of the series with Krishan — focused on TikTok. The mobile video platform has dramatically surged in popularity since its launch in September 2017. However, the app has come under fire for privacy violations and other misuses, both real and perceived based on its Chinese origins. Krishan and I discuss the data privacy and security concerns associated with TikTok and its parent company, Bytedance. We also chat about disinformation campaigns on social media platforms and the addictive nature of social media.
Finally, Krishan shares his insights on federal IT modernization, particularly as the U.S. moves out of the COVID-19 pandemic. He touches on the continued modernization challenges facing U.S. agencies, including bureaucracy and congressional funding.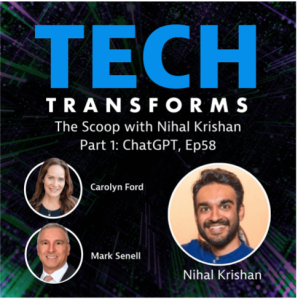 Tune in to Part One and Part Two of this special episode for more insights from Krishan on artificial intelligence, data privacy, and IT modernization.
Follow the Tech Transforms podcast
Follow Tech Transforms on Twitter, LinkedIn, Instagram and Facebook to get the latest updates on new episodes! Listen and subscribe on our website, or your favorite podcast platform, and leave us a review!