Dynatrace Davis Assistant supports bi-directional integration with Microsoft Teams to help you and your team collaborate on solutions and resolve problems faster.
Are you looking to scale your team but don't have the budget? Need to free up a few hours a week to focus on innovation and spend less time interpreting data and troubleshooting? Well, you're in luck, because Davis Assistant is ready to help. Davis Assistant never needs a coffee break and it always does what you ask. Best of all, Davis® Assistant is free with your Dynatrace purchase and, starting today, we're excited to announce that Davis Assistant supports bi-directional integration with Teams to help you and your team collaborate on solutions and resolve problems faster.
Davis Assistant works where you work—in Microsoft Teams
Solving today's complex business problems takes teams of engaged people working together to deliver solutions before they impact customers. As a leading team-collaboration hub platform, Teams provides centralized collaboration features, which complement the proactive, problem-solving capabilities of Davis Assistant, enabling your team to discuss problem incidents, evaluate solutions, and quickly access Dynatrace monitoring insights directly in a Teams channel.
With Davis Assistant and Teams, you can:
Receive proactive and actionable IT health and performance alerts in dynamically updated smart cards displayed in a Teams channel.
Interact with Davis Assistant by asking questions about the state of your monitored environments.
View Dynatrace performance charts directly in Teams for quick impact assessment.
Add comments that are automatically synchronized between problem cards in Teams and the corresponding problem cards in Dynatrace.
Drill down for root-cause details and full visibility via navigation backlinks to Dynatrace dashboards.
Stop the noise with enhanced alerting
Go beyond "data on glass" with Davis Assistant smart alerting, which improves upon basic email notifications and webhook calls that can result in a flood of alerts appearing as separate cards in your Teams channel, making it difficult to identify and collaborate with others to resolve high-impact problems quickly.
Davis Assistant alert notifications are designed to be dynamically updated as a problem evolves, enabling the full context of problem details to appear in a single card in a Teams channel. This card contains links back to Dynatrace for precise root-cause analysis and provides you with a bi-directional commenting feature that syncs comments between Teams and the problem as it appears in Dynatace.
Davis Assistant notifications make it easy to triage, follow, and communicate remediation efforts with your teammates.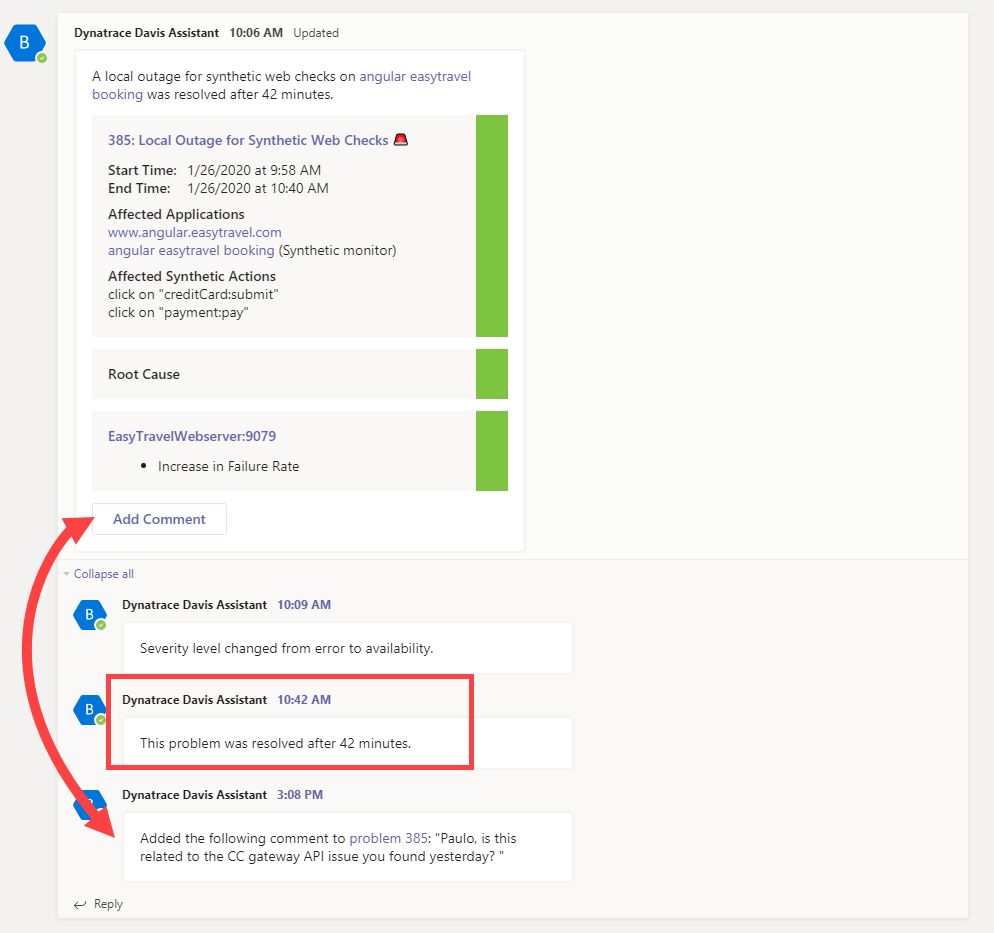 View impacted applications, services, and root-cause details on a single card that's updated when problem changes occur. Comments made on the problem card are synced back to the problem in Dynatrace for 360-degree visibility.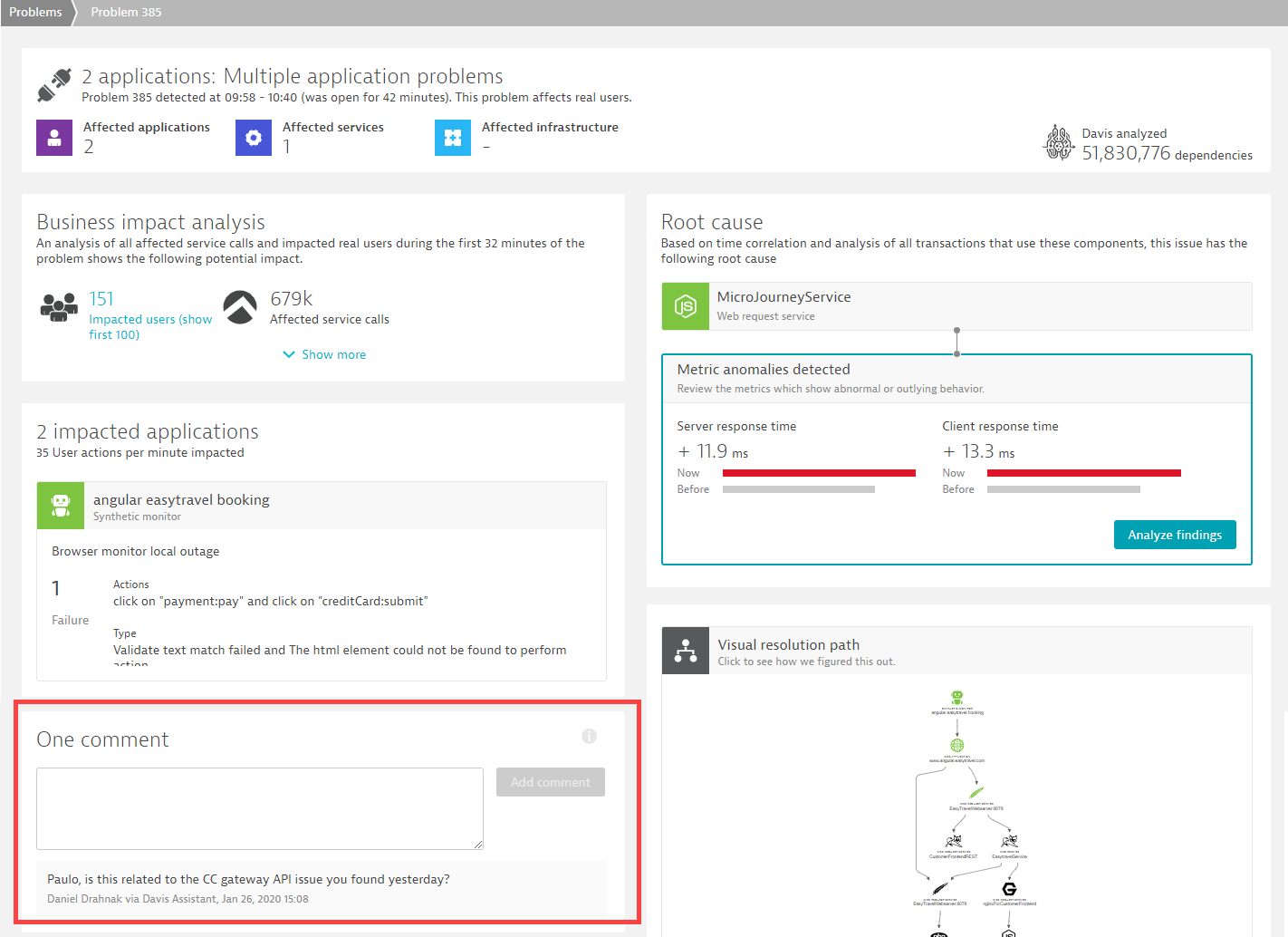 Get answers, not more data, by asking Davis Assistant
Get immediate, actionable answers to complex questions with a simple conversation. Ask Davis Assistant to deliver a morning report about application health and user activity, get an overview of all problems in a given time frame, or find out about a recent deployment. Davis Assistant translates your common questions into complex queries and returns easy-to-understand answers with charts to help you visually assess impact.
You can even use smart buttons to quickly change the timeframe or application scope without repeating your question, as shown below: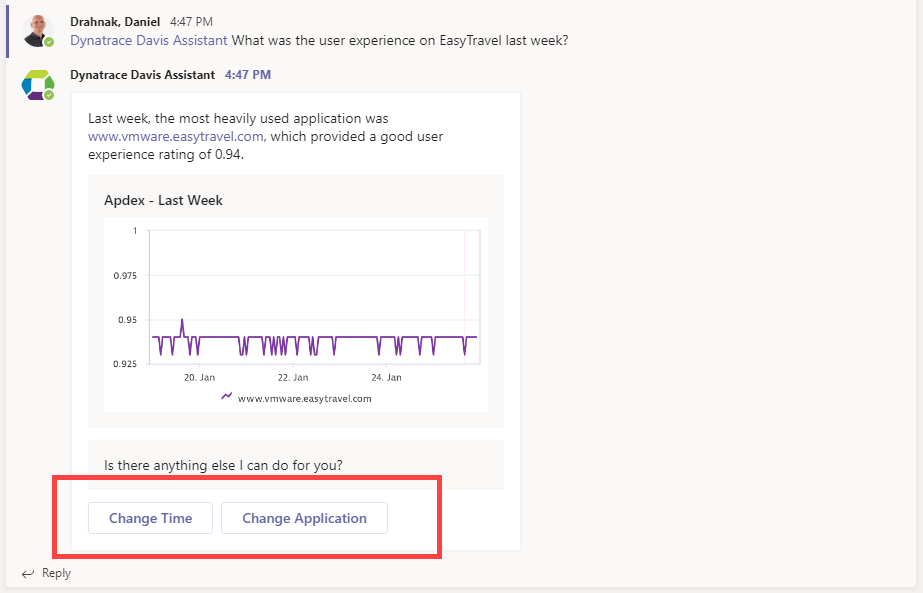 Learn more about Davis Assistant interaction examples.
What our customers are saying about Davis Assistant
"With a simple conversation, we can find out whether there are any performance issues and if so what action needs to be taken. Every time I speak to Dynatrace Davis Assistant I save at least five minutes. It might sound trivial, but over a week that really adds up. Davis is the most loyal and reliable member of my team. Talking to him it has become part of my daily routine."
— Devonte Emokpae, Head of Development, Doctify
"Working with Dynatrace's Davis Assistant is simple yet very informative and powerful. It brings more visibility and more accountability from the developer. Since we implemented it, we see lower MTTR, but also more cautious deployments."
— Alfredo Obaldia, IT Operations Manager, Copa Airlines
How to get started with Davis Assistant and Teams
To add Davis Assistant to Teams:
Learn more about setting up the integration.
What's next​?
With support for the new Metrics REST API, Davis Assistant will soon support many new interactions for retrieving high-value metrics. In addition, stay tuned for a code-free interaction builder that you can use to quickly map custom interactions, such as "What's the shopping cart abandonment rate?", to custom Digital Business Analytics metrics and any other data for which you want quick access via a simple conversation with Davis Assistant.
Ready to meet Davis Assistant?