Among other APM solutions, Dynatrace offers a unique advantage: our deployments provide centralized configuration that can be managed from a single place.
Dynatrace OneAgent lifecycle management allows you to control your OneAgent instance operations, configure core settings, and get answers to questions like: "What are the health statuses of my OneAgents?", "Are my OneAgents and ActiveGates performing well?", and "Do I have the latest versions installed?"
In February, we introduced a Preview release of the REST API interface that enables you to easily manage thousands of OneAgents remotely. This API enhancement has been a massive success.
Why this is important
Dynatrace is built for scale. Our largest customers are global companies with absolutely massive application stacks, spreading across cloud and enterprise platforms, multiple physical geographies, tens of thousands of virtual and physical hosts and hundreds of thousands of containers. Thanks to the ease of deployment, the time-to-value for monitoring of such complex environments is very short.
But the deployment of OneAgents is not where the lifecycle of OneAgents ends. Like any other software, OneAgents need to be maintained, updated, and monitored.
Among other APM solutions, Dynatrace offers a unique advantage: our deployments provide centralized configuration that can be managed from a single place. You don't need to build Ansible, Chef, Puppet, or SaltStack scripts to control or update your OneAgents. All this can be done centrally from your Dynatrace cluster, regardless if you're monitoring physical hosts, AWS EC2 server instances, services running in Kubernetes Pods, virtual machines under VMware, or any supported operating system or technology that can be monitored using Dynatrace.
Central configuration comes with two important benefits:
Ease of integration: Just connect to your Dynatrace cluster API—we'll take care of the REST (pun intended)
Speed of management: with a single command you can manage hundreds or thousands of Dynatrace OneAgents almost instantaneously, wherever they are and whatever they are configured to do.
This is why customers who have already participated in the aforementioned preview of this solution are so excited for the new capabilities. Let's take a closer look at how these capabilities are used.
A few customer use cases
Over 50 of the largest Dynatrace customers—from finance, retail, and government verticals—have so far participated in the Preview. Their feedback has been very positive.
"We have over 7000 hosts in our environment. The OneAgent on a host REST API is critical for us to easily automate the switch between full stack and infrastructure monitoring mode." – a Dynatrace customer
Further use cases include:
keeping track of OneAgent update progress via API queries
turning monitoring on and off based on server status in a CMDB
automatic enablement and disablement of monitoring for specific hosts
setting passive servers into infrastructure-only monitoring mode and the active datacenter servers into full-stack mode during failover
More use cases to come
Our investment into REST API for OneAgent management is part of a larger set of planned improvements. In the future, you'll also be able to:
automate software management using your CMDB and scripting solution of choice
increase control over deployment and configuration of Dynatrace modules via REST APIs and CLI (command-line interface)
easily identify Dynatrace modules that are in a particular operation or configuration state
get answers to questions about your OneAgents and easily turn those answers into actions
Today we're happy to announce that, with the release of Dynatrace version 1.194, we're releasing the second, much anticipated increment of this project. By providing you with full update manageability for OneAgents, you'll be able to massively speed up the lifecycle management process, especially in large, dynamic environments.
Easily create large-scale lifecycle patterns across the largest environments
Our main goal for the current increment of improvements is to assure full update manageability for OneAgents. Thanks to API-based controls for auto- and manual updates, it's now possible to create fast, large-scale lifecycle patterns across numerous sections of your environment: staging, testing, production, etc, and to integrate those patterns directly into your CMDB solution of choice. Combined with the previously released ability to control the operational status of OneAgents, you can now build a complete and comprehensive end-to-end solution.
The current improvements include:
Enable or disable auto-update mechanism on host, host group, and tenant level
Please note that this setting is inherited via parent-child relationships, so host-level settings override the host-group and tenant-level settings. It's also possible now to read the settings that were applied earlier on all the three levels of abstraction.
Invoke an update to a specified version
This setting is provided only for those hosts and host groups where auto-update is disabled. It allows for triggering of manual updates. Note that this request effectively means that the update will be scheduled for execution at the next time OneAgent sends its heartbeat to the Dynatrace cluster (typically every minute) and that the cluster may decide to distribute the update load into smaller batches. In essence, as a consequence of these mechanisms being in place, the actual update may be delayed by a few minutes.
Extended read and search mechanism
In order to provide better support for host groups, we've also extended the read and search mechanism. This means that now you can:
read what host group a given host belongs to
search for hosts within a specific host group
Where to find the updated REST API methods
All the new and updated REST API methods are available in the REST API Explorer, which you can access from your Dynatrace environment. The API Explorer allows you to interactively explore and use the Dynatrace REST API right from your web browser.
From the User menu at the top right of the Dynatrace menu bar, select Environment API. Scroll down and expand the OneAgent on a host endpoint.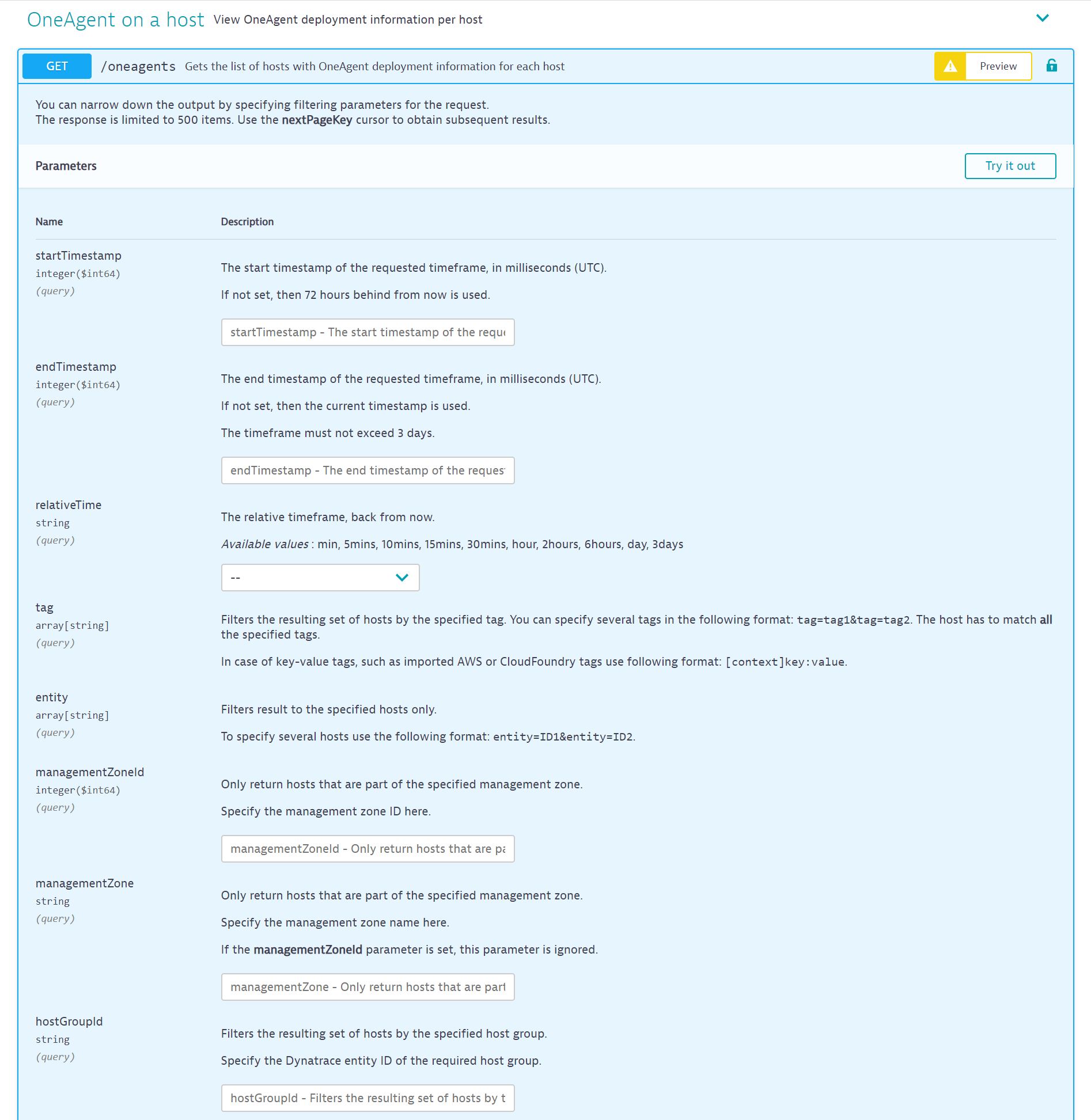 Additional methods are also available in the Configuration API—select the User menu > Configuration API to open the API Explorer. Expand the OneAgent on a host endpoints to view and try out the available methods.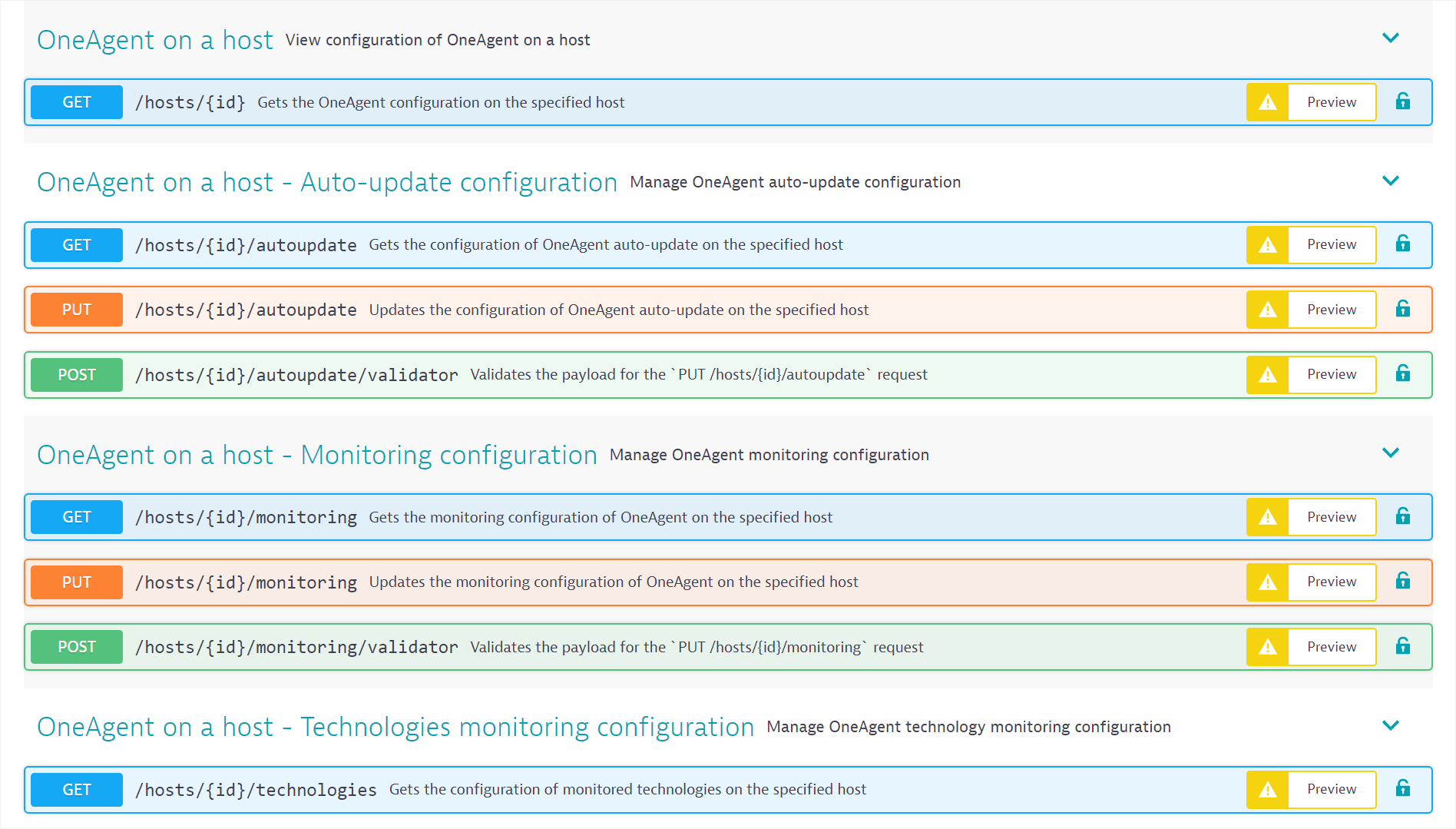 Alternatively, you can read about all the REST API methods in Dynatrace Help:
How to participate in the Preview
If you've already registered for the OneAgent lifecycle management via REST API Preview, there is no need to re-register. All the new features described in this post will be automatically enabled for your registered tenants.
If you've not registered yet, but would like to, scroll down to the In Progress section, expand the entry for OneAgent lifecycle management via REST API and select Join the Preview. Once you've filled in and submitted the required details, you'll be contacted by Dynatrace.
Note: Please be aware that not all who register for the Preview will be accepted—we may run out of Preview slots. If you have questions, see Dynatrace Preview, Early Adopter, and GA releases.
What's next
During the next several weeks, we'll closely observe the feedback we receive related to this solution. Wondering what our plans are for beyond this second incremental set of improvements? The consecutive increments are planned to be delivered directly as GA improvements later in 2020.
Feedback?
As always, we welcome your feedback and comments. Please share your thoughts via Dynatrace Answers, directly within the product through Dynatrace ONE chat, or with your Dynatrace Account Manager.