Cloud platforms are somewhat a staple component to enterprises' IT environments today, helping to achieve objectives and drive better business operations, but more often than not we don't see the outcomes or rewards reaped from the use of such platforms.
Red Hat OpenShift has demonstrated this in the last year.
In November 2018, millions of residents in Southern California turned to their computers and devices to learn as much as possible about the encroaching Woolsey Fire. As the footprint of the fire increased, officials scrambled to make sure certain information was flowing to the community. They also used traditional media outlets to direct people to the county website for the latest updates and resources.
The tragic fire ultimately consumed over 150 square miles of canyons, homes, and businesses. In addition, it displaced over a quarter-million residents as it burned for two weeks until it was contained. The Woolsey fire is considered the worst wildfire to hit Southern California in modern history.
When the actual land around your cities is burning, and all of your emergency services are working at full capacity, the systems that are behind those teams must be even more reliable than those on a trading floor or in an airplane. When thousands of lives are at risk, software infrastructure can make the difference between life and death. That's why traceability, scalability, and reliability are crucial aspects of a cloud strategy, and for this county, OpenShift and Dynatrace delivered on these needs.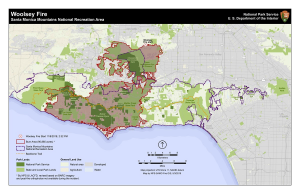 How OpenShift helped
The county was mandated to improve its platform hosting capabilities to meet the growing demands of its mission as the go-to place for information. They selected Red Hat OpenShift Container Platform because it enabled faster provisioning and deployment of community services.
Normally, you wouldn't think of access to a website as being a life or death situation but when the evacuation of more than 295,000 people depends upon the information being distributed on that website, SLAs and service guarantees can be tied almost directly to the saving of human lives.
And as a result, on the day of the fire, the county had a secret weapon.
In their move to OpenShift, they recognized the strategic importance of their infrastructure to meet the requests of their constituency not only on sunny beach days but more importantly, during stressful times such as earthquakes or wildfires. The team also recognized the infrastructure is only one part of the equation since the applications that run on that infrastructure are how residents seek information and engage. Maintaining that infrastructural integrity at scale was a high priority for the county.
"The Fire Incident Command continues to monitor the active fire areas, as well as those areas remaining closed due to critical infrastructure concerns or safety hazards. Any future information pertaining to safety conditions and repopulation will be updated on the county website"
Woolsey Fire Unified Commanders
How Dynatrace helped
Dynatrace's AI engine, Davis® automatically identified high traffic surges on the county website as the fire took hold. The county's IT team were now on alert, and sprang into action, using Dynatrace's deep observability to find answers. Dynatrace was able to tell the county you have high traffic on your site due to an influx of residents specifically seeking information on the Woolsey Fire.
Knowing the wildfire was major news, the county realized this would be a sustained spike for the foreseeable future. With Red Hat and OpenShift, resolving their load issues would be almost as easy as learning about the issue from Davis due to the ability to scale dynamically to meet the impending workloads.
Why Dynatrace and OpenShift
The challenges of migrating those workloads from traditional monolithic applications on 3-tiered architecture to a cloud-native platform and microservice architecture may seem daunting. In most commercial use-cases, this is due to a lack of understanding as to how or if such a change will benefit the overall business.
Selecting Red Hat OpenShift enabled the county to be both agile and cost-effective, while meeting those demands, during the Woolsey Fire because the team had the ability to rapidly scale resources.
However, the capability is only one part of the equation. For this to be successful the county realized that they needed an early warning system to notify them of the unknown. Dynatrace was able to deliver on this need through automatic problem discovery without setting arbitrary thresholds or fear of false alerts. Joining the two technologies together allowed the county to support this critical touchpoint with their residents and was proven in this critical moment.
Want to know more about how Dynatrace and Red Hat OpenShift helped combat the wildfire and keep residents safe, read the full story here.
Co-Authored Blog by Alex Handy @thinkoalex at Red Hat and Peter Hack @hackatdt at Dynatrace.