Coronavirus continues to disrupt our personal and professional lives in ways many of us could never have imagined just a few short weeks ago. Amidst the uncertainty, we're all working diligently to maintain continuity for our businesses, keep employees productive, and maintain customer satisfaction and experience through digital services.
IT teams are on the frontlines of these efforts. With most employees now working from home, and the demand on e-commerce platforms hits an all-time high, applications and infrastructure are under intense pressure with new usage patterns that have never been planned for or tested against.
Over the last couple of weeks, we've seen many of our customers leaning more heavily on Dynatrace's insights and utilizing more features of the platform to cope with increased demand. Organizations are discovering new ways to simplify remote operations, improve cross-functional team collaboration, and enable stretched resources to go further. Our teams have seen application usage surge across our customer base, causing an urgent need for organizations to provide advanced observability for their applications to optimize user experiences and performance.
How are insurance companies using Dynatrace amid COVID-19?
A leading health insurance company in the United States, with over 40,000 employees, realized the massive shift to a work from home model caused a degradation in the digital experience for its employees and customers. Because of Dynatrace's Real User Monitoring (RUM) capability, and insights from our AI engine, Davis®, they were able to quickly prioritize and fix the issues to ensure their employees had an optimal remote work experience.
Dynatrace's RUM enabled the health insurance company to quickly access real-time information on employee application performance and correct any errors to ensure their employees had the ability to maintain an optimal remote work experience. Dynatrace helped create dashboards for the customer so the IT team could appropriately prioritize resources. Figures 1 demonstrates how Dynatrace's RUM capabilities give visibility into the user experience for all remote employees and the apps they're using, and figure 2 shows the remote based application usage KPIs by segments respectively.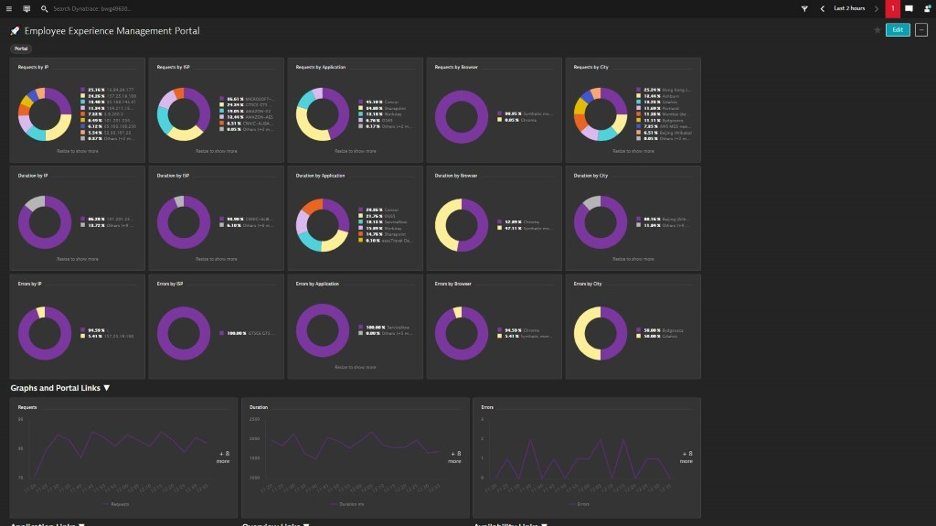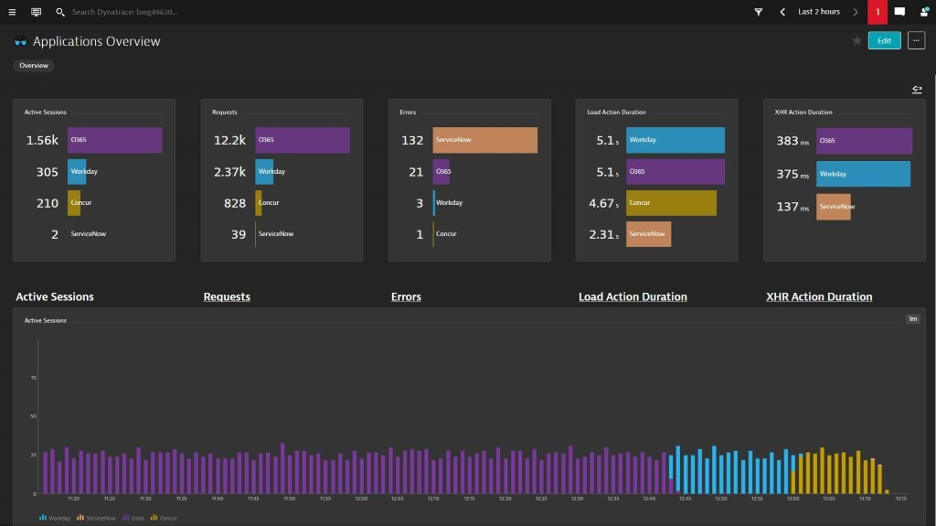 Government agencies coping with COVID-19
With increased social distancing, a US Government customer prepared for an unprecedented increase in teleworking by stress-testing their Citrix remote environment. Dynatrace was an integral part of this stress test, quickly and automatically identifying performance bottlenecks in their Citrix environment:
The Dynatrace OneAgent was rolled out to over 2.2K hosts in less than 6 hours, with all hosts automatically mapped in the Dynatrace Smartscape, providing a holistic view of their entire environment (see figure 3).
Davis automatically identified a service degradation that negatively impacted 12,100 users who were already utilizing the Citrix environment for teleworking. To accomplish this, Davis continuously analyzed over 28 billion dependencies, identifying a slowdown on the Citrix StoreFront service as the root-cause of the degradation and highlighted the network and threading issues down to the method-level (figure 4).
Dynatrace's ease of use has also been a major factor in the successes so far. The Citrix Extension has provided visibility into the performance and scalability of their overall Citrix environment and individual Citrix Farms, allowing the customer to measure and optimize end-user experience including where performance bottlenecks occur, how to properly allocate resources and infrastructure, and determine if the network, app, and/or host is the cause of bottlenecks. This visibility is key to the planning and scaling of their teleworking resources, ensuring employees can continue to support the organization's mission remotely.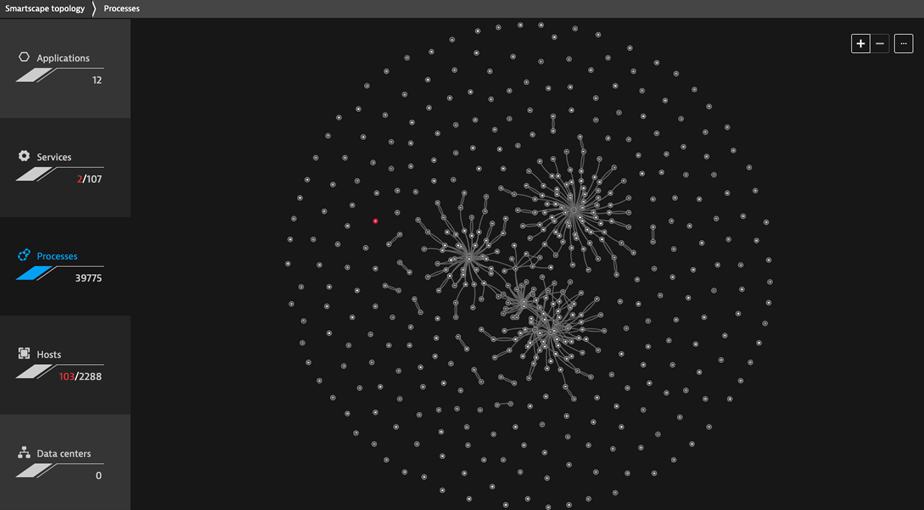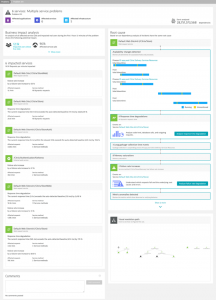 Aside from the huge surge in internal application usage, businesses are also witnessing increased levels of user traffic to their applications. Facilitating an understanding of traffic patterns and potential traffic spikes helps maintain customer experience.
State and local governments are one of the organizations seeing the most surges in web traffic due to an increased demand for public services. One example of these surges was from an unemployment application. The application was written before COVID-19 and expected a low-volume of user activity under normal loads, but when the COVID-19 pandemic arose the volume of traffic for the application dramatically spiked by an increase of 850%.
This increased traffic exposed an issue that seriously impacted every user attempting to access the application. The registration portal user journey (figure 5) illustrates user satisfaction, conversion and abandon data for the registration user journey along with duration, error and usability statistics.
From figure 5 you can see how errors are impacting the user experience:
The front-end UI was designed to not wait for the database activity to complete and would display other content in the UI.
With light load this worked fine, as the database was extremely responsive, but under extreme load this caused a synchronization issue as the UI was attempting to display content that was dependent on activity the backend database hadn't completed yet.
Since the COVID-19 pandemic, the unemployment application has experienced more than 7 million errors per day.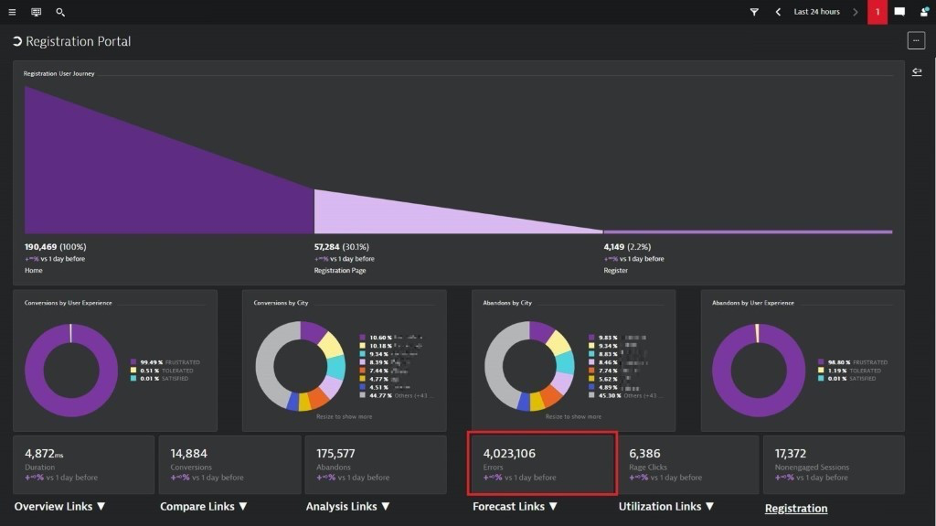 These are just some examples of how organizations are using Dynatrace to ease the strain of our new "normal". Dynatrace is continually helping customers optimize their user experience, enable proactive operations, and ensure business continuity. If you'd like additional tips and insights into how you can accelerate your digital transformation or if you're looking to improve your knowledge of the Dynatrace Platform, we're here to help. We've compiled a list of learning paths for you to take advantage of.
SaaS vendor RUM functionality is available for free for new users through September 19, 2020.
Dynatrace University provides expert guided learning opportunities for you to develop the skills to monitor, manage, and analyze your environment with Dynatrace. Our teams are here for you every step of the way.