Customers form the core driving force for Dynatrace – as we heard from CEO John Van Siclen and CTO Bernd Greifeneder at our annual Perform event in Las Vegas. Without our customers, and partners, constantly supporting and pushing us, Dynatrace wouldn't have enabled autonomous cloud for enterprises in the way it has.
The third, and final, day of Perform focused entirely on Digital Experience. Led by Dave Anderson, SVP of Marketing, customers FTD and DISH voiced their Dynatrace experiences to the 1,800 attendees of Perform 2019.
Customer low-down
Jay Topper, Chief Digital Officer at FTD and Eric Harris, Manager of Enterprise Systems at DISH, formed the morning panel session.
FTD is a global florist brand, housing subsidiaries including Interflora, ProFlowers and Shari's Berries, and has been in business since 1910 when the company was once known as the 'Uber of flowers'.
DISH is a US satellite TV network organization, housing Sling network as well, and implemented Dynatrace to help with their digital transformation journey to move from traditional TV to wireless.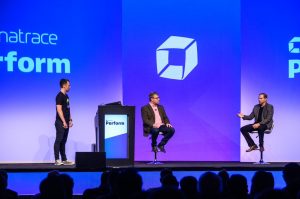 "We had no time to learn the software, but it didn't matter because it just worked" – FTD
Operating on legacy platforms the company had used for several decades, FTD began its journey with Dynatrace to transform the entire platform end-to-end.
"Our platforms were old, and the company had ignored technology for a couple of decades," Topper explained. "So last January we decided to scrap it all and build everything new – not just eCommerce platforms….the entire environment, everything. We built everything 100% in the cloud, with Google, and 100% microservices."
The drastic move 100% to the cloud wasn't the only thing FTD did; the company went straight into implementing Dynatrace, weeks before their new platform was due to go live. And, trusting Dynatrace to help carry out sales, they launched the new platform on their single most busiest day of the year – Mother's Day.
"We had no time to learn the software because we were live. But, it didn't matter because it just worked," Jay explained. "We launched weeks before we went live, and when we started watching the traffic go through we were seeing 400, 500 carts per minute compared to our expected 10-20. It just worked well."
Since implementing Dynatrace, FTD has operationally improved and become more efficient and Jay explained how the company culture has been transformed back to its heritage.
"From my standpoint I'm spending a lot less time on technology now. I don't even think about it, which is really what the metric is for me. Now, I can focus on the digital experience that customers are getting," Jay explained. "Customers are at the heart of what we do, but sadly that was ignored for a couple of decades due to technology but over the last year – with Dynatrace – we've regained that."
"The satellite industry is a 24/7 business – there's no time for outages." – DISH
DISH had undergone several transformations before they adopted Dynatrace; moving from satellite to cable, adapting to the changing needs of customers and then realized it was time to change their out of date, eight year old monitoring systems. This is where Dynatrace comes in.
"We needed to look at a new solution, our monitoring systems were eight years old," Eric explained. "When we experienced a four-hour outage during our POC, the application experiencing the problem had Dynatrace installed and when we took a closer look, sure enough it had located the problem and told us exactly what the issue was. That was our 'aha' moment right there and proved to us that we needed to go down that path."
As a provider of entertainment, customers are undoubtedly the focus for DISH, and it's not ideal to have a system that's down – especially if it was a major sporting event happening.
Dynatrace has improved the experience for DISH customers because of their ability to be able to pinpoint where things went wrong, if they did, and eliminating downtime for customers by spotting problems before they could impact anyone.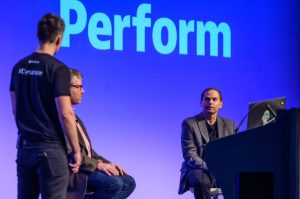 "The satellite industry is a 24/7 business, systems need to be up – there's no time for any outages," Eric said. "It can be a competitive advantage for us if everything runs smoothly. We've been able to separate ourselves from our competitors due to the quality of service our customers receive, because when we see any kind of problem we're on it and addressing it, getting it resolved quickly and that's huge for us."
Experience isn't always about how the end-product is received, but the journey it takes individuals on – whether they're part of the technology or the ones at the end-product. DISH found Dynatrace impacted more than their customers, but also a change in culture across the company.
"For our development guys to say it's the right tool for us, and it's not just an operations tool, that's a massive deal for us and very different from a DISH culture perspective," Eric explained. "When you have the data in front of you, and know you're going to be proactive instead of reactive and solve issues before impact – which for us was previously a manual task – that's a massive culture change and was a major deal."