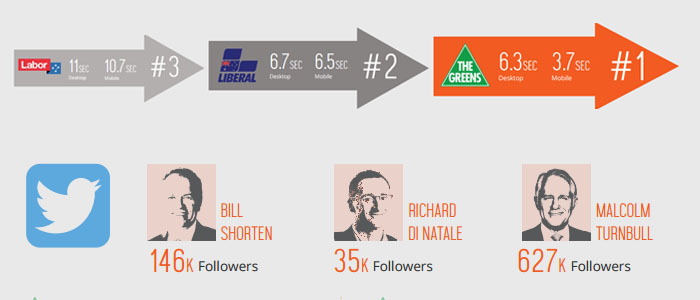 Brexit, Trump, Euro Cup, you'd be forgiven for not knowing the Australian election is tomorrow. Instead of just monitoring the website performance of the political parties, I wanted to extend my analysis to social media, in order to see which political party was utilizing their digital reach most effectively. Can we predict a winner?
Digital media spends increase significantly
In this election, digital accounts for 27.4% of the category's media agency bookings compared to only 7.6% in the 2013 election campaign. (source)
The sharp increase in digital coincides with an equally steep decline in TV's share from 66% in 2013 to 35% this campaign. (source)
So who's winning…
We pulled together this simple infographic using Dynatrace Synthetic Monitoring and Fanpage Karma.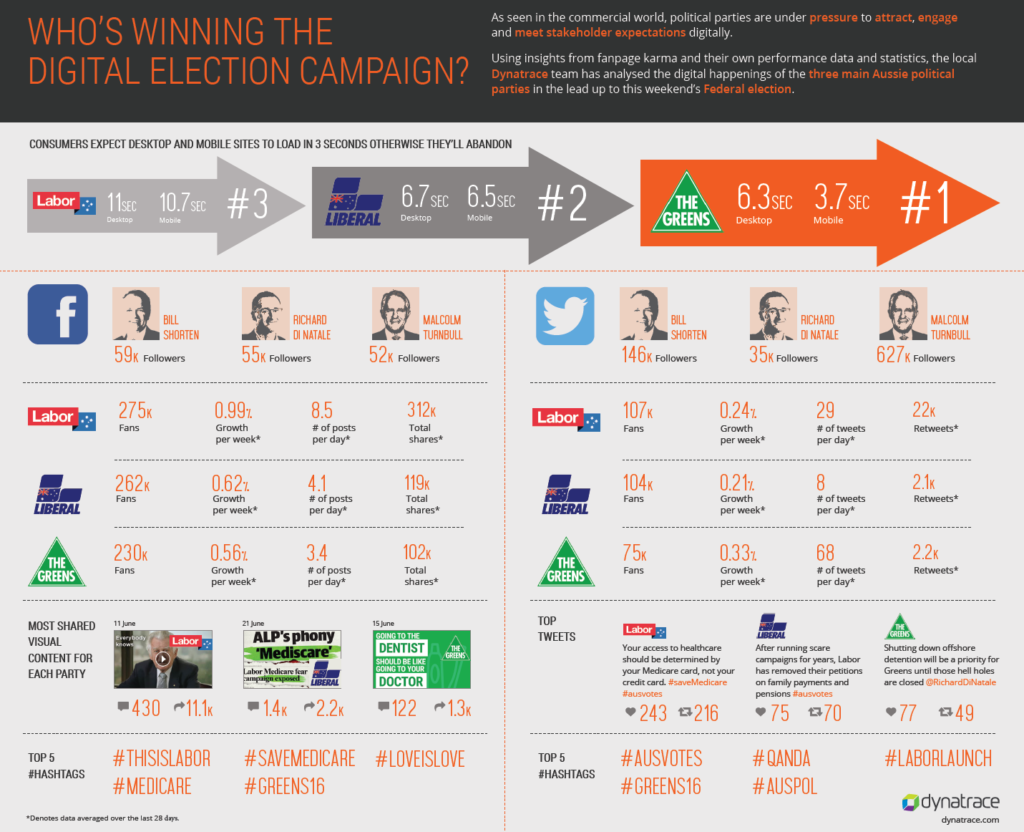 Facebook and Twitter
The Australian Labor Party (ALP) performed better in social gaining for more engagements / shares.
Primarily they were attacking the Liberal Party on issues like Medicare, re-using content well, including reusing a former prime minister Bob Hawke, leveraging big communities from media programs like #QandA and the 7:30 Report, and posting more frequently than the other parties.
At the same time the volume of followers of Liberal leader Malcom Turnbull will have gone some way to combat the reach and engagement that Labor have (we didn't track engagement of the leaders unfortunately).
Monitoring website performance – whilst on the go
Website Performance was sub par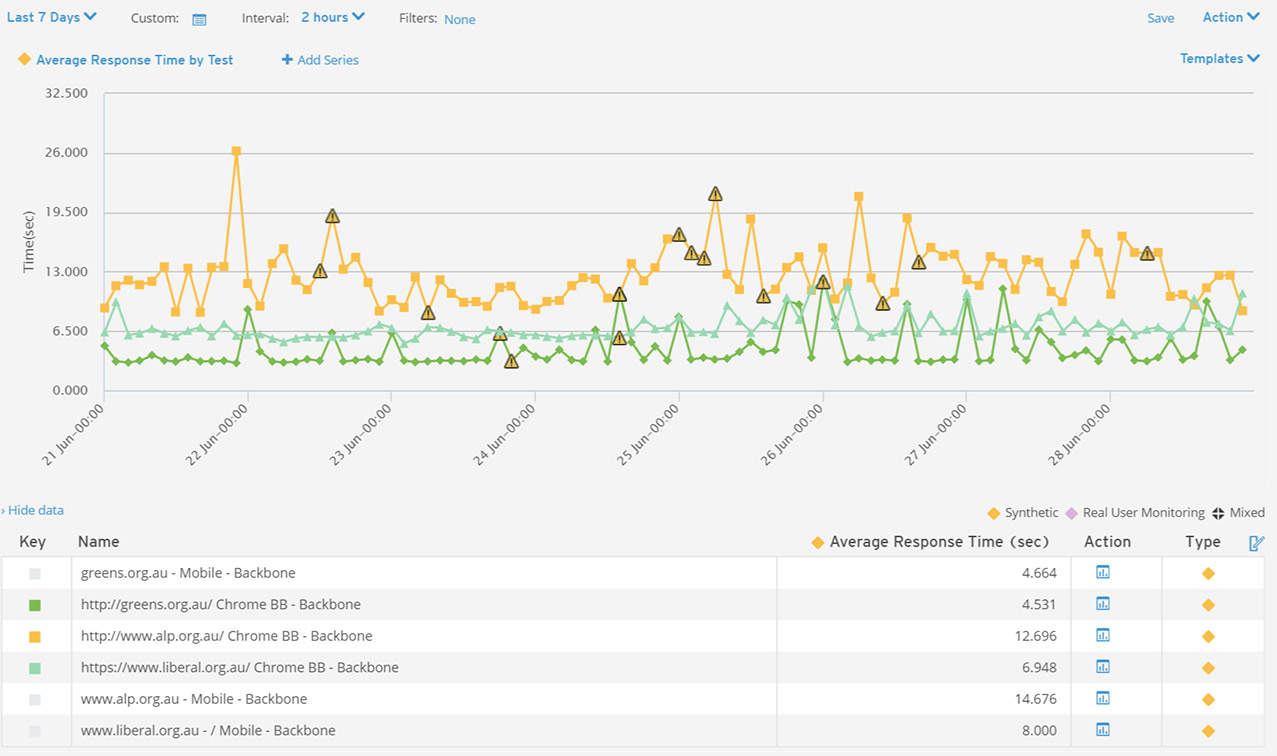 The performance of the websites was mediocre at best. All sites had slow performing websites with the ALP and the Greens having inconsistent response times and availability. Considering the focus on social media, it was disappointing to see that mobile response times were slower than desktop for all parties.
The ALP
The ALP have more 3rd party tracking (60 – 3rd party hosts) with social media retargeting the most common form of analytics.
Seems the ALP strategy really focuses on social engagement, website engagement and then re-engagement.
Their reliance on these 3rd parties, and the way in which they were delivered to the end user, was less than optimal.
An average response time of more than 12 seconds would have frustrated those patient enough to click through.
The Liberals
The Liberals website had average performance with a response time of 6.9 seconds.
I found it rather odd that they were using Medium for their posts instead of their own site. They didn't appear to be gathering much engagement, and they would have lost the ability to re-target.
Their site reliability was better than the other parties.
The Greens
Greens had the least amount of tracking and third parties and as a result had the faster performing site.
Unfortunately the reliability of the site was questionable as I picked up 2-3 outages in the last two weeks of the campaign.
That's it for now. Check out the coverage on BandT and enjoy your sausage sizzles! My prediction. A draw.