Gymnast, advocate, author, and now headliner at Dynatrace Perform 2022, Simone Biles joins Dynatrace's Debbie Umbach to talk about her keys to success and how she twists challenges into triumphs.
Simone Biles is no stranger to being a game-changer—and receiving game-changing support that has helped her on her path to greatness.
As the most decorated gymnast of all time, Biles' meteoric gymnastics career culminated in bronze and silver medals at the Tokyo Olympics in 2021. Though the world often perceives her as superhuman, Biles' experiences and her openness about the challenges she faces are universal and relatable. Through her honesty and candor, Biles flips the script on perceptions of perfection and turns challenges into motivating strengths.
At this inflection point in her life, just days before her engagement to Houston Texans defensive back, Jonathan Owens, Biles sat down for a fireside chat with Dynatrace's Vice President of Corporate Marketing (and former youth gymnast), Debbie Umbach. Umbach asked Biles how she got her start.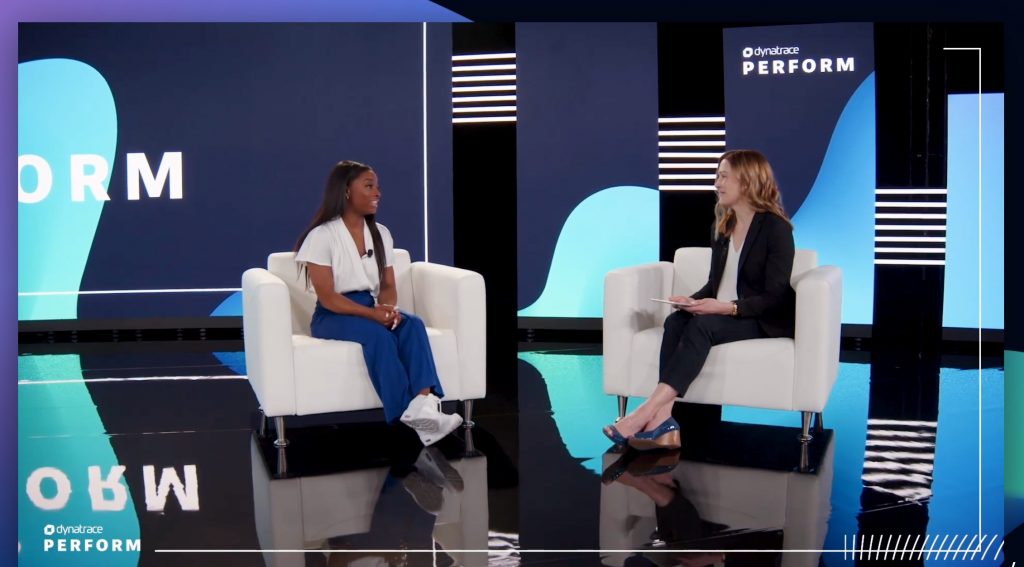 "I wanted to be just like them"
The gymnastics "greatest of all time" almost didn't happen. Saved from foster care by her maternal grandparents, Biles and her sister Adria moved to Houston, Texas. When she was six, a daycare field trip to an oil ranch was rained out, so they went to a gymnastics studio instead. A letter of encouragement from the coaches—and little Simone's vaults off the living room furniture—convinced them to enroll her in lessons.
Biles found her inspiration from the older girls in the gym. "I would see them compete and I saw the skills they were doing and the level they were at, and I wanted to be just like them," she says. Did she have a sense she was destined for greatness? Biles flashes her twinkly smile. "If you go back and look at my videos, I was tragic," she says. "I had bad form and couldn't straighten my legs. I just had a lot of power. It took a lot of practice and years to get the goodness out of me."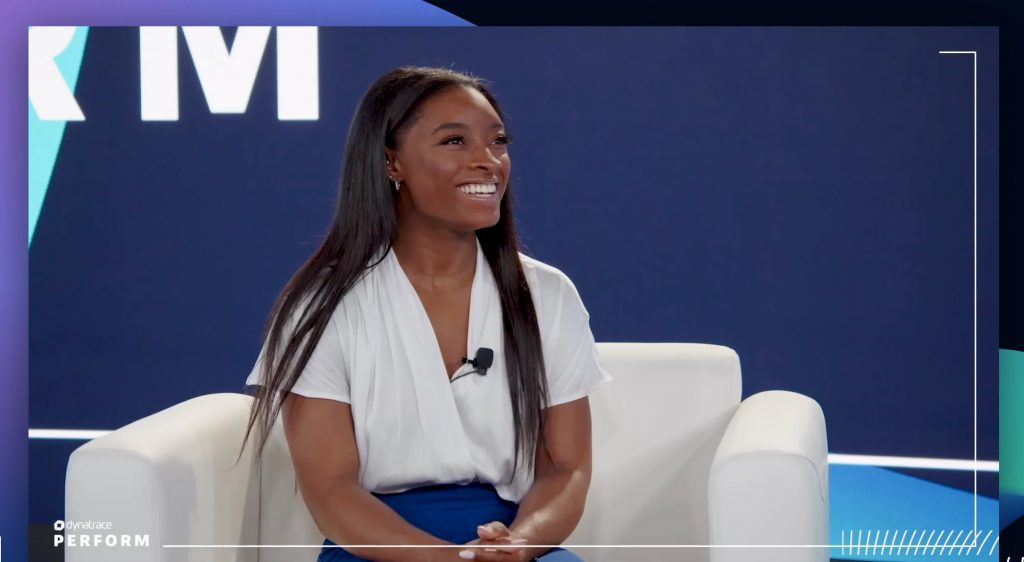 But those around her saw what she had, and Biles was soon competing on the global stage.
You can't change the game by yourself
"When I first entered that stage, I was really excited to get started and see what I was capable of and how far I could push the boundaries," she recalls. The harder part is managing people's expectations and reactions.
"Even now I feel like it's a daily struggle because everyone judges you based on what they perceive, even with social media," she says. But you can't change the game alone.
For Simone Biles, having the support of her friends and family is crucial. "My support structure is everything," she says. "They bring me up on my down days and raise me higher on my good days."
In her experience, changing the game requires everyone's input. "Everybody's creativity and their mindset bring it all together," she says. "There are always people before you who have paved the way and people in my life who uplifted me, even my parents taking me to and from practice. It's not possible to change the game by yourself."
Simone Biles' winning mindset
Once Simone Biles reached international competition, preparation went from just training for skills to training for pressure. This included mock meets and performing in front of audiences, coaches, and judges. "You kind of go into airplane mode," she says. "It's still a little bit intimidating. Sometimes I'm more scared for my coaches or my teammates even though you have all the trust in the world in them."
Goal setting is a habit Biles developed early. "At a very young age, at the beginning of the year, my mom would pull us into her office to set goals," she recalls. She hated it at first. "I didn't want to fail myself," she says, brushing back her hair to reveal a small tattoo of the Olympic rings on her forearm. "It was good to have short-term goals and long-term goals, so I had something to look forward to and to know what I'm working toward. As I got older, I had a greater appreciation for it because it always kept me on track."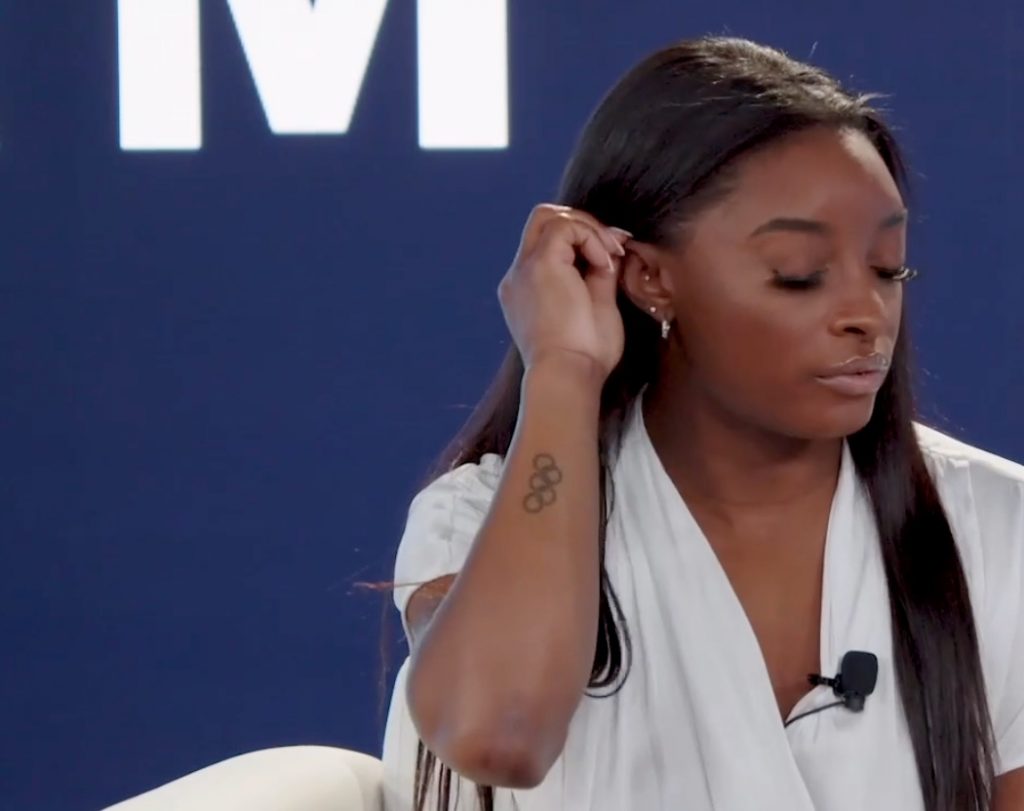 For Biles, there's a fine balance between control and risk. "If you try to control it too much, that's when mistakes happen," she says. "So you go out with a mindset that I've trained these skills and routines so many times, it's just another set and go on autopilot. We know the risks we're taking once we enter the sport and do the competitions—we're already doing things that are very out of the ordinary. It's about controlling your mindset when you go out there."
Changing the game: The Biles
Pushing the envelope for Simone Biles meant she had to create new boundaries—and innovate new moves. In all, she has four moves named after her: two on floor exercises, one on the beam, and one on the vault.
The first new move sprang from adversity. She'd started developing bone spurs from short landings on her floor routines. "My coach said, what if you did a half-twist instead of a full twist? You're landing forward so it's easier on your ankles," she recalls. The new move was riskier and no one else was doing it. They submitted the move to the competition officials anyway. Then, when she landed it at the world championships later that year, they named the move "The Biles" after her.
"The first one was for injuries," she says, flashing her grin. "The others were just for fun and to push boundaries."
"The twisties"
The interruption of COVID-19 in 2020 was devastating for the athletes of the summer Olympics in Tokyo. When the games finally happened in 2021, Simone Biles lost her bearings in the middle of what should have been a 2½-twist vault and withdrew from the competition. Many people thought she withdrew just because she had a bad run. "Not many people can tell a 1½ from a 2½," she says. "But I seriously got lost in the air and it was seriously dangerous."
It was "the twisties," a mental block that causes an athlete to lose their bearings in an aerial routine. It had been building for days. From previous experience, Biles knew it would take her at least two weeks to recover. She made an immediate decision to withdraw, which gave her team the best chance to medal in the overall competition.
"The hardest part for me was everybody creating their own narrative and putting that in the media before I had a chance to speak for myself," she says. "I had to wait through four events and then a medal ceremony before I could go speak to the media." To filter out the noise of people who weren't familiar with the twisties, she also withdrew from social media. She even deleted Twitter.
From the face of gymnastics to the face of mental health
Almost overnight, Biles went from the face of gymnastics to the face of mental health. "Honestly, that terrified me, and I didn't like it, so I was trying to change the narrative," she says. Everyone thought she would be an instant expert at navigating mental health, too. "I honestly have no idea how to do this," she explains. "I'm trying to navigate this journey on my own. Every person's journey is unique, so I don't want to tell you how you should be on your journey. If I can help people and be a voice for the voiceless, that's what I'm going to do."
To help people who are struggling, Biles says to let people know they are not alone. "A lot of people fight silent battles, and they don't need to," she says. "Check in on your family and friends in your circle. It's usually the strong ones in your group who struggle the most."
What's next for Simone Biles
Since Tokyo, people approach Biles a little bit differently, which she likes. "Before, people only wanted to talk about gold medals and gymnastics," she says, which can get old for someone who spends 24/7 in the gym. "Now they want to talk about me and how I am and who I am as a person. I've always wanted people to look at me as just Simone. Even though I've achieved incredible things, I'm still human and I still have feelings. I like for people to treat me normal, and they have."
At 24, Simone Biles has a lifetime full of achievements ahead of her. Business acumen runs in her family. But for Biles, one thing is certain. "I'll always be active in the gymnastics world because it's been a part of my whole entire life and always will be," she says.
To see Debbie Umbach's full interview with Simone Biles at Dynatrace Perform 2022, check it out on demand — Fireside chat: Simone Biles takes the floor.