Customer experience is the key driver to success across the service industry. Nowhere is this more apparent than in the highly-competitive cruise industry, where passenger satisfaction is the highest priority.
At this year's Perform Event, Royal Caribbean demonstrated this as Carlos Gutierrez-Menoyo, Senior Operations Manager of eCommerce, explained in detail the company's commitment to customer experience, and that from the very early stages, they invested heavily in IT.
More specifically Carlos explained Royal Caribbean's investments in:
Classic Synthetic monitoring – for their company's web presence, to enable them to catch any errors and performance issues before users were impacted
DC RUM – used to provide high-level availability monitoring across the website
Dynatrace Business Insights team – analyzing metrics to provide improve business performance and removing false positives
Before the Dynatrace Platform
Prior to implementing Dynatrace, Royal Caribbean's initial classic synthetic solution met their needs, but Gutierrez-Menoyo explained the solution left Royal Caribbean with a limited view – only identifying the 'good' processes happening, and the availability issues for the business transactions that were set up to monitor– not the errors that were impacting users.
"We were using classic synthetics to try to mimic that user experience. It would run through the website, it would go through the homepage, and it would do what we thought users were doing," Gutierrez-Menoyo explained. "But it's still a very limited view into what they and it only covers what we call a "happy path" – the good. It doesn't get the same error, it doesn't get the same slow page loads that a user might run into. And that's what we really want to capture."
Within a couple of years Royal Caribbean began an internal digital transformation, which meant modernizing their architecture, bringing other teams in-line with overall IT strategies, and consolidating vendors where possible.
During this digital transformation was the creation of the eCommerce group; charged with fostering and championing innovation at all levels—meaning a broader use of this Application Performance Monitoring (APM) technology, to enhance overall digital business objectives as well as taking advantage of any additional monitoring technologies.
Through this digital transformation, the different teams wanted to ensure that they were getting the best-in-class technology available in the market. So, they opened the requirements up to other vendors as well.
"We tried several different tools and we could get some to work, but we just weren't happy with what we were seeing out of them. Then others just didn't work in our complex environment at all," Gutierrez-Menoyo explained. "As we moved to a move containerized environment, using Apache Mesos and Kafka, we found other vendors didn't support some aspects of this – the way Dynatrace did."
How did Dynatrace improve their Business Performance?
Dynatrace fit perfectly into Royal Caribbean's business, from both a functional and architectural perspective. Using the new Dynatrace platform, including both Synthetic and RUM, Carlos explained that Royal Caribbean can now see every user, everything that user does and the experience they have on the website.
"Now we can see things we could never see before," Carlos explained. "We can see that certain pages took a little longer than we would expect. We can see that users are maybe leaving a page after a certain point because they had a negative experience, or because they experienced an error– or something didn't load for them at all. That's the difference Dynatrace brings."
Enhancing digital experience
Royal Caribbean's end goal is to manage the entire digital user journey, from the moment customers purchased their tickets, to when they check-in on the cruise.
By using the powerful DEM functionality of Dynatrace through the OneAgent platform, specifically our RUM functionality, Royal Caribbean can successfully monitor all these phases of the user journey. Additionally, they can now understand the potential limitations in bandwidth as well as online user struggle to quickly rectify them before other users are affected.
One of the key processes Royal Caribbean was looking to include among their Customer Experience initiatives was the ability to monitor user experience. And so, the company enhanced the Dynatrace platform and extended the capabilities to include Session Replay, which captures and replays the entire user session.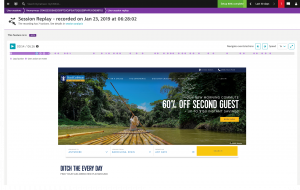 This functionality enables Royal Caribbean to sample user sessions, as well as put themselves in the customer seat when any problems arise. As a result, they understand the full extent of the experience and resolve issues quickly. ​
"With Session Replay seeing it all on one system is very beneficial," Carlos said. "The fact that I can see if a user is struggling, then drill-down to see that there are three times the amount of JavaScript errors going on, that's where the real value comes in."
 If you are interested in participating in the Session Replay Beta Program, click here to sign up.