Digital transformation has disrupted the way corporations do business, especially when it comes to testing. The old ways of testing won't cut it anymore and that's why DevOps adoption is so important in your digital transformation strategy. Whether you "Shift-Left," to find issues early before reaching production or "Shift-Right," so business and development teams can see production data for faster improvements, DevOps is all about proactive collaboration. With proactive collaboration, you get valuable insight into your business health, which can dramatically reduce your Mean Time To Repair (MTTR), letting you quickly see the moment things break down and recovery of services.
No DevOps or digital transformation strategy would be successful without the right monitoring solution in place. At our Perform 2018 conference, Principal walked us through their courtship with Dynatrace. In 2016, Principal transitioned to Shift-Left and implemented monitoring for application integration tests. They relied on Dynatrace AppMon and found their MTTR significantly improved and could identify where and why problems were occurring, getting to the root cause instantly.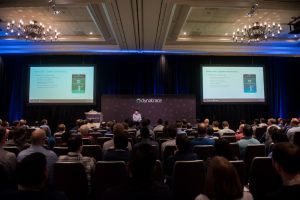 So, does the story end there? Of course not! Technology is constantly developing and organizations need to adapt. Principal was facing new technologies, environments, and users. Simply put, they needed a strategy to monitor their environments. They were introduced to Dynatrace in 2017 and immediately, these features stood out to Principal:
Dynatrace OneAgent – way better than 007! Dynatrace OneAgent is a single agent that collects all relevant metrics along 100% of your application delivery chain.

Ease of use with one-time install on a host
Technology/Language agnostic auto detection
Auto detection of applications

Artificial Intelligence – causation based AI gets to the root cause fast

Auto issue discovery
Self-healing
Davis® – Dynatrace virtual assistant to answer complex questions
Principal was so excited about Dynatrace, they set up their own "Performfest" at their office, with Dynatrace representatives onsite to answer questions and provide a demo relevant to Principal's environment and the challenges they were facing. Yes, that's the type of customer service you can expect with Dynatrace!
With Dynatrace, Principal could tackle all the new drivers they were facing, identify issues before there were issues (proactive) and gain better business views. With the volume they monitor, AI would be critical to eliminate human error. Ryan Heard, Senior IT Application Analyst at Principal said it best during his presentation at Perform. "There is a lot of stuff Dynatrace is putting into their product that is exciting."
Principal is just one of many customers developing plans to transition existing applications from AppMon to Dynatrace. As we heard from many customers at Perform 2018, "seeing is believing" with Dynatrace and we are happy to set up a demo anywhere to walk you through our capabilities.
Be on the lookout for additional stories from the Enterprise Monitoring breakout track, including how companies are transitioning to Dynatrace. Spoiler alert, it's easier than you think!
Meanwhile, check out the Perform highlights to access all the videos and presentations or better yet, register to join us for Perform Europe taking place May 23-25, 2018 at the W Hotel in Barcelona.