It is quite hard do this amazing internship justice by wrapping it up in a blog of this size. I had so many great experiences that it is difficult to decide what I should write about first.
So, let me start by shortly explaining the circumstances of my internship:
I was accepted as an intern at the Dynatrace Klagenfurt Lab for six weeks. My internship started this summer after the end of my fourth semester as I am still studying computer science at the University of Technology in Graz. My workplace – the Dynatrace Klagenfurt Lab – is located in the Lakeside Park only five minutes away from the lake.
Let me tell you it is a downright charming place of employment.
Since I couldn't figure out where to begin my recapitulation, allow me to just refer to the three most impressive and memorable facets that make working at Dynatrace such a fantastic experience.
The Office
The experience starts with the most overlooked but nonetheless vital feature: The Office. Entering the Klagenfurt Lab, the first thing you are greeted with is a nicely decorated lobby in the colours green, grey and blue filled with cosy-looking couches and a football table.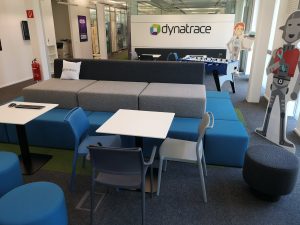 The offices are constructed with plenty of glass so that a lot of natural light filters in from the outside and are decorated with comic-like scenes from various movies. This serves in making them look more inviting and appealing. In the kitchen, you can grab free fruit and especially coffee anytime of the day.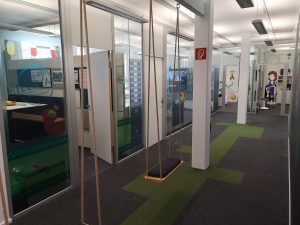 All in all, you instantly feel at home in this cordial atmosphere and it makes for a very sound and friendly working environment.
The Work
The work was challenging. Not in a bad way but in a good way. Every day I learned something new, be it a pattern, a new technology or know-how in a programming language. Often, I had to research software that I was not familiar with. However, I was never completely on my own. If I was stuck I could always count on my team members to help me out.
The whole software development process is run using SCRUM, an agile working method. Every day the whole team would meet, and everyone would discuss what they did the day before and what we would do today. This way, everyone is informed about what their colleges are working on and could receive help or advise from their team members.
You would get tasks that were complete over a time period of two weeks, called sprint, and at the end, your results would be presented to your team.
Through this method, you would have a sense of achievement every two weeks and you would never feel overwhelmed by the size of your tasks. For example, my task started out as a simple bot that should interact with different platforms. Over my three sprints however, the bot grew in complexity until it was a full-fledged versatile chat bot with a multitude of different functions.
Let me tell you how good it felt presenting my project at the end of my internship.
The Communication
The most astonishing part was the carefree, easy-going and pleasant communication with not only my team, but with virtually everyone at Dynatrace.
It started with the friendly contact with the recruiting team who acted extremely sincere and cordial towards me and answered all my questions in great detail.
My own team welcomed me with open arms and was always supportive. If I had a question I could be sure that I would get a detailed explanation probably with a diagram on the whiteboard to boot and I had many interesting conversations and table football games with everyone in the office.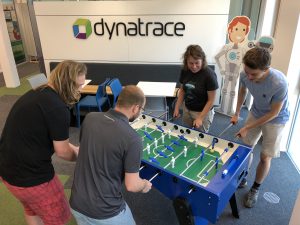 But it is even more than that. The communication at Dynatrace is a completely different culture. You can approach anyone for help or advice and they will try to help as best as they can or at least forward you to other people who would be better suited to help you with your problems.
There is no "I am too important to help you so go find someone else" answers. Everyone tries their best to make this environment open and friendly and it shows.
This was probably the most striking and impressive observation I had while working here.
Conclusion
I had an awesome time while working at Dynatrace and it didn't even feel like work. In fact, I am more stressed studying for university than working here and I was actually excited to go to work in the morning.
Of course, there were many more aspects that made this an unforgettable experience and hopefully I will get the opportunity to work for Dynatrace in the future.
We'll see