We've all had to Transform Faster this past year. Not just with our technology, or in business, but in all areas of our lives.
And we know as well as anyone: the need for fast transformations drives amazing flexibility and innovation, which is why we took Perform Hands-on Training (HOT) virtual for 2021. Here's what's new this year, and how you can get a front-row seat in our virtual classroom.
More flexibility, more options
Taking training sessions online this year lets us provide more instructor-led sessions over more days and times than ever before. Meaning you can make a customized schedule that works around your real-life commitments, and attend more sessions than in years past.
Each day, you can sign up for sessions in one of three time slots, conducted live with Dynatrace experts:
8 am to 12 pm EST (UTC + 5:00)
1 pm to 5 pm EST (UTC + 5:00)
1 pm to 5 pm AEDT (UTC + 5:00)
You can also choose from 27 unique session topics – all requested by Dynatrace customers – across all experience levels and areas of the Dynatrace platform.
And last but certainly not least, sessions are more affordable than ever. This year, we're offering a special Perform 2021 discounted rate. These invaluable deep-dive sessions are just $100 each, and payable via card or your Dynatrace Flexpoints contract*. You can register for Perform 2021 HOT sessions within our Dynatrace University portal.
*To pay via Dynatrace Flexpoints contract, please contact your Dynatrace Services Representative before registering.
One-stop registration for multiple sessions
Perform 2021 HOT registration is located within our amazing Dynatrace University. Here's how to view and sign up for sessions.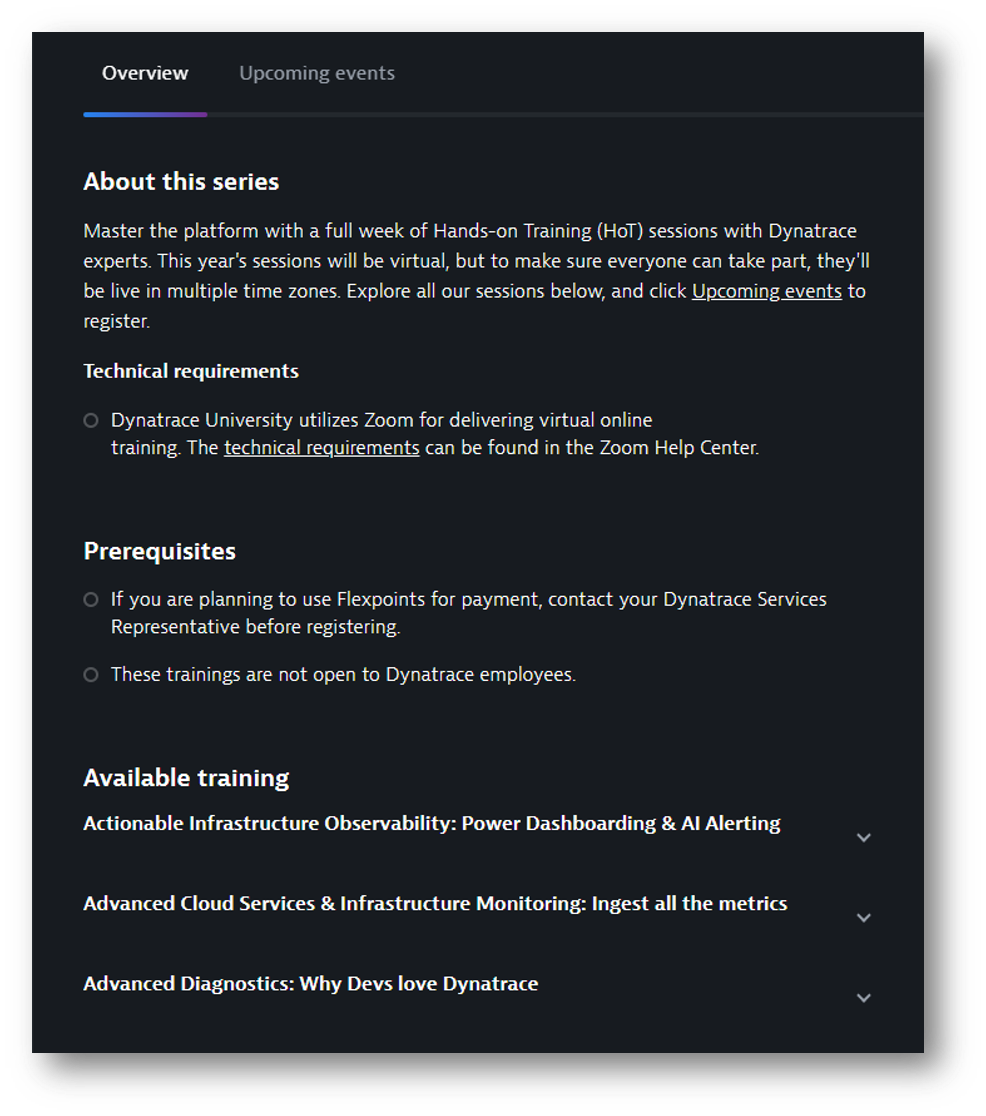 From the Upcoming events tab, or after clicking on View Events from the Overview tab, use the filtering options across the top to enter or clear text, time zones, dates, or levels to find and select the sessions you would like to attend. You can also sort by clicking on Event, Start date, or Skill level.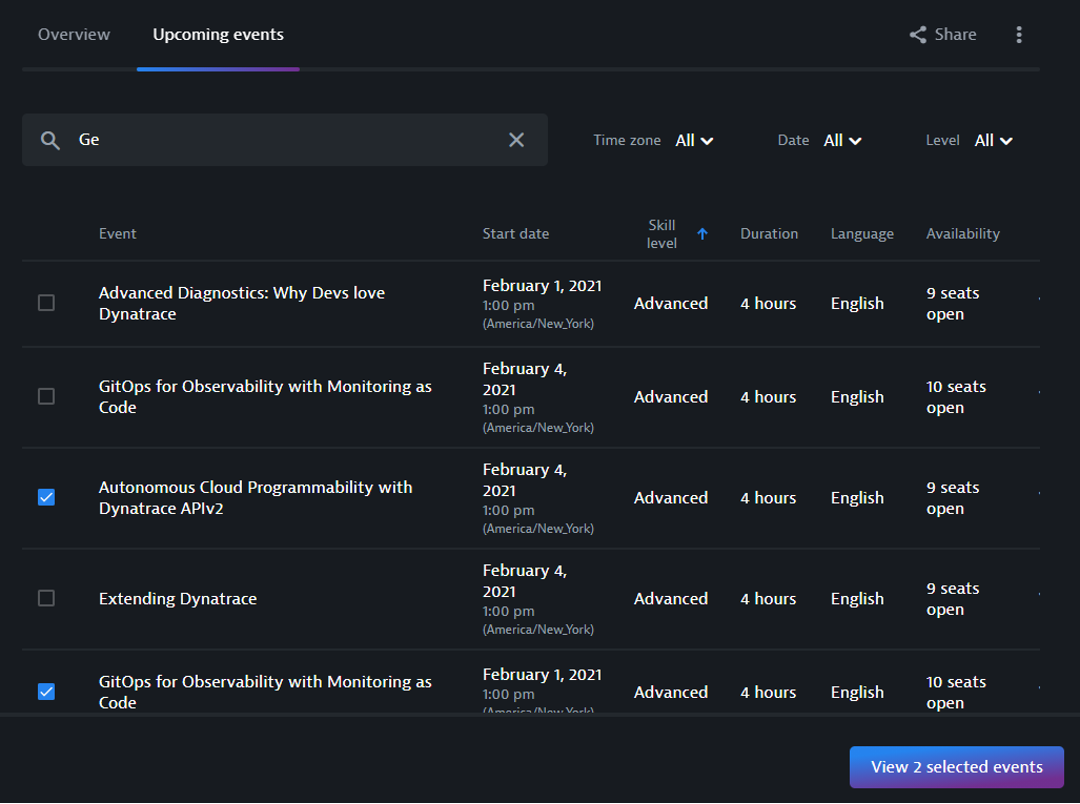 As you select your sessions, you will have a View selected event button display in the lower right-hand corner that will be updated as you select each additional session. Once you're all set with your selections, click View selected event (or View # selected events if you have multiple selected).
A Selected events window will display what sessions you have selected. You can click Remove to remove a session if it turns out that date, time, or time zone won't work for you, or if you accidentally picked two sessions at the same date and time. You can also click Close to go back to the Upcoming events page and pick more sessions.
After viewing the summary, if everything looks good, click Register. You will then be taken to the Checkout page.
First, you'll need to read and accept the terms and conditions. You will then be taken to step 2 where you can enter a promotion code.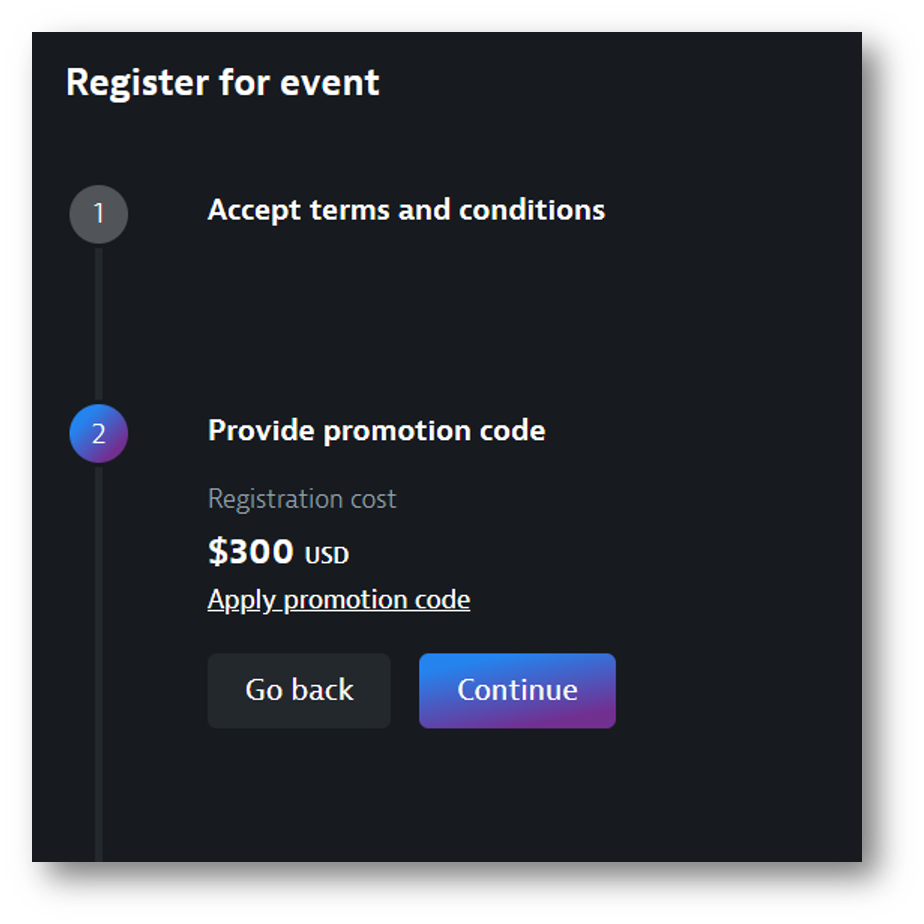 This is where those paying with Flexpoints will enter the special Flexpoints promotion code provided by your Dynatrace Services Representative by clicking Apply promotion code. After you enter the promotional code and click Continue you should not have any balance due and can click Confirm. You will receive your registration confirmation emails for each of your sessions shortly.
If you are not paying by credit card instead of Flexpoints, you should click Continue. Click Credit Card and Select Method. You will be requested to enter your credit card information. Click Review Payment and Confirm once payment has been completed. You will receive your registration confirmation emails for each of your sessions shortly.
For questions regarding the process of registering or paying for Perform 2021 HOT, contact the Dynatrace University Program Team here.
Recommended Dynatrace beginner playlist
So where do you start? Well, for anyone new to Dynatrace, or checking out Dynatrace for the first time, we recommend the following Hands-on Training sessions as a beginner's track (and if you only attend two sessions, we recommend the top two):
Getting started with Dynatrace
Get hands-on experience installing the OneAgent, understanding the full-stack metrics captured, and reviewing key use cases covered by the platform.
Getting started with Digital Experience Monitoring (DEM) analytics
Learn how to understand your true user experience for your end-users. This session will guide beginners through the user experience journey within Dynatrace.
Cloud Migration Best Practices / Bridging the gap between legacy & cloud
Learn what it takes to define and execute a migration strategy for a low-risk, smooth transition to the cloud. Learn about Dynatrace's advanced observability features that give you actionable insights every step of the way – from assessing, planning, migrating, and finally optimization. You'll learn how to understand application usage patterns, infrastructure consumption, service dependencies, benchmarking performance and ensuring service levels, and enabling modern operations.
And like last year, we're also offering all attendees the opportunity to obtain your Dynatrace Associate Certification for free.*
*Only one free attempt per attendee. You must attend Perform 2021 and after attending, please send an email to performcertification@dynatrace.com requesting your free Dynatrace Associate Certification unique promo code.
Already Dynatrace Associate certified?
If you've already got your Associate Certification, why not take the Dynatrace Professional Certification too? It's free just for attending four HOT sessions.*
*Only one free attempt per attendee. After attending four HOT sessions, send an email to performcertification@dynatrace.com requesting your free Dynatrace Professional Certification unique promo code.
If you have any questions regarding the HOT event itself, please contact the Perform 2021 HOT team here. For any questions regarding the Perform Certification promotions, contact the Perform 2021 Certification team here.
We can't wait to see you, at least virtually, at Perform 2021 HOT week!
-The Dynatrace University Team