Coming off Perform last week in Las Vegas was an amazing experience. There were tons of game changing announcements about what's on the horizon for Dynatrace, but even more exciting, was to hear how Dynatrace is impacting our customers.
I sat in on the Enterprise Monitoring track which was focused on how companies must embrace collaboration when facing new environments and technology. For 2 days I listened to 8 customers talk about how they are managing the complexity of today's IT ecosystem and how Dynatrace has become a core fabric of their business.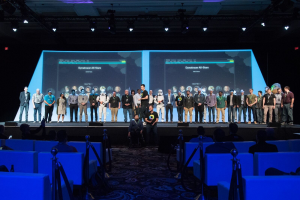 The common theme among these customers? Watching dashboards is the past, full integration with a complete view across the IT stacks is the future! The ability to pinpoint problems and where they are coming from, actionable data and deep metrics, open API, automation – all these capabilities (plus many more) have led our customers to undergo successful digital transformations and break down silos, creating an open dialog between business and IT.
As one customer said, this complete business view has redefined what success looks like and "communication between teams have reached new levels with a single pane of glass".
If you missed Perform this year check out what Bernd Greifeneder, Dynatrace co-founder and CTO, had to say about breaking down silos and creating a BizDevOps culture. We also announced the Dynatrace All Stars program and Hall of Fame, see the customers who help make this event so successful.
In the upcoming weeks, I'll deep dive into each customer breakout session from the Enterprise Monitoring track and how they embrace the Dynatrace platform. As one customer said, with our AI views, full stack and easy integration, they were "all in".
With all this exciting news happening and great customers who want to share the Dynatrace story, we couldn't just stop at Vegas! Perform is coming to Europe and will be taking over the W Hotel in Barcelona May 23-25, 2018. Register today!