Dynatrace forums are moving to the new Community platform. This is the first step in bringing overall Dynatrace supportability to the next level to ensure seamless Dynatrace user journeys.
At Dynatrace, we strive to deliver an outstanding user experience not only within the product, but also in customer support, chat, as well as in all self-service resources we provide to you 24/7. Our Community forum is one of these resources. It's a one-of-a-kind place because it's co-created by all our Community members. We strongly believe that Dynatrace customers, partners, prospects, and employees deserve the best-in-class community solution that perfectly complements our best-in-class Software Intelligence Platform.
Collaborate with others to get the most out of Dynatrace
The last year has made online connections more important than ever. We can't meet face-to-face at conferences, fairs, and meetups. Perform 2020 is now a memory.
We know how important knowledge exchange is and how you value your peers' experience. In the new Community platform, it will be easy to discuss your topics of interest, get to know topic experts, and most importantly, find the right content quickly.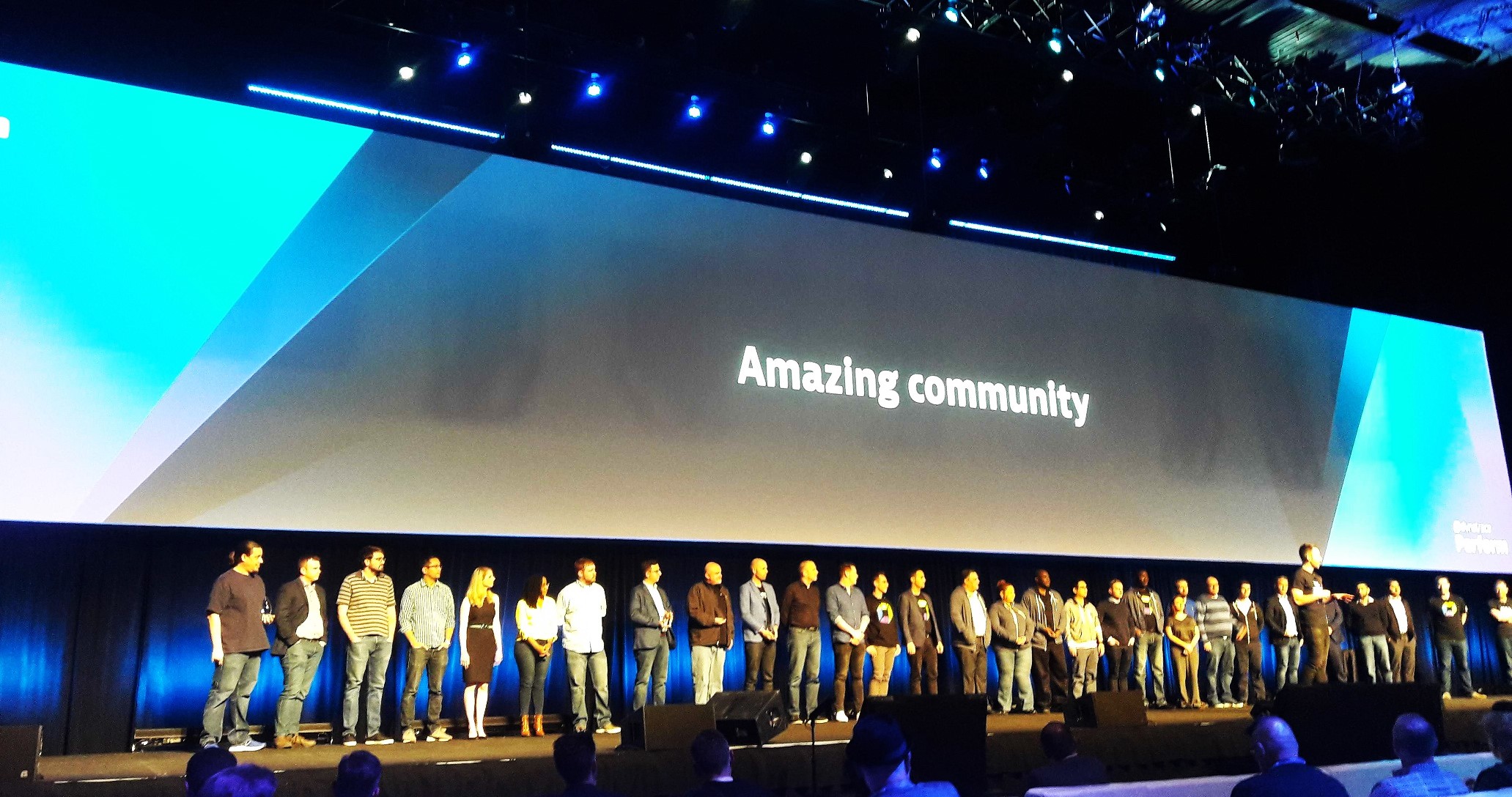 Learn from real-life examples you won't find anywhere else
"Due to a lot of functionalities and features that exist in Dynatrace, there's no way to know all things. But the Community knows."

– Dynatrace Community member
With the monitoring flexibility that comes with Dynatrace, it's impossible to test and describe all technologies, use cases, and possible scenarios. We restructured the forum and made forum labels more prominent so you can now easily jump into a discussion with others who might have already implemented what you're looking for.
There are almost 150,000 posts in the Dynatrace Community that you can explore right away. These include Dynatrace extensions shared by our generous Community members, deployment scenario questions, and much more.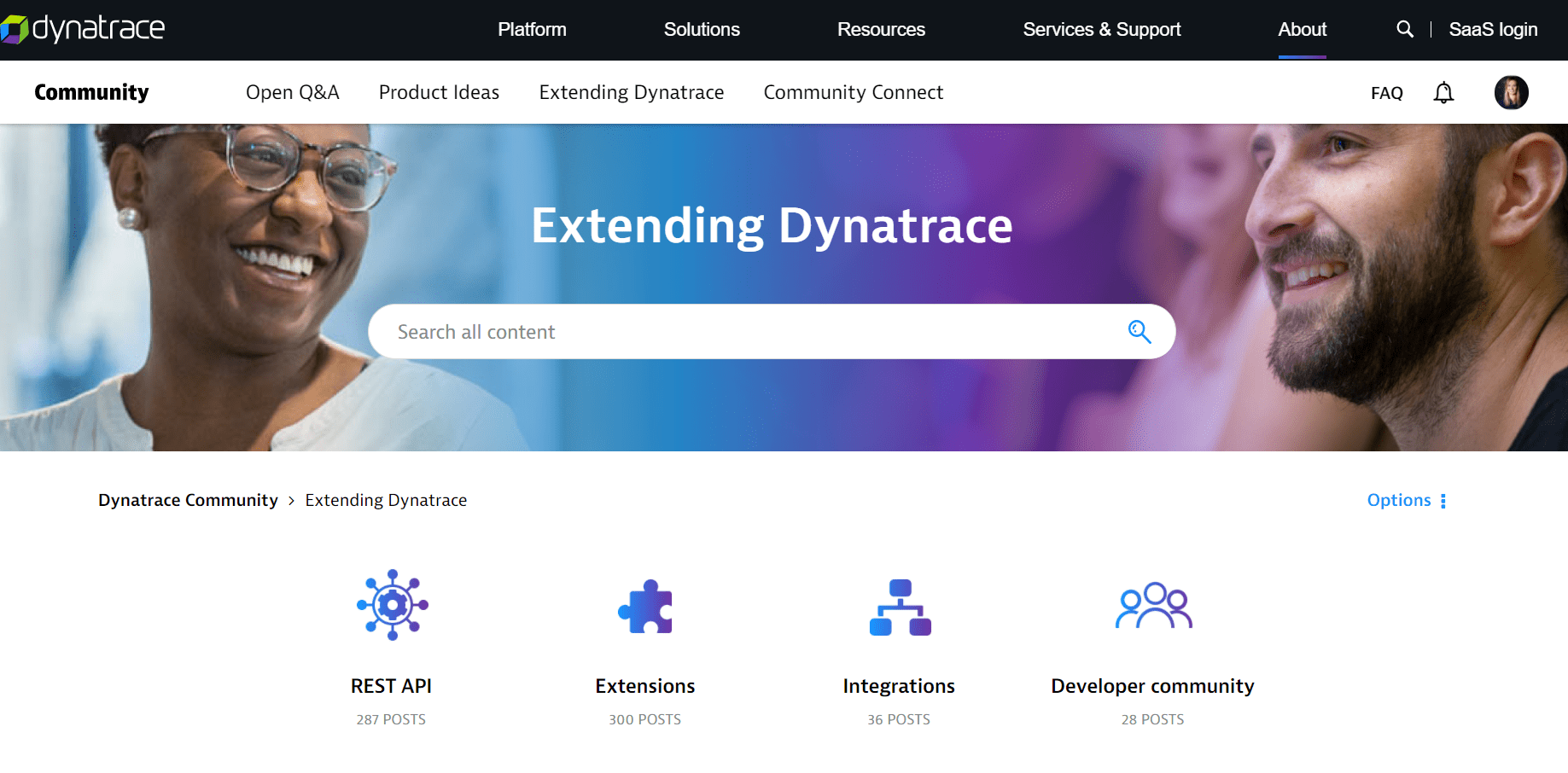 Personalize your community experience
The new Community platform is our investment in bringing you solutions and capabilities that enhance your self-service support experience and help you connect, share, learn, and troubleshoot issues 24/7/365.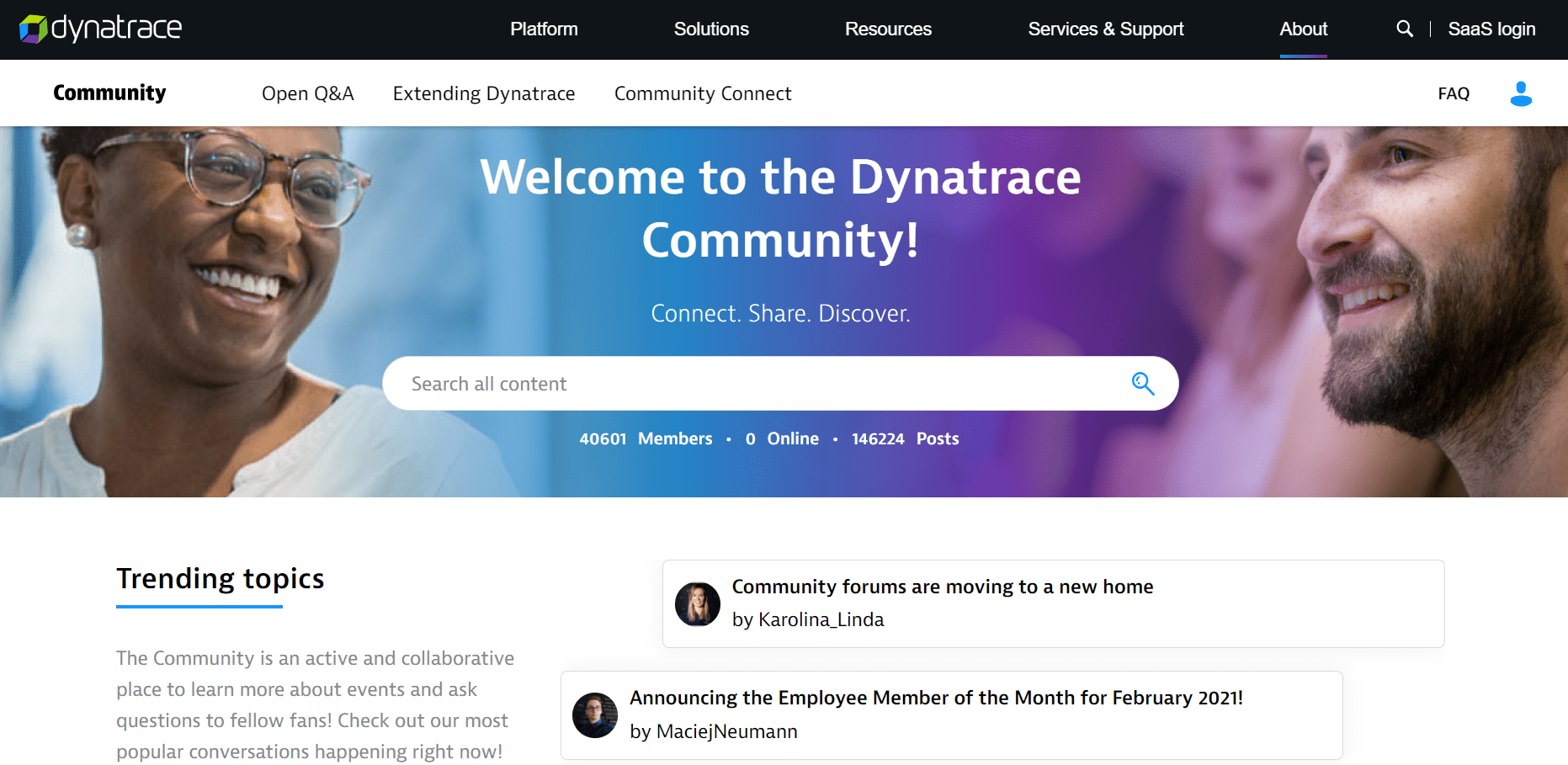 We have new features for you that provide much more than gaining product knowledge:
Ability to create a unique user name to avoid incorrect user mentions
Personal notification feed for insights into content updates and your Community awards
Personalized bookmarks and notification settings to stay up to date with topics that interest you
User ranks to help you quickly identify who's taking part in a discussion
Branded badges that may be given out for specific Dynatrace achievements, such as product certifications
Additional forum permissions for Community power users so they can enhance the Community experience on their own
Innovate and shape the product with Dynatrace
"Dynatrace has no limit but your imagination."

– Dynatrace Community member
Based on the number of product ideas already submitted in the forums, we know that the above quote is definitely true! Moreover, we love to receive your feedback proactively and share plans with you so you can prepare for upcoming product updates.
To make it even more transparent and easily accessible for you, we created an entirely new Product Ideas category (you need to log in to see it) with three subforums where you can contribute your feedback:
A regular ideation forum where you can submit new ideas and vote on existing ones
A forum where Product Managers maintain topics that gather all the ideas around particular product capabilities
A forum with surveys and questions about upcoming features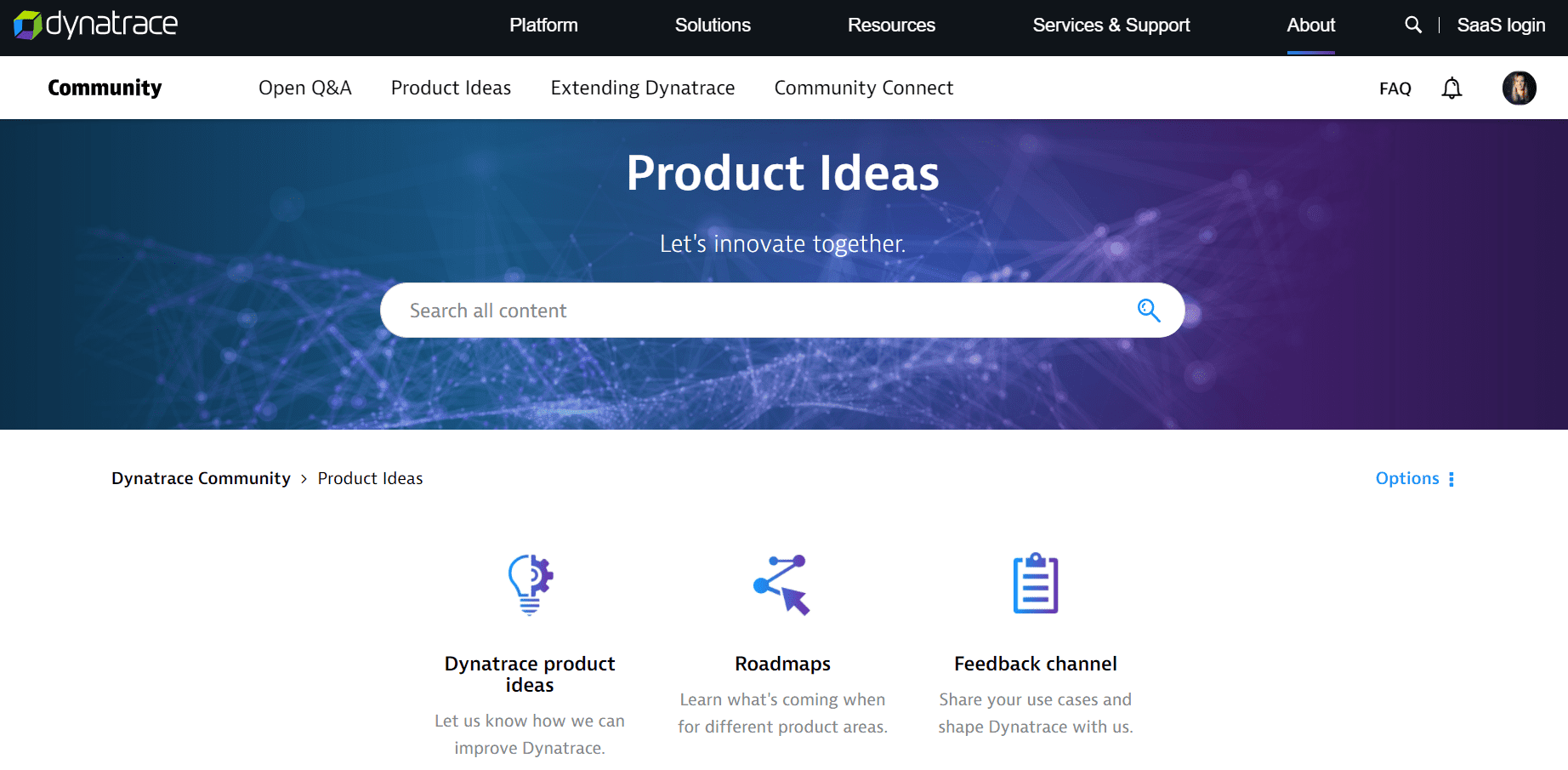 Get recognized for your Community contributions
The Dynatrace Community wouldn't be successful without your engagement. That's why appreciation and recognition are so important to us.
The legacy Community platform only had reputation points as a reward option and the leader board was based solely on those.
The new Community platform will promote content quality more than quantity and will help create a healthy and engaged space for all Dynatrace users.
Ranks is definitely the most awaited form of gamification. Finally, we'll have user ranks in the forums. Now, it will be easy to differentiate Dynatrace staff, forum Power Users, and the Community team. A rank won't be just an indicator of your status in the Community. People with the highest ranks also have access to additional forum features, such as the ability to edit tags and posts, and to send private messages to other Super Users.
We're also going to have a completely new set of badges, branded and customized. Every single badge has a description, so you can see what achievement they represent.
The new forum platform brings new types of leader boards that recognize high-quality contributions rather than the quantity of contributions.
Lists the top five users who have written the most forum replies that have been accepted as solutions.
Lists the top five users who received the most kudos during the selected period of time.
You'll see such leader boards in every forum. This way, we can recognize more topic experts.
Community Member of the Month
There is only one change to the Member of the Month award: the prize! Starting with January 2021, we've increased the gift code value for the Dynatrace online store.
In the near future, we want to create a dedicated badge for all Member of the Month awardees.
We publish a new challenge in the Community Connect forum every month. We invite you to put your creativity and Dynatrace knowledge to the test by solving unique and fun use cases. Participation is rewarded in many ways. Always check the challenge post for details.
We hope you'll have fun participating in various forms of forum gamification!
This is just the beginning of the improvements we have planned for you
Our highest priority is to immediately provide a better user experience to all our Community members through an improved, Dynatrace-branded Community platform that features outstanding search capabilities and better structure.
We'll continue working on the UI and bringing additional forum capabilities to you.
Seeing is believing—discover the new Community platform
Take your time to discover, play around, and get used to the new Community home. The new URL is https://community.dynatrace.com.
Thank you to all our Dynatrace Community members for keeping us innovating!