Vitality is a leading insurance brand in the UK, who are differentiating their go-to-market with fitness rewards and incentives. As a fitness junkie, I love the idea of getting rewards for my workouts outside of just feeling great. I recently sat down with the CDO David Priestley to talk about their digital differentiation. I will share the video at the bottom of the post, but before I do take a moment to understand why their story is so unique.
The premise is simple;
Workout
Sync your Fitbit, Garmin, Apple Watch, Google, etc to the Vitality App
Get rewards like coffee, movie tickets, even an Apple Watch.
So the customer gets rewards, and in turn, Vitality benefits from a healthy member base with fewer claims. Win-win.
The customer journey looks a bit like this;


The only problem is, and those that are using Garmin to Strava, or Peloton to Strava, understand that integrations and API's aren't always seamless, which means it can sometimes break.
So with my amazing art skills, I have updated the experience to be more like this;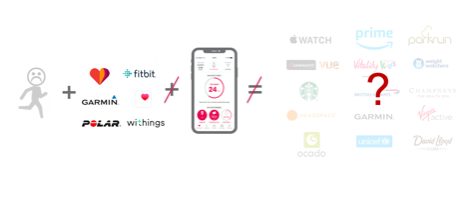 When the whole premise of Vitality is to reward for exercise, and the mechanism to do it, can sometimes fail through issues that are outside of their control, it can lead to a bad brand experience.
You continually see brands that say one thing, but the experience lets you down. A brand is that experience and more.
Creating a brand promise is one thing, delivering on it, with seamless digital experiences is another.
Which brings me to the fun part. This is the part I heard first at the Dynatrace Go Event in London, and I was sideswiped by how creative and innovative this was.
Use Dynatrace to detect failed transactions
Match the user session in AWS with a CRM, apply machine learning
Automatically trigger a response to the customer providing the rewards or a call from the call center.
Again here it is visually;

Vitality has automated the reach out to customers using AI and Machine Learning. They have turned a failed experience into a positive one.  In my brand studies, I read how a negative brand experience, if rectified, can turn a customer into a more loyal and bigger brand advocate.
It's one of the coolest stories I have heard. Now to hear more about this story, and the value it provided here are some highlights from my chat with David Priestley the CDO.
To watch the entire session, which I recommend you can here: Vitality customer story