Database performance monitoring tools
To ensure that dependencies in the database tier of your application stack are monitored for performance, you can use database performance monitoring tools. Database performance is a key component of overall application performance. Weak performance in the database tier is detrimental to overall application performance and can impact user experience significantly.
Consequently, full-stack performance monitoring to capture application performance metrics must also utilize database performance monitoring tools to capture database performance data. For example, to obtain a comprehensive performance picture of a JavaScript application that uses a MySQL database, JavaScript performance monitoring tools must be used together with database monitoring tools.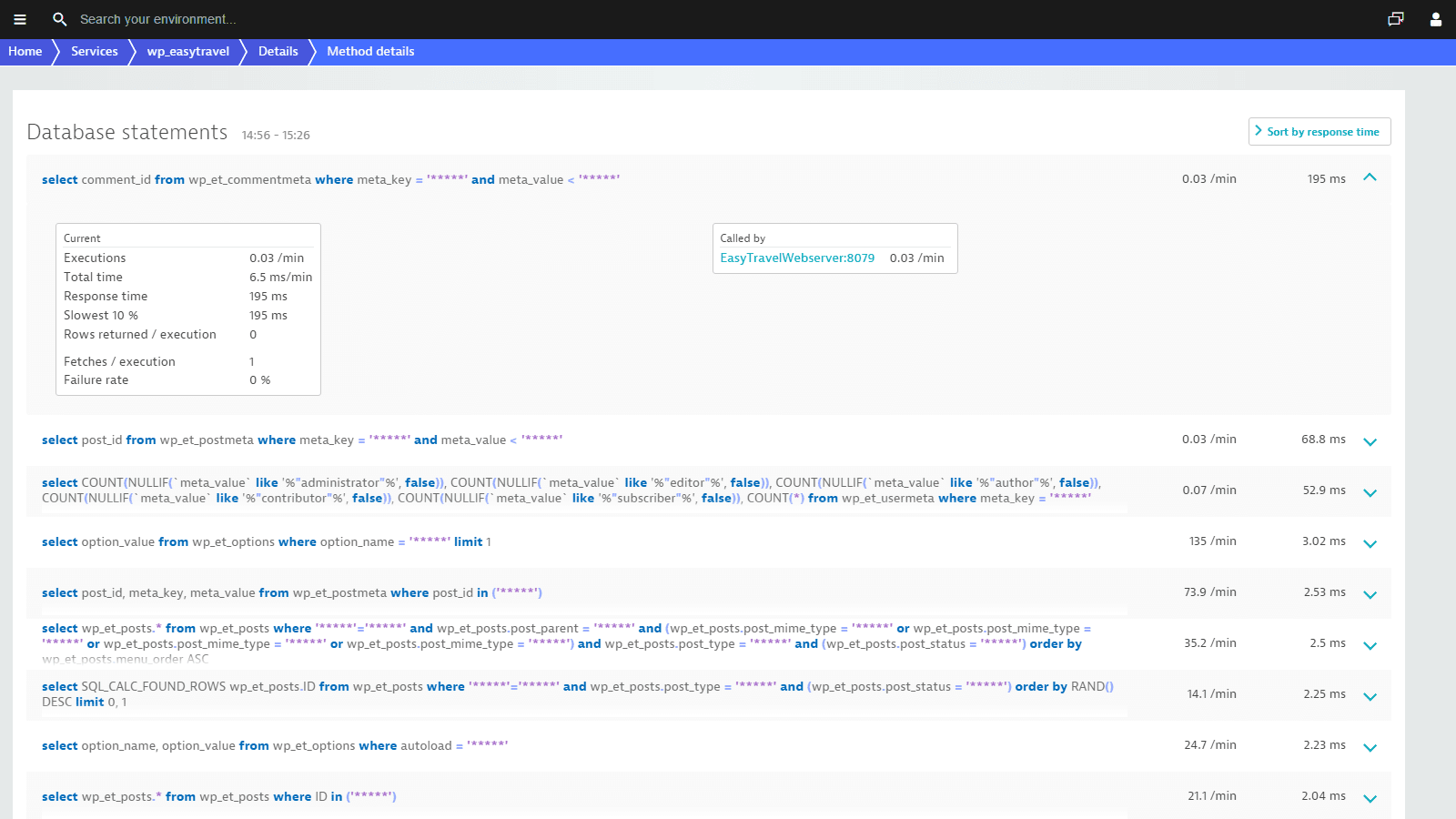 Identify database performance issues with Dynatrace database performance monitoring tools
Dynatrace digital performance management solutions provide highly capable database performance monitoring tools for capturing database performance. Using Dynatrace, you can identify and resolve any database issue that affects application performance. Dynatrace's database system performance monitoring captures and analyzes all database activity relevant to application performance providing visibility down to the level of SQL and NoSQL statements. When used in conjunction with Dynatrace host server and network monitoring tools, you can obtain a comprehensive performance picture of your infrastructure tier.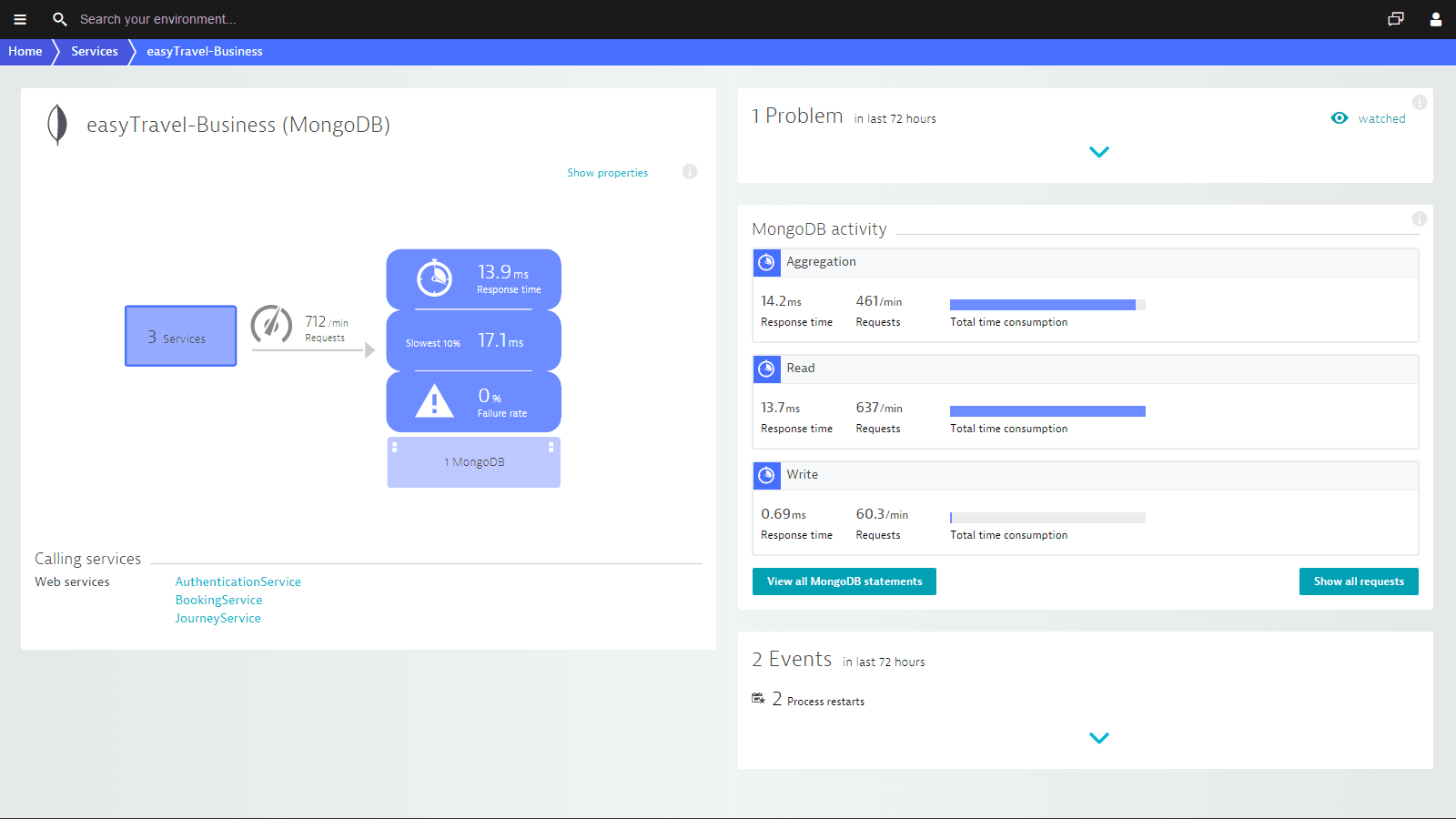 Monitor many database technologies with Dynatrace database performance monitoring tools
Dynatrace database performance monitoring tools capture performance metrics for a wide range of database technologies including SQL Server, MySQL, OracleDB, PostgreSQL, MongoDB, Memcached, Redis, and more. Using Dynatrace you can capture performance metrics for these databases and leverage Dynatrace's innovative artificial intelligence capabilities to derive actionable insights. These insights enable you to tune each database and incoming query statements for maximum performance.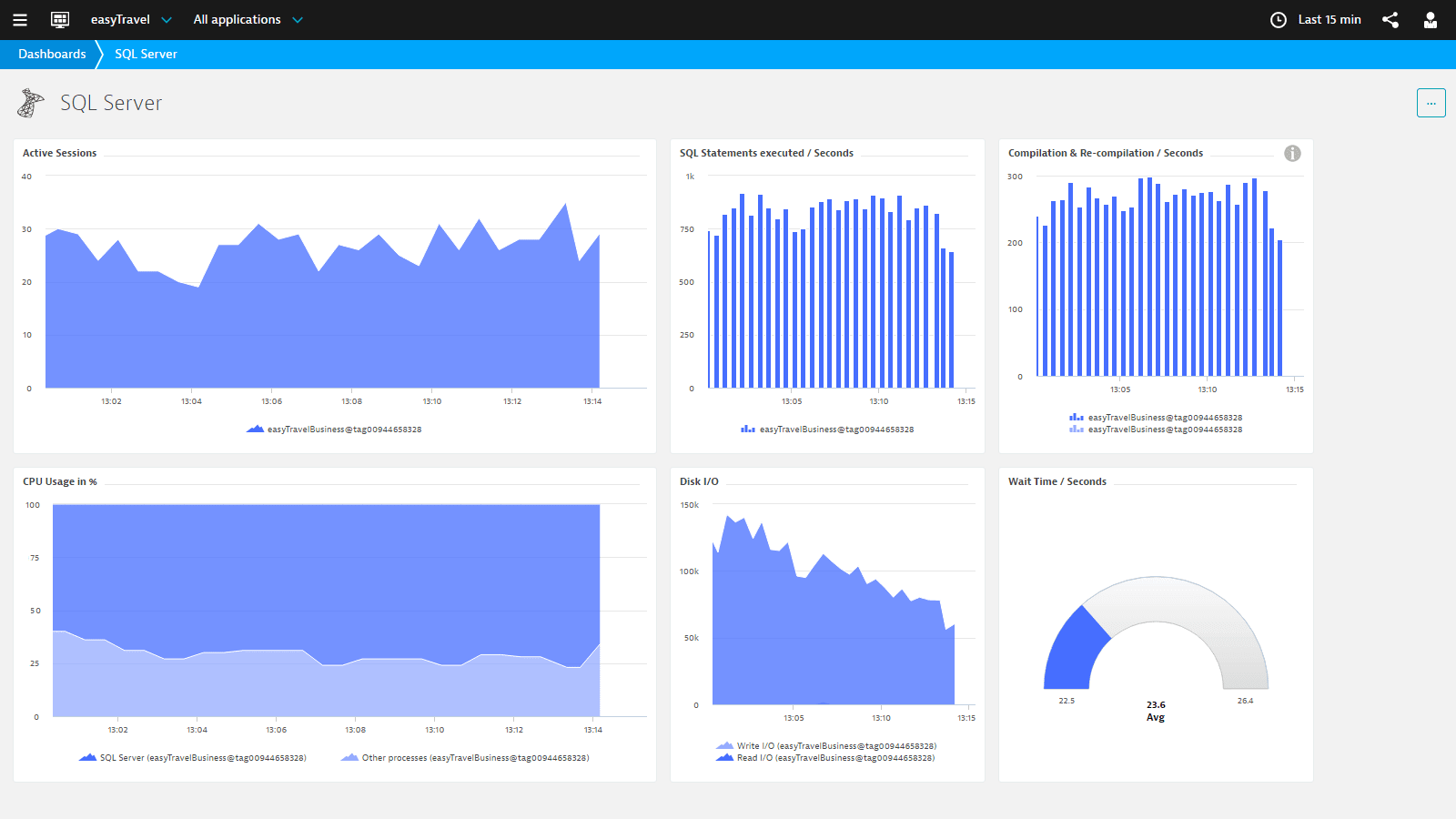 Get a live view of each database with Dynatrace database performance monitoring tools
Dynatrace's database server monitoring tools provide an overview of each database instance's runtime performance. This overview offers you real-time visualization of the health of each database instance. Real-time data captured by these tools include active user sessions, longest wait states, slowest queries, and active locks. You can easily discern any bottlenecks in each database instance that may adversely affect application performance. You can use Dynatrace's log analytics tools to search and analyze the log files of all monitored components and services to determine if a database bottleneck is causing error messages to be generated throughout the application stack.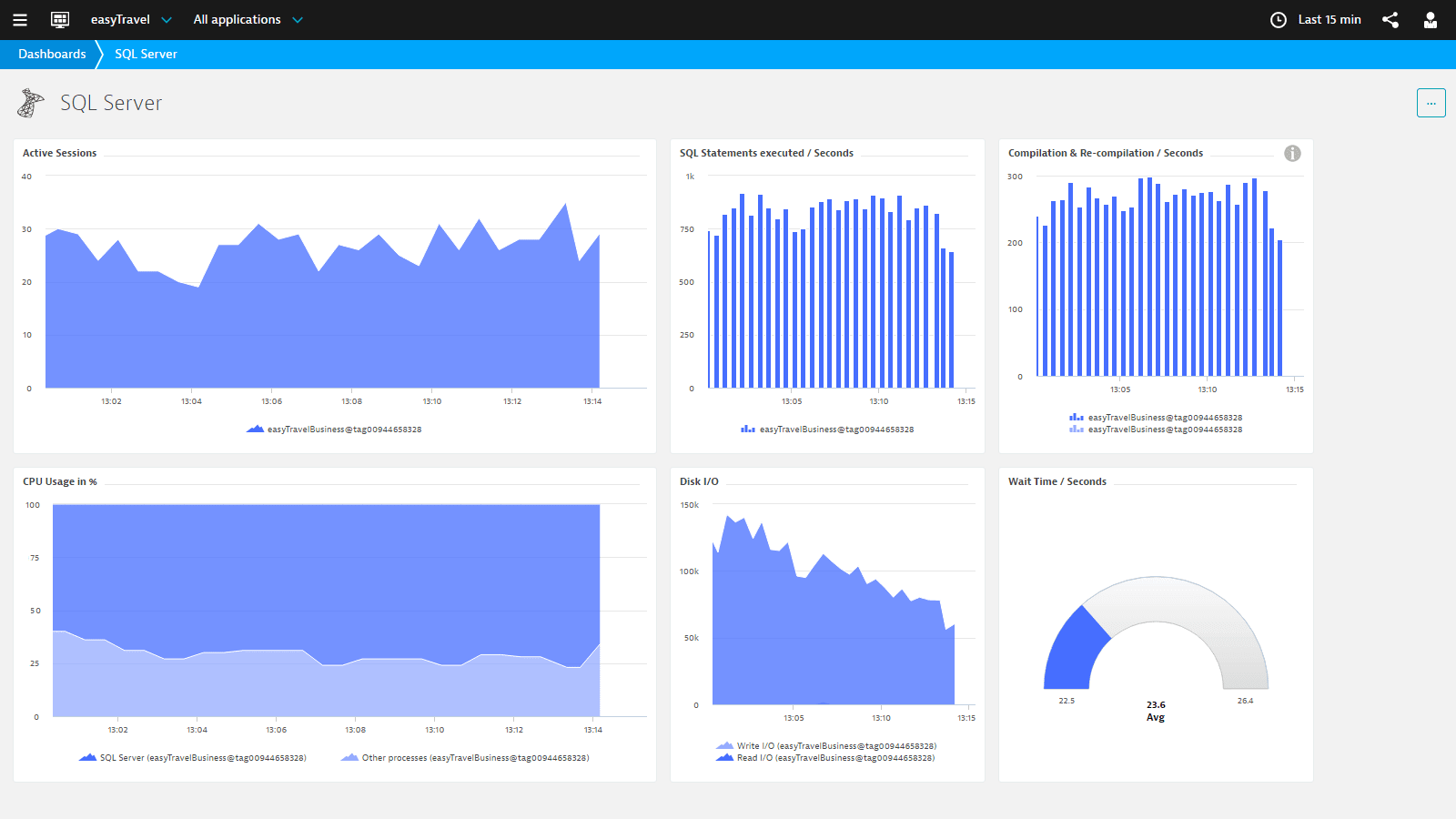 Get metrics on each query statement with Dynatrace database performance monitoring tools
Dynatrace traces database performance from an application's context by capturing the performance of each query statement. This enables you to identify statements that read a large amount of data resulting in slow response times that affect application performance.
Insight provided by Dynatrace database performance monitoring tools permit you to understand why some statements cause slow performance. These tools generate notifications about badly performing statements highlighting the content of each statement. This saves you time and effort in identifying these slow and expensive statements.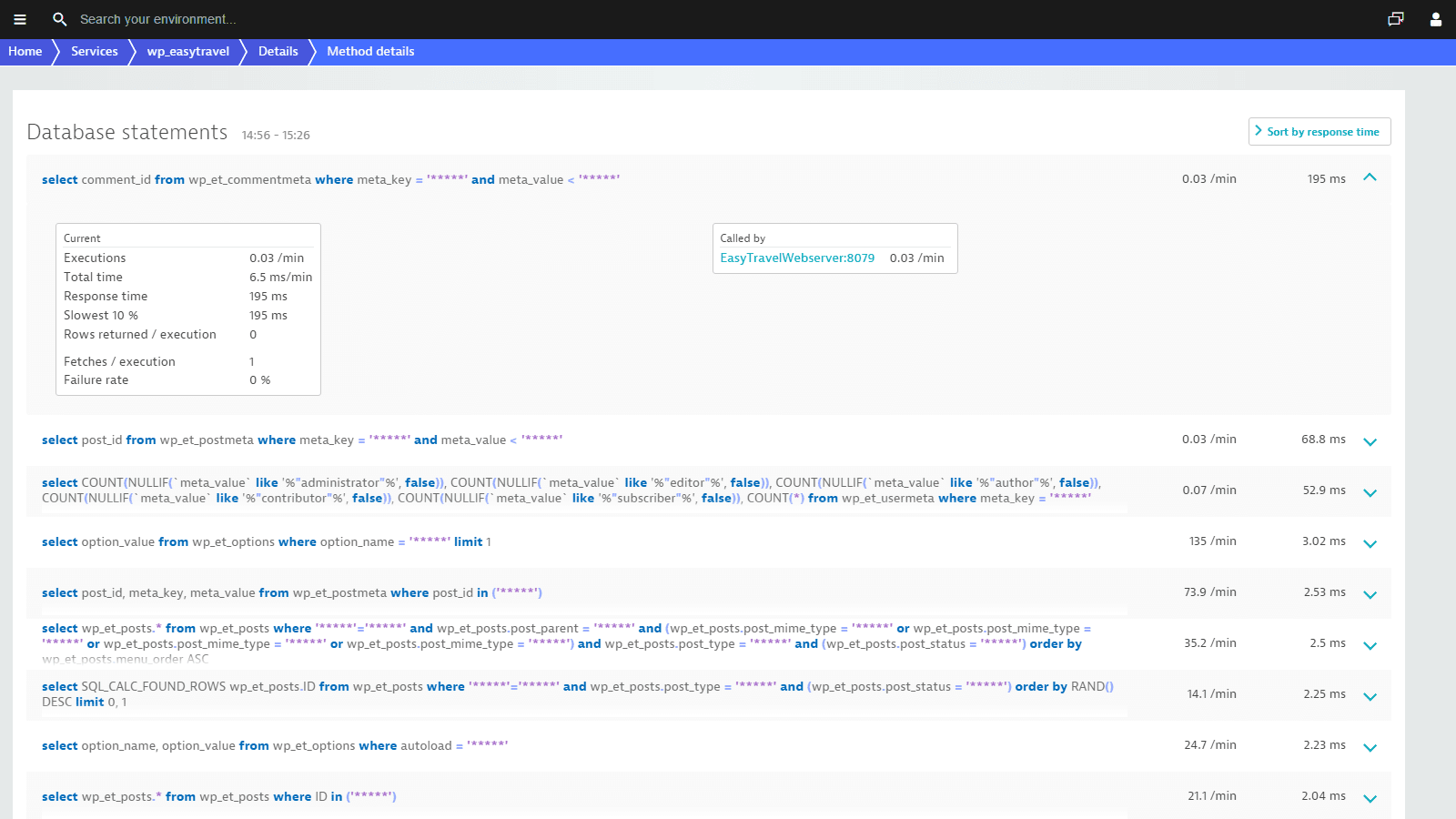 Sign up for Dynatrace today!