Dynatrace Managed release notes version 1.178
New features and enhancements
Provide Dynatrace as a service to your team
Our new cluster-scoped token helps administrators who need to provision Dynatrace environments to other teams at scale. Until now, the process was cumbersome as it required you to manually create a token for each environment and store it in a secure place (for example, Secret Server or a CI/CD service). By providing automation via Cluster management token, it's possible to deliver configuration-as-code, unified dashboarding, service naming conventions, and much more with minimal effort. To get started, you need to log into the Cluster Management Console and navigate to API tokens in settings. You'll see an extended view and form where you can create different scopes for tokens. The new token scope is called Cluster token management. This allows you to create environment-level tokens via REST API.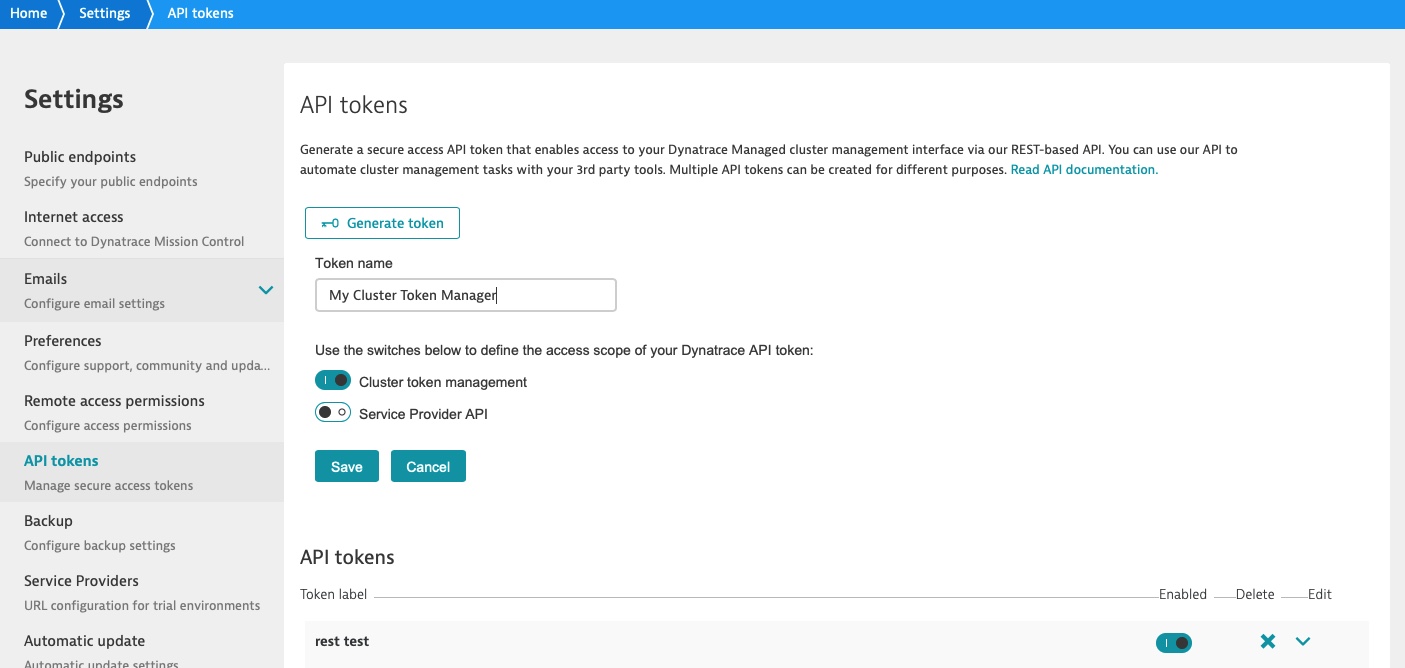 An upcoming blog post will describe how to utilize the token to build powerful, manageable, and high-value environments for your teams.
Improved cluster resilience for high user traffic volume
Since the introduction of Adaptive load reduction with Dynatrace traffic management in version 1.156 we ensure that Dynatrace scales in high-traffic environments and that your network bandwidth is used efficiently. Now we're introducing a similar safeguard concept for high-traffic RUM environments by enforcing a maximum user action count per-minute limit for Dynatrace Managed. The maximum user action count per minute limit, which is specific to your environment, is there to prevent unexpected high consumption of your license volume by unforeseen IT events like unannounced marketing campaigns, unplanned load tests, DDoS attacks, aggressive web scanners, or other. Take a look below to see what the new tile on the Environment settings page looks like and to read the details at What does a 'Max. user actions per minute exceeded' message mean?

Set default timeframe and management zone filters for dashboards
To date, dashboards persisted the currently selected timeframe and management zone filter. As this became a source of confusion, we've now made this an explicit configuration step and added a Settings section for dashboards. These settings provide you with control over a dashboard's Default filters.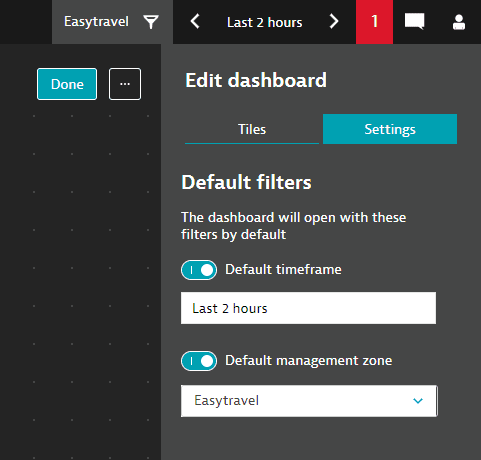 Initially, dashboards don't have any default filters applied. Default dashboards open with the user's currently selected timeframe and management zone setting. To configure a default timeframe and management zone for a dashboard, turn on the relevant toggles and configure your desired settings.
Rate switcher for metrics
The representation of selected metrics during a select timeframe can be switched from totals to a fixed rate (per second, per minute or per hour). See Create custom charts for details.
Other changes
Restored cluster has backup configuration disabled to prevent overwriting of data. Once the new cluster is running well, backup must be re-enabled manually.
Out-of-the box coherent configuration of OS user uid and OS group gid running Dynatrace services across cluster nodes.
New /admin resource was published to enable login to Dynatrace Managed in SSO-only authentication mode.
Security vulnerability fixes and bug fixes are delivered with the update of JRE to version 8u222.
We now support up to 15 nodes per cluster to further extend linear scale for webscale deployments of Dynatrace.
For important bug fixes, other changes, and previous release notes, see the release changelog.
Resolved issues
Critical issues
Synthetic monitoring
For multi-node clusters, in some cases, cluster AG was not reporting any results for HTTP monitors. (

APM-207871

)
Impact: Affects most of tenants in managed clusters with more than one node.
Cause: For some tenants, data was sent to incorrect server node.
Solution: Code fix
Other issues
Cluster Management Console
Installation file propagation bug was fixed: corrupted signature files can now be overwritten by correct ones during next download attempts. (

APM-191613

)
Warning is displayed if Managed is not able to calculate free space (

APM-192250

)
"Too many failed login attempts for this username (...)" message will now not appear if a lot of time passed between attempts (

APM-194304

)
Outdated information about scheduled automatic upgrade still visible (

APM-194444

)
Node tile should be red if OneAgent traffic is disabled and a node is malfunctioning (

APM-196097

)
Environment name restriction was lifted in Web UI - alphabets other than Latin are now supported. (

APM-196228

)
'New Managed Update Available' email is sending repeatedly when there is a problem with installer distribution among cluster's nodes. (

APM-196258

)
Mission Control
External sites like Dynatrace Help or Dynatrace RSS feed may sometimes not be available. (

APM-190775

)
Synthetic monitor could not be created for websites that require User-Agent header (

APM-194959

)
Cluster
License consumption was not updated after conversion from offline license to full online license (

APM-195155

)
DT configuration API fix - empty configuration for few minutes after new tenant creation. (

APM-190506

)
DataCenter services screen - link to host may become unavailable. (

APM-193762

)
Improvements to NAM integration metric display. (

APM-193754

)
AWS availability zone screen fix - affected ec2s might have not been marked red. (

APM-195003

)
REST API for USQL queries can fail for specific queries if parameter explain is set to false (

APM-194981

)
Fixed an issue where entities older than 72h were not displayed in the tagging-view although having the tag. (

APM-194556

)
Fixed incorrectly scaled Custom Chart metrics of Azure Redis Cache (

APM-186272

)
Mobile Correlation: improved linking of web requests to service calls processed in different thread (

APM-193718

)
Mobile App: fixed no more closed problems visible in mobile app when AI 2 was used (

APM-192856

)
Fix caching issue of Kubernetes limit configuration (

APM-194269

)
IBM ZLinux (early adopter) agents were not selectable for download in the UI due to inconsistent internal installer type naming. This was hotfixed and verified to be available. (

APM-194172

)
In some cases user was not able to save private location configuration. (

APM-194119

)
Changes on PaaS host details - introducing new tab with on memory details and presenting both physical and container memory usage. (

APM-193472

)
Host anomaly detection settings - fixed problem with clicking on a navigation breadcrumbs in managed environment. (

APM-198268

)
Technology overview and Process group screens - fix temporary problem with displaying range (min and max) series on charts. (

APM-199133

)
Fixed an issue where the change of network-speed of NICs was not handled correctly. (

APM-196879

)
Improved filtering for Log Tree when filtering for host name or host tag (

APM-191497

)
Showing teaser if NFS is missing for Managed Customers (

APM-194107

)
Mobile App: fixed no more closed problems visible in mobile app when AI 2 was used (

APM-192856

)
Mobile Symbolication: added symbolication of Last Exception Backtrace frames (

APM-196765

)
API Explorer sporadically showed a TypeError under certain circumstances. This was fixed. (

APM-196613

)
Installer and Upgrade
Fix for "Upgrade now" button not available even if upgrade is ready to start (

APM-193841

)
Fix for potential failure of cluster upgrade in progress when new version is published (

APM-196520

)
RUM
Fix an issue with displaying the mobile top actions list. (

APM-195067

)
Fixed validation of Android symbol files containing empty lines. (

APM-194319

)
Fixed naming of session count metrics for mobile apps. (

APM-195395

)
Fixed url decoding in provider breakdown table. (

APM-196125

)
Session Replay
Session Replay enabling switch toggle does not accurately show the current state (

APM-191706

)
Error message stopped showing when replaying on a cluster without a proper SSL certificate in place (

APM-194897

)
When determining the safety of enabling Session Replay detection of ASP apps raises false positives (

APM-194090

)
Player stops showing mouse clicks ripple animation after skipping in the timeline (

APM-196138

)
Synthetic monitoring
No data reported for HTTP monitors by windows Active Gate. (

APM-202638

)
User Interface
Empty notifications are displayed in some cases (

APM-190797

)
403 forbidden error possible when creating an integration token and having multiple management zones (

APM-192482

)
Dynatrace achievements not marked as completed in some rare cases. (

APM-194461

)
Broken ctrl/cmd+click on breadcrumb items (

APM-195111

)
Breadcrumbs do not work on session replay screen when having special characters in the session id (

APM-195640

)
Endless loading data on a host dashboard with a problem context (

APM-196165

)
Generate API token button reappears unnecessarily (

APM-196567

)
Code level analytics
Chart zooming with Shift + Mouse scroll on service details screen fixed. (

APM-195941

)
Show correct number of mutli-value request attributes in PurePath view when the user can only see the masked value. (

APM-195980

)
Better position and avoid unintentionally closing the service drilldown overlay. (

APM-196065

)
Show all request groups for databases ("Default requests" was shown twice while other groups were not shown). (

APM-196210

)
Agent & SG
Network overview screen - filtering for tags that contained '=' chart is fixed. (

APM-196101

)
Totals
55 total resolved issues
| Component | Resolved issues |
| --- | --- |
| Cluster Management Console | 7 |
| Mission Control | 2 |
| Cluster | 22 |
| Installer and Upgrade | 2 |
| RUM | 4 |
| Session Replay | 4 |
| Synthetic monitoring | 2 |
| User Interface | 7 |
| Code level analytics | 4 |
| Agent & SG | 1 |