Davis Assistant Release Notes version 1.194
New features and enhancements
New design for Davis Assistant Web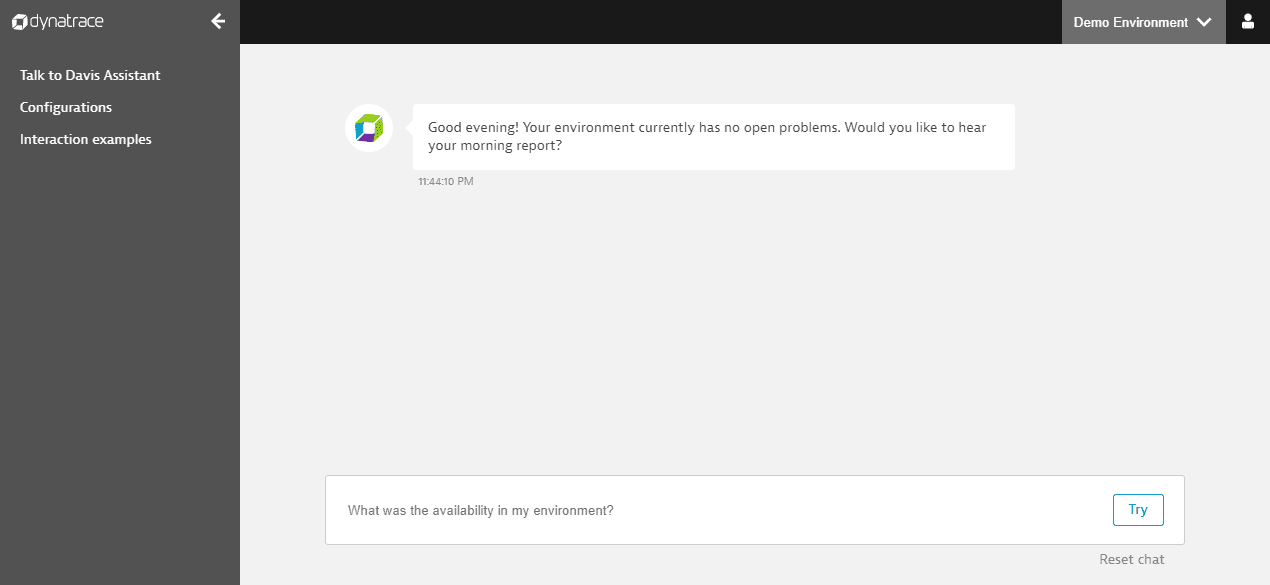 Davis Assistant Web has a completely redesigned interface with improved performance. You can talk to Davis Assistant even without setting up your own environment—select Demo Environment from the drop-down menu at top right, or switch to your own on the fly.
Davis Assistant notifications and responses are standardized on Microsoft Adaptive Cards to deliver the same interactive experience across the web UI and other integrations.
Settings are simplified in a new structure, easily accessible from a collapsible navigation menu on the left. This aligns with the Dynatrace web UI and was built using Barista, the Dynatrace open-source design system.
The new design foregrounds integration, environment, and user management. You can easily enable and manage integrations with Microsoft Teams, Slack, and Amazon Alexa to unlock Davis Assistant's power in delivering your Dynatrace insights where you need them.
The enhanced Dynatrace environments page lets you see when Davis Assistant is having trouble connecting to your environment. Dynatrace Managed customers can avail of a new Manage users page for access control.
Alexa Skill
Alexa integration has been simplified with app-to-app account linking. Account linking initiated in Davis Assistant Web is completed directly in Amazon.
Voice Navigation
The Davis Assistant Voice Navigator browser extension is now available for Firefox, Opera, and Edge Insider in addition to Chrome. The Voice Navigator navigates Dynatrace and pulls up the relevant webpages automatically as you converse with Davis Assistant over your Alexa compatible devices.
Automatic account linking—The browser extension authenticates itself to Davis Assistant using a token. From the Davis Assistant Voice Navigator page, the authentication token is always automatically synchronized with the extension.
Deprecated features
Custom interactions are on longer supported.
Resolved issues
Notifications in Microsoft Teams were getting disabled in rare situations—this is now fixed (DAV-2634).