Dynatrace supports VMware, a widely used virtualization solution that makes it possible to partition a single physical server into multiple virtual machines.
The virtualization performance insights that Dynatrace provides tell you how the virtual machines in your environment affect the performance of your applications and services. Once you include virtualization in your Dynatrace performance monitoring, you gain insight into your complete infrastructure stack and its behavior. Your understanding of the performance and operation of your data center increases because you see the relationships between components such as ESXi hosts and, within large deployments, your vCenter platform as a whole.
Show more...
Dynatrace collects information related to virtualized CPU usage, memory consumption, and storage related activities. It also collects data about events such as virtual machine migrations (vMotion) and the creation of new virtual machines. Armed with such information you might learn, for example, that CPU saturation on one of your ESXi hosts is causing performance degradation in your application.
Understand how monitoring data flows from your VMware platform to Dynatrace
The flow of monitoring data from your VMware platform to Dynatrace is illustrated in the following diagram. Dynatrace makes it easy for you to set up such infrastructure. ActiveGate is an important element of the communication. It obtains data from VMware and sends it to Dynatrace. OneAgent, which is installed on each virtual machine, provides complementary data about your infrastructure health.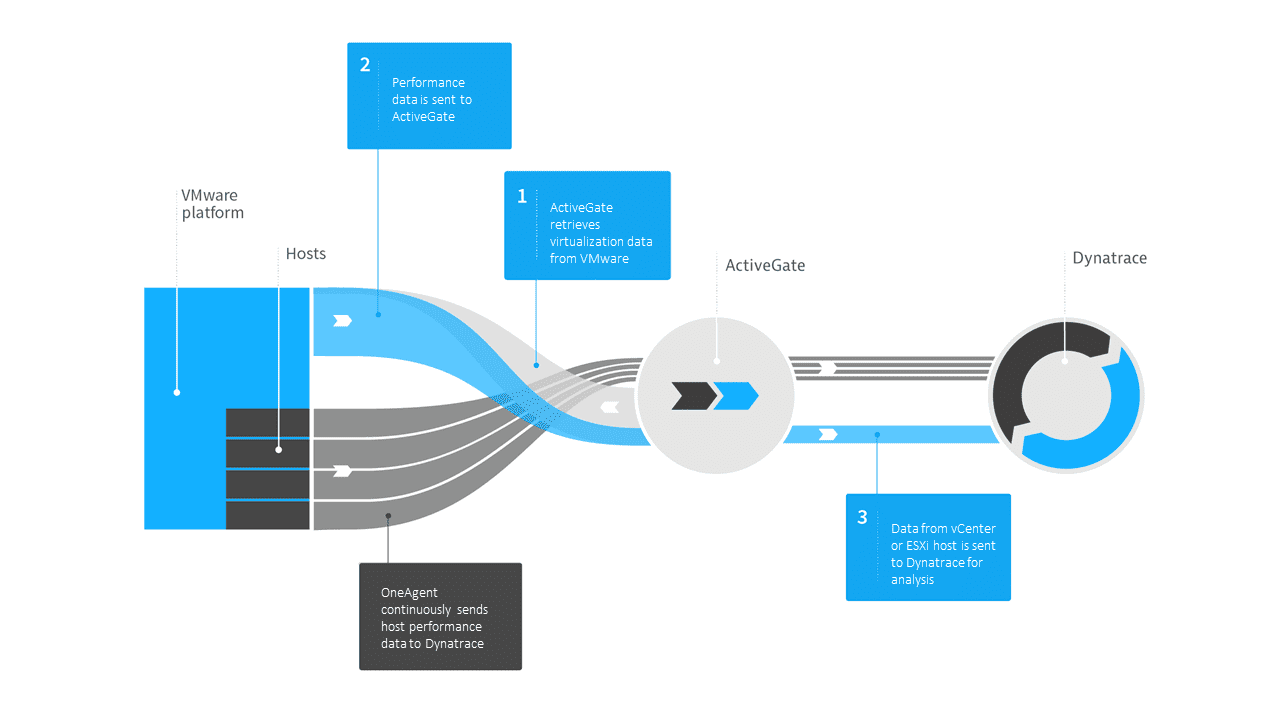 ActiveGate polls your VMware platform (vCenter or standalone ESXi hosts) to obtain information about all important resources that an ESXi server provisions to your virtual machines (for example, CPU usage, memory consumption, and datastore-related activity on your VMware platform). We also collect information about events such as virtual machine migrations and newly created machines.
OneAgent includes everything you need to monitor your virtualized operating system. It automatically captures performance information related to CPU, RAM, storage, NICs, and more.
By correlating information obtained from OneAgent and ActiveGate, we help you understand the dynamics of your virtual infrastructure and its influence on your server-side services and applications.
What if I use a virtualization solution other than VMware?
We're perfectly capable of detecting and monitoring hosts virtualized using VMware, as well as all the major platforms, such as XEN, Hyper-V, KVM, QEMU, and AIX LPAR. However, when it comes to the virtualization platform monitoring itself, VMware is the only virtual platform currently supported by Dynatrace. We're working hard to add support for all major virtualization platforms. Please keep an eye out for extended virtualization support in upcoming releases.