Deploy OneAgent Daemonset
Learn how you can set up OneAgent on Openshift using the OneAgent DaemonSet. DaemonSet is a feature that makes sure that if a copy of a pod on a node dies, the copy is recreated, and if nodes are added to the cluster, copies of the pod are added as well.
For a clear view of all the deployment strategies, including our recommended Helm approach, see Understanding deployment strategies.
Prepare DaemonSet
The first step is locating the ONEAGENT_INSTALLER_SCRIPT_URL. This information is shared during Dynatrace OneAgent installation.
Locate your installer URL
To get your ONEAGENT_INSTALLER_SCRIPT_URL
Select Deploy Dynatrace from the navigation menu.
Click Start installation and select Linux.
Copy the URL, as shown below.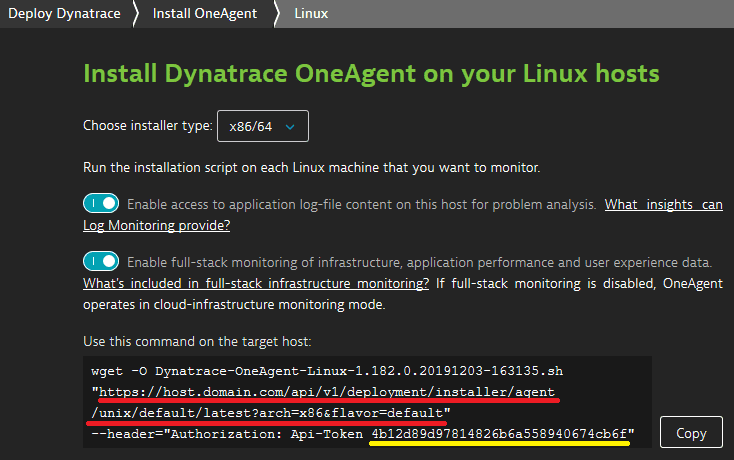 Append the API token header to the URL using the API-token parameter, for example: https://host.domain.com/api/v1/deployment/installer/agent/unix/default/latest?arch=x86&flavor=default&Api-Token=1bdc6a2dc69e4465b4794a9c5d242a67
This is your ONEAGENT_INSTALLER_SCRIPT_URL.
Install DaemonSet
Download or copy the dynatrace-oneagent.yml Kubernetes template.
dynatrace-oneagent.yml
apiVersion:

 

extensions/v1beta1




kind:

 

DaemonSet




metadata:




  name:

 

dynatrace-oneagent




spec:




  template:




    metadata:




      labels:




        name:

 

dynatrace-oneagent




    spec:




      hostPID:

 

true




      hostIPC:

 

true




      hostNetwork:

 

true




      nodeSelector:


        

beta.kubernetes.io/os:

 

linux




      volumes:




      - name:

 

host-root




        hostPath:




          path:

 

/




      containers:




      - name:

 

dynatrace-oneagent




        image:

 

dynatrace/oneagent




        env:




        - name:

 

ONEAGENT_INSTALLER_SCRIPT_URL




          value:

 

"REPLACE_WITH_YOUR_URL"




        - name:

 

ONEAGENT_INSTALLER_SKIP_CERT_CHECK




          value:

 

"false"




        args:




        -

 

"APP_LOG_CONTENT_ACCESS=1"




        volumeMounts:




        - name:

 

host-root




          mountPath:

 

/mnt/root




        securityContext:




          privileged:

 

true



Note: The APP_LOG_CONTENT_ACCESS parameter is passed to the OneAgent installer and, when set to true (or 1), allows OneAgent to access log files for the purpose of log monitoring.
Other parameters may be used in a similar way.
Deploy Dynatrace OneAgent using the created file dynatrace-oneagent.yml.
$ oc create -f dynatrace-oneagent.yml --namespace=kube-system
daemonset 

"dynatrace-oneagent"

 created

Verify that the dynatrace-oneagent DaemonSet has deployed pods to the cluster nodes successfully:
$ oc get pods --namespace=kube-system
NAME                       READY     STATUS              RESTARTS   AGE
dynatrace-oneagent-abcde   1/1       Running             0          1m

$ oc logs -f dynatrace-oneagent-abcde
09:46:18 Using volume-based storage
09:46:18 Started agent deployment as a Docker container, PID 1234.
09:46:18 Downloading agent to /tmp/Dynatrace-OneAgent-Linux.sh via https://EnvironmentID.live.dynatrace.com/api/v1/deployment/installer/agent/unix/default/latest?Api-Token=***&arch=x86&flavor=default
09:46:21 Download complete
09:46:21 Downloaded version: 1.x
09:46:21 Validating downloaded agent installer
09:46:23 Verification successful
...

Limitations
See Docker limitations for details.
Connect your Kubernetes clusters to Dynatrace
Now that you have OneAgent running on your Kubernetes nodes, you are able to monitor those nodes, and the applications running in Kubernetes. The next step is to connect the Kubernetes API to Dynatrace in order to get native Kubernetes metrics, like request limits, and differences in pods requested vs. running pods.
For further instructions see Monitor your Kubernetes clusters with Dynatrace.