Microsoft Azure is a public cloud platform that provides numerous cloud services ranging from Infrastructure-as-a-Service (IaaS) and Platform-as-a-Service (PaaS) to Software-as-a-Service (SaaS). Dynatrace provides comprehensive support for monitoring Azure Services and intuitive integration with Azure.
Monitoring Azure workloads
Easy deployment of OneAgent using extensions
Compute services such as Virtual Machines or App Services provide extension mechanisms for easily extending service capabilities. These make deployment of OneAgent easier than ever—whether it's done through Azure Portal, Powershell, Azure Cli, or directly using the Azure Resource Manager API.
Integration with Azure Monitor
Integrating Azure Monitor adds Infrastructure monitoring, which provides deep insight into service behavior, as well as precise, AI-powered answers, even within serverless application scenarios.
The integration utilizes Azure Monitor Metrics for service insights as well as taking advantage of Azure Resource Manager (ARM) to gather metadata. Overall, the capabilities offered include:
Automatic discovery of subscriptions and resources with full access control through Azure Active Directory from a single resource up to the account level.

Support for Azure Lighthouse, which provides cross-account access using a single service principal

Capture of additional Azure metadata (for example, API endpoints used for service dependencies or virtual machine resource tags)

Capture of service metrics using the Azure Monitor metrics API

Selective monitoring of Azure services using tags

Automatic handling of API request throttling to support monitoring for large-scale environments

Azure overview page for easy out-of-the-box insight into a variety of Azure services with no additional effort

Consumption of Azure Alerts, which are automatically transformed into events that are leveraged by Davis for precise root-cause analysis.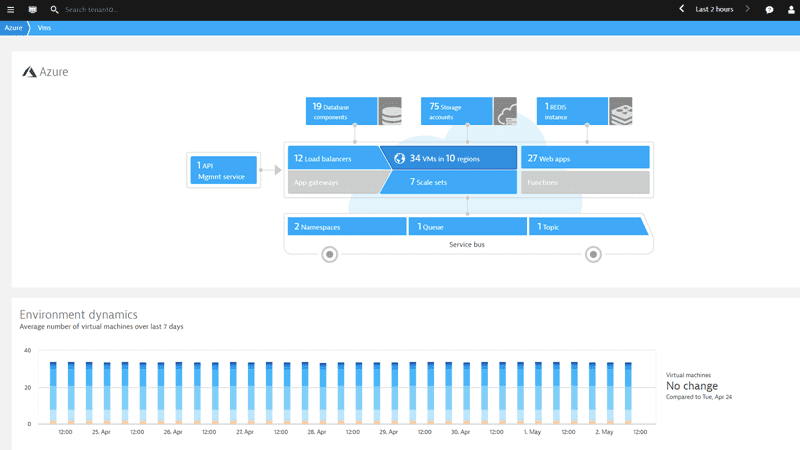 View the list of supported Azure Services
Notes:
1 The VM-Extension automates the installation of OneAgent using Azure-native automation tooling. OneAgent can also be installed manually or via your automation tool of choice.

| Platform service | OneAgent code-module support | Integration of Dynatrace with Azure Monitor |
| --- | --- | --- |
| Blob-Storage | HttpClient1 | yes |
| Table-Storage | HttpClient1 | yes |
| Queue-Storage | HttpClient1 | yes |
| File-Storage | Infrastructure monitoring | yes |
| Disk-Storage | Infrastructure monitoring | yes |
| ServiceBus Queues and Topics | Microsoft Azure Service Bus Client for .NET | yes |
| Load-Balancer | Infrastructure monitoring | yes3 |
| Application Gateway | Trace-Context4 | yes |
| API Management | Trace-Context4, SDK5 | yes |
| Azure SQL | Supported database frameworks2 | yes |
| Azure SQL Elastic Pool | Supported database frameworks2 | yes |
| Azure SQL Managed Instance | Supported database frameworks2 | no |
| SQL Data Warehouse | Supported database frameworks2 | no |
| SQL Server Stretch | Supported database frameworks2 | no |
| Azure DB for MySql | Supported database frameworks2 | no |
| Azure DB for PostgreSQL | Supported database frameworks2 | no |
| CosmosDB | MongoDB API, Cassandra API, HttpClient1 | yes |
| Redis Cache | Supported client libraries | yes |
| Event Hubs | SDK5 | yes |
| IoT Hub | Trace Context4, SDK5 | yes |
Notes:
1Traces HTTP calls via HttpClient support
2Trace database calls via supported database frameworks (for example, ADO.NET or JDBC).
3Only available for Standard Load Balancer
4End-2-End tracing via Trace Context
5End-2-End tracing using OneAgent SDK
Setup Monitoring