Microsoft Azure is a public cloud computing platform that provides a range of cloud services, including those for compute, analytics, storage and networking. Dynatrace, in addition to the full-stack monitoring capabilities, provides also comprehensive support for monitoring Azure Services.
Capabilities
Easy deployment of OneAgent using extensions
Integration of Azure Monitor metrics to get insights into services where OneAgent can't operate
Enhanced support for Azure meta-data
Enhanced support for Azure Services such as for example Service-Bus tracing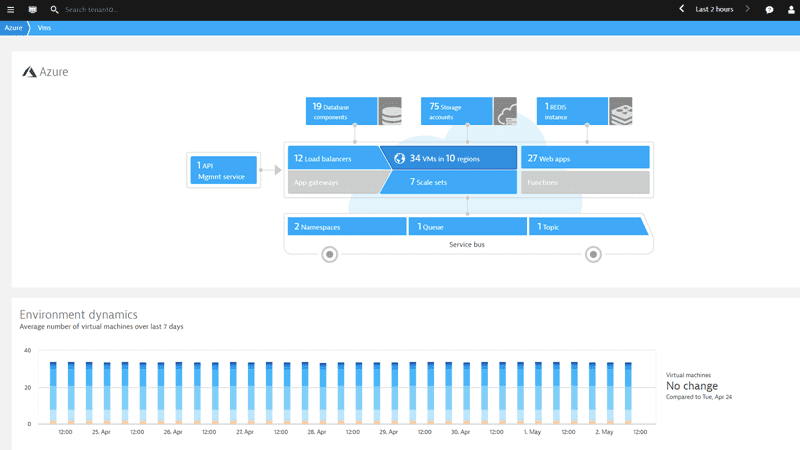 Azure services
---
Virtual Machines
Virtual Machine Scale Set
Service Fabric
App Service
Azure Functions
Azure Kubernetes Service (AKS)
Monitoring overview
Notes:
1 In addition to the VM-Extension, OneAgent can also be installed manually or via an automation tool of your choice.

| Platform Service | Code-Module Support | Azure Monitor Metrics |
| --- | --- | --- |
| Blob-Storage | HttpClient1 | yes |
| Table-Storage | HttpClient1 | yes |
| Queue-Storage | HttpClient1 | yes |
| File-Storage | | yes |
| Disk-Storage | | yes |
| ServiceBus Queues and Topics | Microsoft Azure Service Bus Client for .NET | yes |
| Load-Balancer | | yes3 |
| Application Gateway | | yes |
| API Management | | yes |
| SQL Azure | Supported database frameworks2 | yes |
| CosmosDB | MongoDB API, Cassandra API, HttpClient1 | Coming soon |
| Azure DB for MySql | Supported database frameworks2 | |
| Azure DB for PostgreSQL | Supported database frameworks2 | |
| SQL Data Warehouse | Supported database frameworks2 | |
| SQL Server Stretch | Supported database frameworks2 | |
| Redis Cache | Supported client libraries | yes |
| Event Hubs | | Coming soon |
| IoT Hub | | Coming soon |
Notes:
1 Traces HTTP calls via HttpClient support.
2 Trace database calls via supported database frameworks (e.g. ADO.NET, JDBC, ...).
3 Only available for Standard Load Balancer
Monitoring
---