On the Azure Front Door overview page you get visibility into the number of served client requests, latency, and the efficiency of your routing.
Prerequisites
Dynatrace version 1.196+
Environment ActiveGate version 1.195+
Enable monitoring
To enable monitoring for Azure Front Door, you first need to set up integration with Azure Monitor.
Add the service to monitoring
In order to view the service metrics, you must add the service to monitoring in your Dynatrace environment.
Configure service metrics
Once you add a service, Dynatrace starts automatically collecting a suite of metrics for this particular service. These are recommended metrics.
Recommended metrics:
Are enabled by default
Can't be disabled
Can have recommended dimensions (enabled by default, can't be disabled)
Can have optional dimensions (disabled by default, can be enabled).
Apart from the recommended metrics, most services have the possibility of enabling optional metrics.
Optional metrics:
Can be added and configured manually
View service metrics
Once you add the service to monitoring, you can view the service metrics in your Dynatrace environment either on your dashboard page or on the custom device overview page.
Import preset dashboards
Dynatrace provides preset Azure dashboards that you can import from GitHub to your environment's Dashboards page.
Note: To save a preset dashboard locally, create a new JSON file on your local machine and copy-paste the content of the JSON file from GitHub into the new file.
Once you save a preset dashboard locally, there are two ways to import it.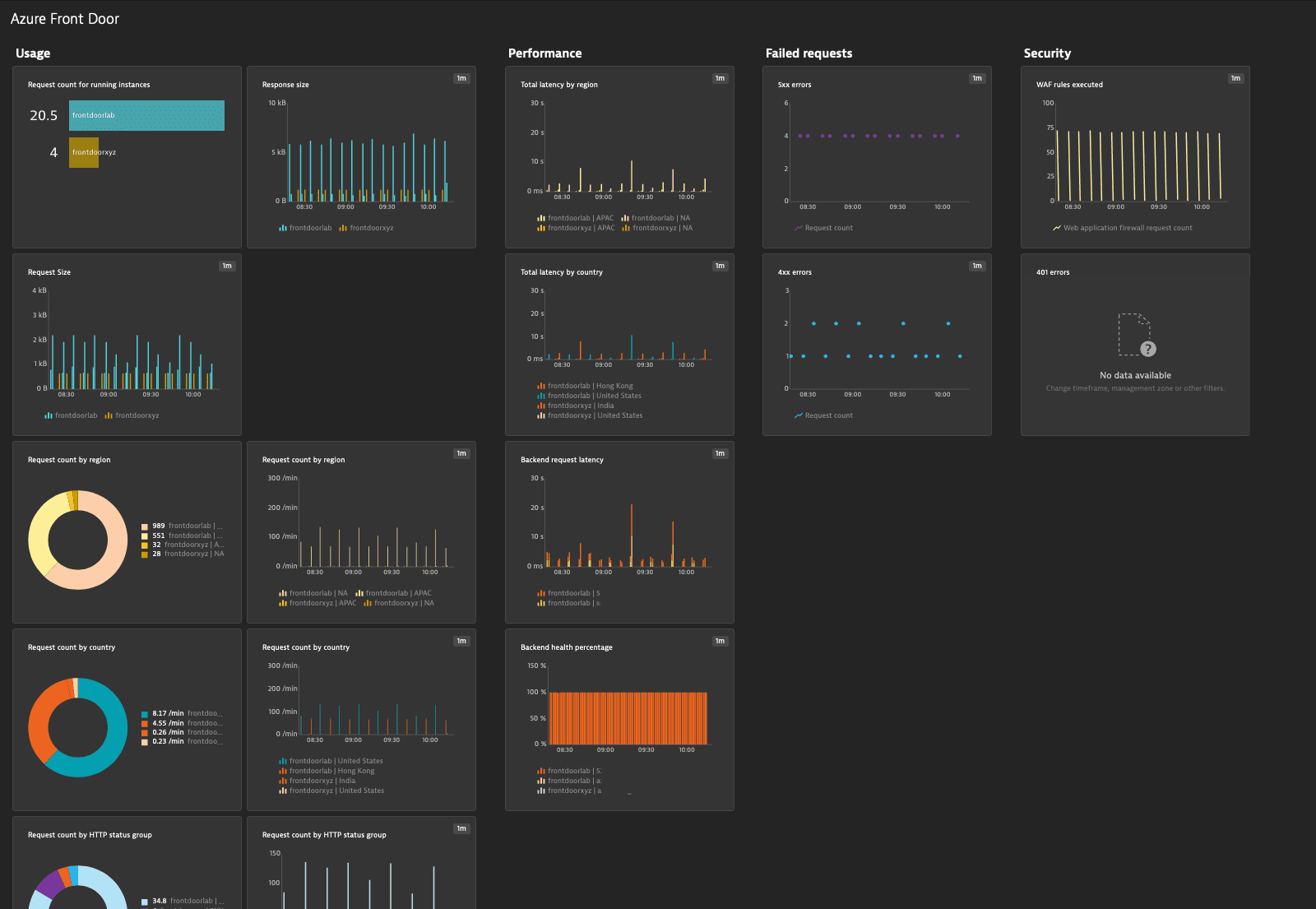 Available metrics
| Name | Description | Unit | Recommended |
| --- | --- | --- | --- |
| BackendHealthPercentage | Percentage of successful health probes from the HTTP/S proxy to backends | Percent | ✔️ |
| BackendRequestCount | Number of requests sent from the HTTP/S proxy to backends | Count | ✔️ |
| BackendRequestLatency | Time from when the request was sent by the HTTP/S proxyMySQL to the backend until the HTTP/S proxy received the last response byte from the backend | MilliSeconds | ✔️ |
| BillableResponseSize | Number of billable bytes (minimum 2KB per request) sent as responses from HTTP/S proxy to clients | Bytes | |
| RequestCount | Number of client requests served by the HTTP/S proxy | Count | ✔️ |
| RequestSize | Number of bytes sent as requests from clients to the HTTP/S proxy | Bytes | ✔️ |
| ResponseSize | Number of bytes sent as responses from HTTP/S proxy to clients | Bytes | ✔️ |
| TotalLatency | Time calculated from when the client request was received by the HTTP/S proxy until the client acknowledged the last response byte from the HTTP/S proxy | MilliSeconds | ✔️ |
| WebApplicationFirewallRequestCount | Number of client requests processed by the Web Application Firewall | Count | ✔️ |