Dynatrace ingests metrics for multiple preselected namespaces, including AWS RoboMaker. You can view graphs per service instance, with a set of dimensions, and create custom graphs that you can pin to your dashboards.
Prerequisites
To enable monitoring for this service, you need
Add the service to monitoring
In order to view the service metrics, you must add the service to monitoring in your Dynatrace environment.
Configure service metrics
Once you add a service, Dynatrace starts automatically collecting a suite of metrics for this particular service. These are recommended metrics.
Recommended metrics:
Are enabled by default
Can't be disabled
Can have recommended dimensions (enabled by default, can't be disabled)
Can have optional dimensions (disabled by default, can be enabled)
Apart from the recommended metrics, most services have the possibility of enabling optional metrics.
Optional metrics:
Can be added and configured manually
Import preset dashboards
Dynatrace provides preset AWS dashboards that you can import from GitHub to your environment's dashboard page. Once you download a preset dashboard locally, there are two ways to import it.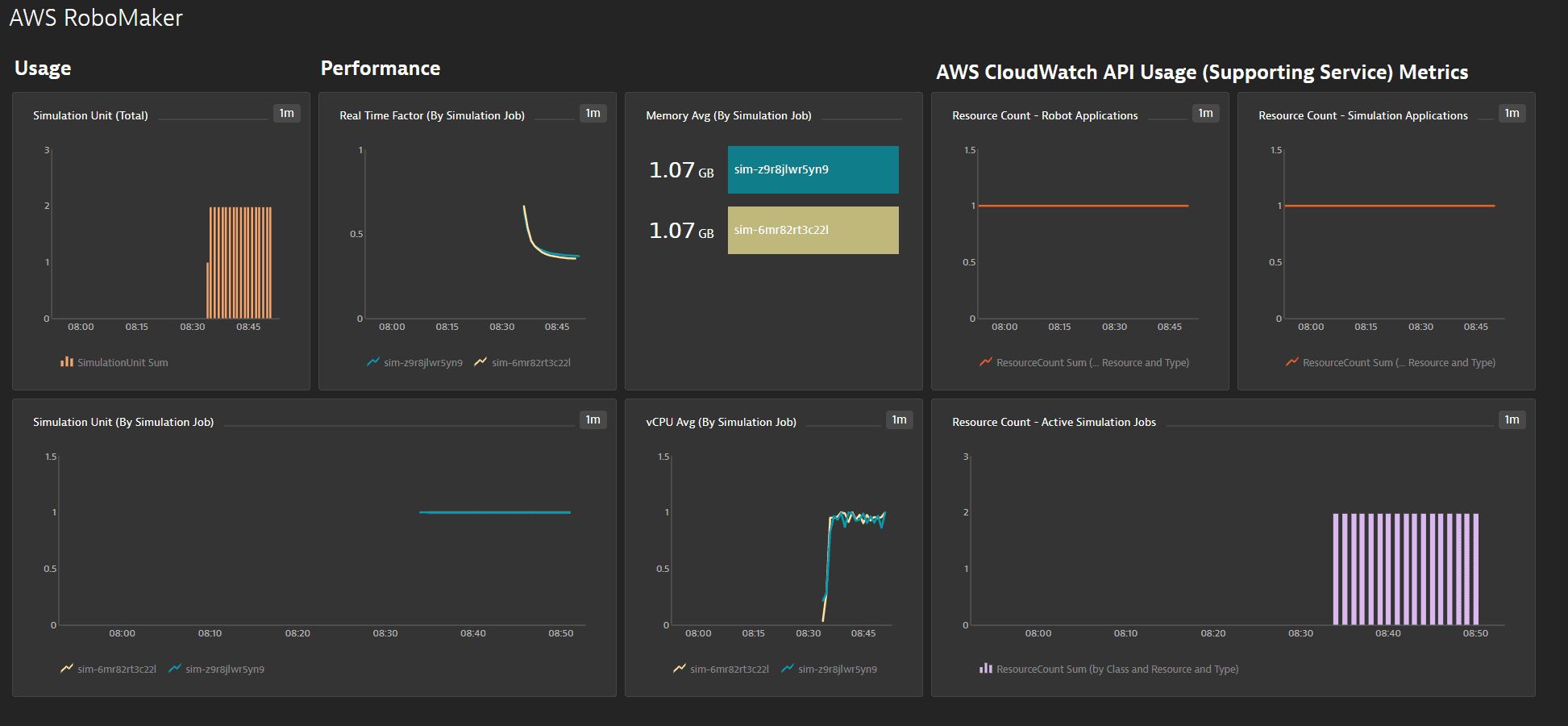 Available metrics
| Name | Description | Unit | Statistics | Dimensions | Recommended |
| --- | --- | --- | --- | --- | --- |
| Memory | The amount of Memory, in GB, used by the SimulationJob | Gigabytes | Multi | SimulationJobId | ✔️ |
| RealTimeFactor | The ratio of the amount of time that was simulated versus wall clock time | Count | Multi | SimulationJobId | ✔️ |
| SimulationUnit | SimulationUnit is calculated based on vCPU and memory consumption of the Simulation Job | Count | Multi | SimulationJobId | ✔️ |
| SimulationUnit | | Count | Sum | SimulationJobId | ✔️ |
| vCPU | The number of virtual CPU cores used by the simulation job | Count | Multi | SimulationJobId | ✔️ |
Limitations
The vCPU, Memory, and SimulationUnit metrics are for estimation purposes. AWS RoboMaker emits metrics while preparing to run a simulation job. Charges do not accrue until the simulation job is in the Running state. For more information, see AWS documentation.