Dynatrace ingests metrics for multiple preselected namespaces, including Amazon Polly. You can view graphs per service instance, with a set of dimensions, and create custom graphs that you can pin to your dashboards.
Prerequisites
To enable monitoring for this service, you need
View service metrics
Once you add the service to monitoring, you can view the service metrics in your Dynatrace environment either on your dashboard page or on the custom device overview page.
For Amazon Polly, there are no instances (custom devices) on the custom device group overview page, the service itself being just an API that you can call. The service metrics are under the Further details section of the custom device group overview page, split By Operation and Region.
Import preset dashboards
Dynatrace provides preset AWS dashboards that you can import from GitHub to your environment's dashboard page. Once you download a preset dashboard locally, there are two ways to import it.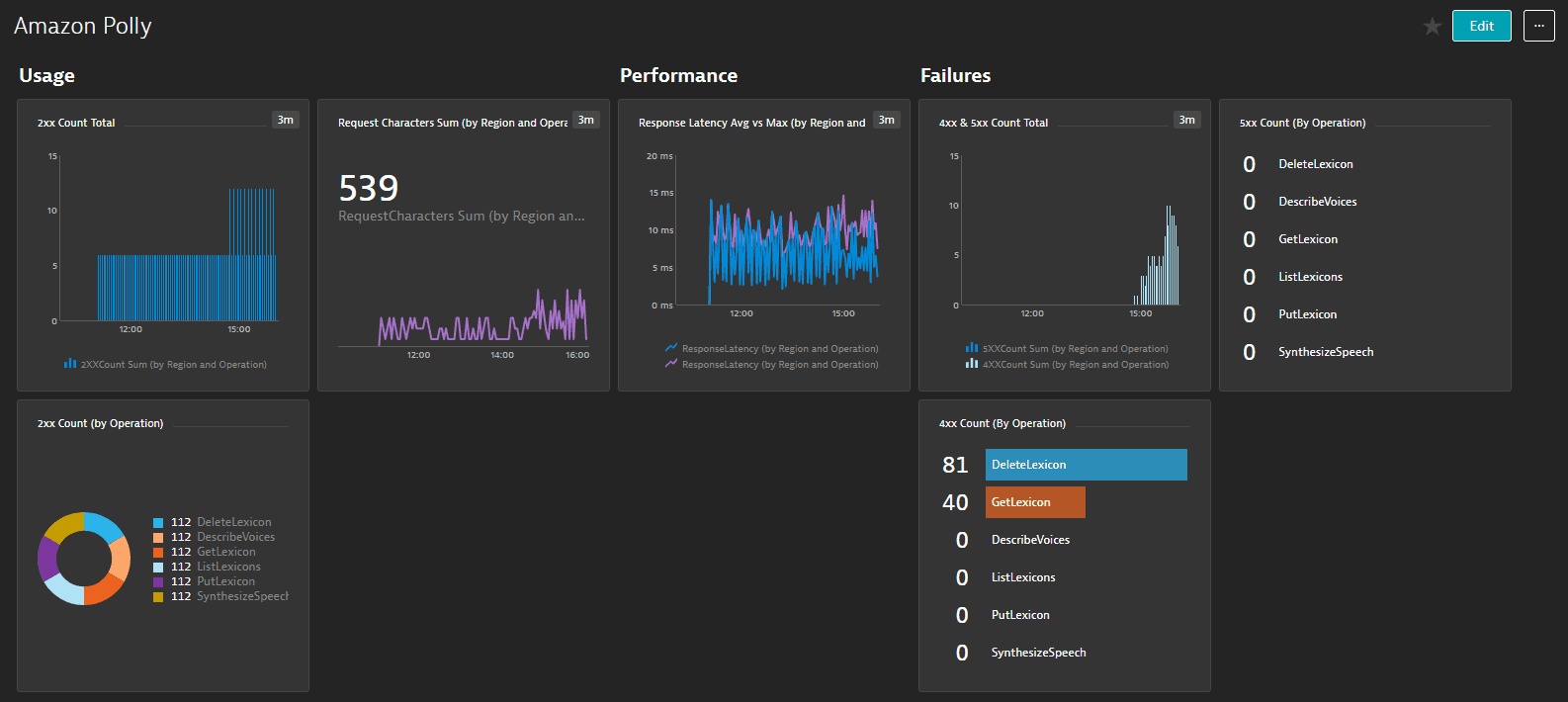 Available metrics
| Name | Description | Unit | Statistics | Dimensions | Recommended |
| --- | --- | --- | --- | --- | --- |
| 4XXCount | HTTP 400 level error code returned upon an error | Count | Average | Region, Operation | ✔️ |
| 4XXCount | | Count | Sum | Region, Operation | ✔️ |
| 4XXCount | | Count | Count | Region, Operation | |
| 2XXCount | HTTP 200 level code returned upon a successful response | Count | Average | Region, Operation | ✔️ |
| 2XXCount | | Count | Sum | Region, Operation | ✔️ |
| 2XXCount | | Count | Count | Region, Operation | |
| 5XXCount | HTTP 500 level error code returned upon an error | Count | Average | Region, Operation | ✔️ |
| 5XXCount | | Count | Sum | Region, Operation | ✔️ |
| 5XXCount | | Count | Count | Region, Operation | |
| RequestCharacters | The number of characters in the request | Count | Multi | Region, Operation | ✔️ |
| RequestCharacters | | Count | Sum | Region, Operation | ✔️ |
| RequestCharacters | | Count | Count | Region, Operation | |
| ResponseLatency | The latency between the time when the request was made and the start of the streaming response | Milliseconds | Multi | Region, Operation | ✔️ |
| ResponseLatency | | Count | Count | Region, Operation | ✔️ |