Dynatrace ingests metrics for multiple preselected namespaces, including Amazon Lex. You can view metrics for each service instance, split metrics into multiple dimensions, and create custom charts that you can pin to your dashboards.
Prerequisites
To enable monitoring for this service, you need
Add the service to monitoring
In order to view the service metrics, you must add the service to monitoring in your Dynatrace environment.
Configure service metrics
Once you add a service, Dynatrace starts automatically collecting a suite of metrics for this particular service. These are recommended metrics.
Recommended metrics:
Are enabled by default
Can't be disabled
Can have recommended dimensions (enabled by default, can't be disabled)
Can have optional dimensions (disabled by default, can be enabled)
Apart from the recommended metrics, most services have the possibility of enabling optional metrics.
Optional metrics:
Can be added and configured manually
Import preset dashboards
Dynatrace provides preset AWS dashboards that you can import from GitHub to your environment's dashboard page. Once you download a preset dashboard locally, there are two ways to import it.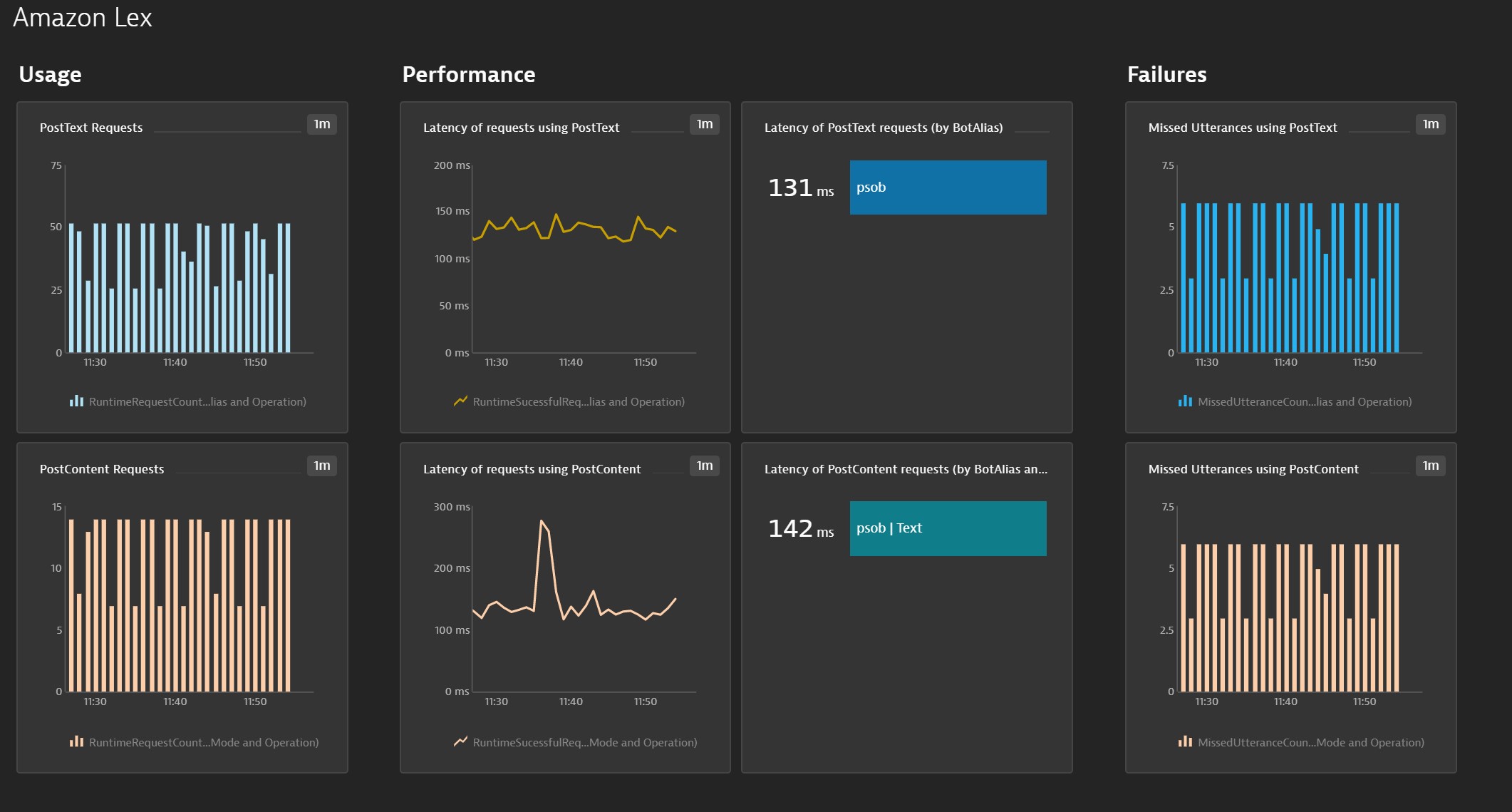 Available metrics
| Name | Description | Unit | Statistics | Dimensions | Recommended |
| --- | --- | --- | --- | --- | --- |
| MissedUtteranceCount | The number of utterances that were not recognized in the specified period | Count | Sum | BotName, BotVersion, InputMode, Operation | |
| MissedUtteranceCount | | Count | Sum | BotName, BotAlias, InputMode, Operation | ✔️ |
| MissedUtteranceCount | | Count | Sum | BotName, BotAlias, Operation | ✔️ |
| MissedUtteranceCount | | Count | Sum | BotName, BotVersion, Operation | |
| RuntimeRequestCount | The number of runtime requests in the specified period | Count | Sum | BotName, BotVersion, InputMode, Operation | |
| RuntimeRequestCount | | Count | Sum | BotName, BotAlias, Operation | ✔️ |
| RuntimeRequestCount | | Count | Sum | BotName, BotAlias, InputMode, Operation | ✔️ |
| RuntimeRequestCount | | Count | Sum | BotName, BotVersion, Operation | |
| RuntimeSuccessfulRequestLatency | The latency for successful requests between the time that the request was made and the response was passed back | Milliseconds | Multi | BotName, BotVersion, InputMode, Operation | |
| RuntimeSuccessfulRequestLatency | | Milliseconds | Multi | BotName, BotAlias, Operation | ✔️ |
| RuntimeSuccessfulRequestLatency | | Milliseconds | Multi | BotName, BotAlias, InputMode, Operation | ✔️ |
| RuntimeSuccessfulRequestLatency | | Milliseconds | Multi | BotName, BotVersion, Operation | |