AWS Elemental MediaPackage (Live, Video on Demand)
Dynatrace ingests metrics for multiple preselected namespaces, including AWS Elemental MediaPackage (Live, Video on Demand). You can view metrics for each service instance, split metrics into multiple dimensions, and create custom charts that you can pin to your dashboards.
Prerequisites
To enable monitoring for this service, you need
An Environment or Cluster ActiveGate version 1.197+
For AWS Elemental MediaPackage Live, Dynatrace version 1.203+
For AWS Elemental MediaPackage Video on Demand, Dynatrace version 1.204+
An updated AWS monitoring policy to include the additional AWS services.
To update the AWS IAM policy, use the JSON below.
Add the service to monitoring
In order to view the service metrics, you must add the service to monitoring in your Dynatrace environment.
Configure service metrics
Once you add a service, Dynatrace starts automatically collecting a suite of metrics for this particular service. These are recommended metrics.
Recommended metrics:
Are enabled by default
Can't be disabled
Can have recommended dimensions (enabled by default, can't be disabled)
Can have optional dimensions (disabled by default, can be enabled)
Apart from the recommended metrics, most services have the possibility of enabling optional metrics.
Optional metrics:
Can be added and configured manually
Import preset dashboards
Dynatrace provides preset AWS dashboards that you can import from GitHub to your environment's dashboard page. Once you download a preset dashboard locally, there are two ways to import it.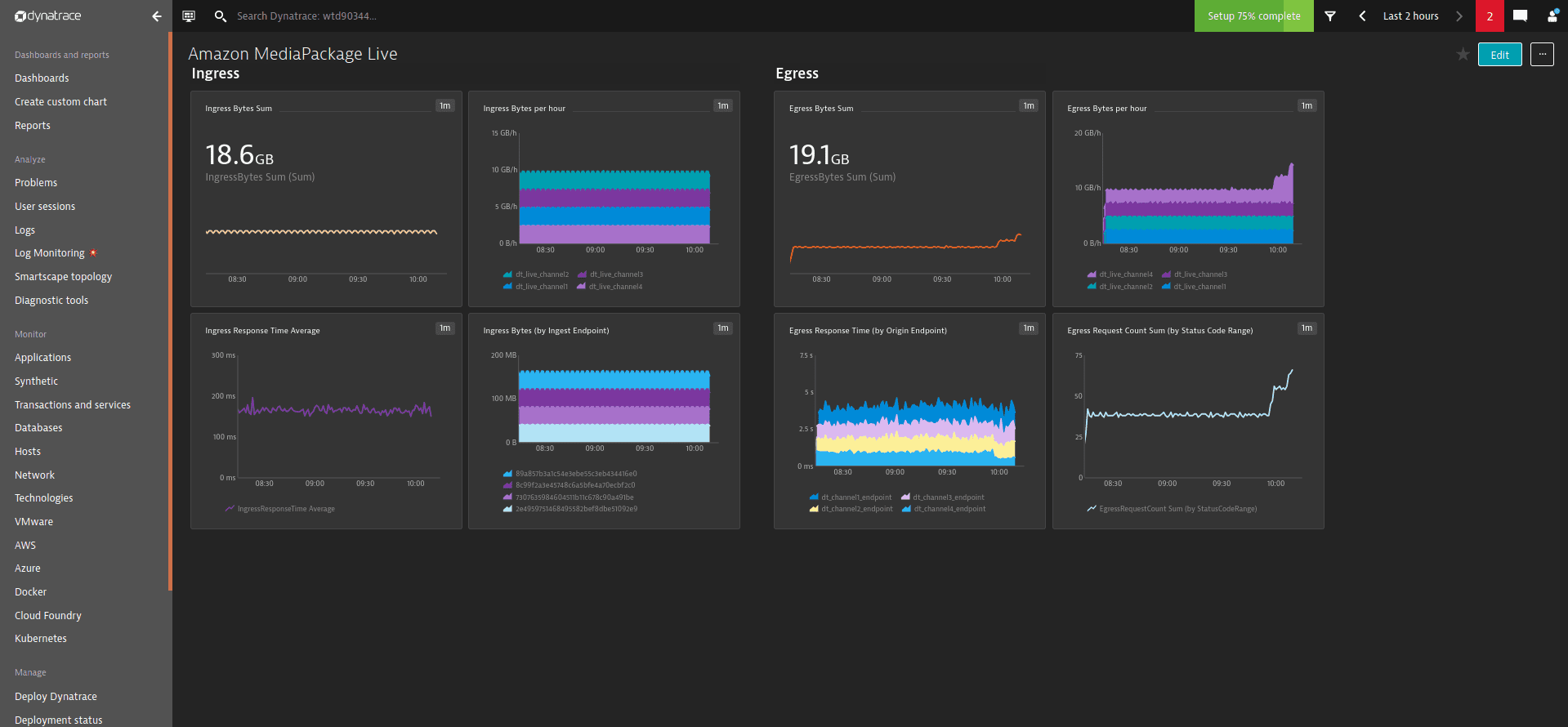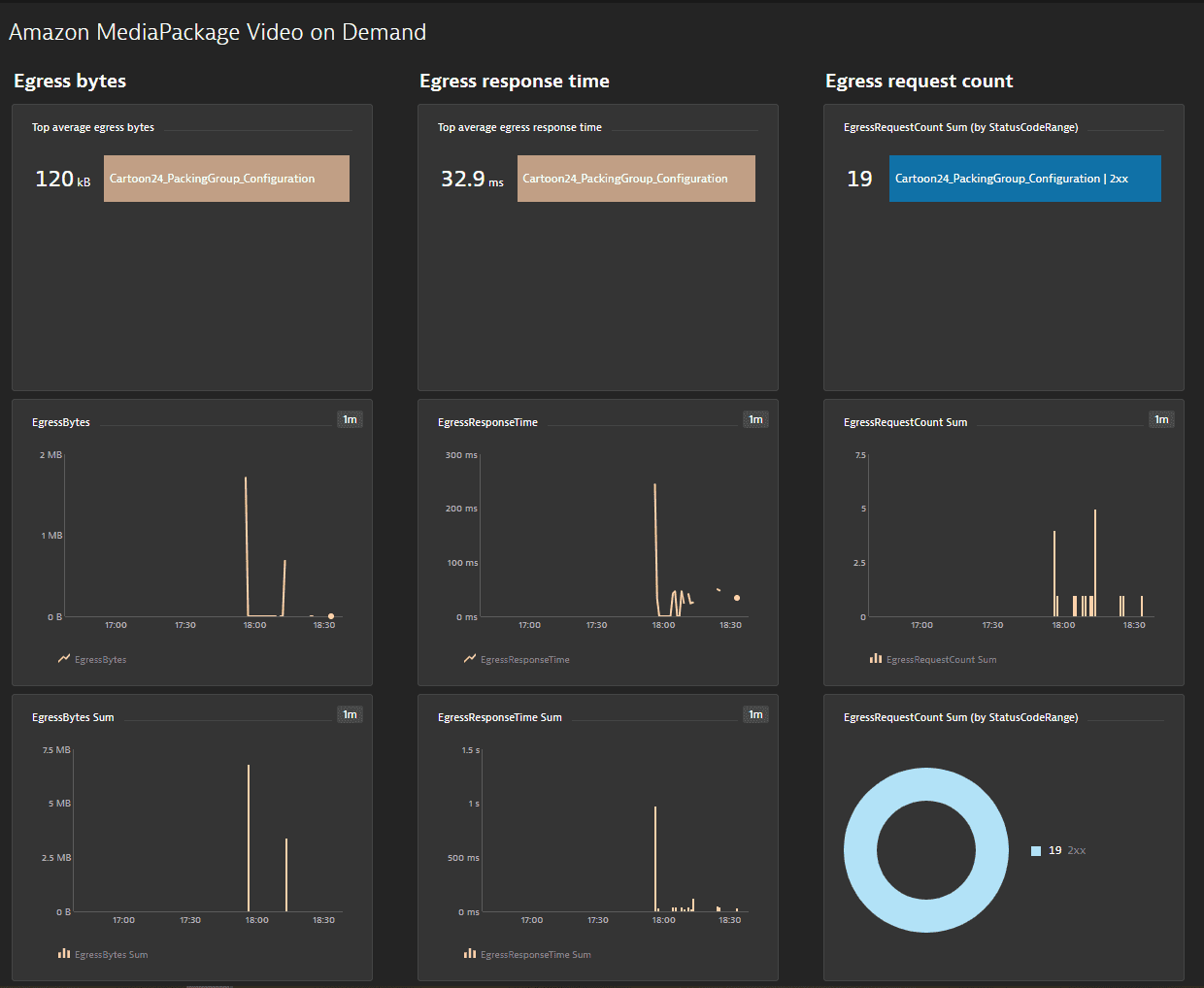 Available metrics
AWS Elemental MediaPackage Live
| Name | Description | Unit | Statistics | Dimensions | Recommended |
| --- | --- | --- | --- | --- | --- |
| ActiveInput | Indicates if an input has been used as the source for an endpoint in AWS Elemental MediaPackage (it has been active). A value of 1 indicates that the input was active, and a 0 (zero) indicates that it wasn't. | Count | Multi | Region, IngestEndpoint, OriginEndpoint | |
| EgressBytes | Number of bytes that AWS Elemental MediaPackage successfully sends for each request. If MediaPackage doesn't receive any requests for output in the specified interval, then no data is given. | Bytes | Multi | Channel | ✔️ |
| EgressBytes | | Bytes | Sum | Channel | ✔️ |
| EgressBytes | | Count | Count | Channel | |
| EgressBytes | | Bytes | Multi | Channel, OriginEndpoint | |
| EgressBytes | | Bytes | Sum | Channel, OriginEndpoint | ✔️ |
| EgressBytes | | Count | Count | Channel, OriginEndpoint | |
| EgressBytes | | Bytes | Multi | Region | ✔️ |
| EgressBytes | | Bytes | Sum | Region | ✔️ |
| EgressBytes | | Count | Count | Region | ✔️ |
| EgressRequestCount | Number of content requests that AWS Elemental MediaPackage receives. If MediaPackage doesn't receive any requests for output in the specified interval, then no data is given. | Count | Sum | Channel | ✔️ |
| EgressRequestCount | | Count | Sum | Channel, OriginEndpoint | |
| EgressRequestCount | | Count | Sum | Channel, StatusCodeRange | ✔️ |
| EgressRequestCount | | Count | Sum | Channel, OriginEndpoint, StatusCodeRange | |
| EgressRequestCount | | Count | Sum | Region, StatusCodeRange | |
| EgressRequestCount | | Count | Sum | Region | ✔️ |
| EgressResponseTime | The time that it takes AWS Elemental MediaPackage to process each output request. If MediaPackage doesn't receive any requests for output in the specified interval, then no data is given. | Milliseconds | Multi | Channel | ✔️ |
| EgressResponseTime | | Milliseconds | Sum | Channel | ✔️ |
| EgressResponseTime | | Count | Count | Channel | |
| EgressResponseTime | | Milliseconds | Multi | Channel, OriginEndpoint | ✔️ |
| EgressResponseTime | | Milliseconds | Sum | Channel, OriginEndpoint | |
| EgressResponseTime | | Count | Count | Channel, OriginEndpoint | |
| IngressBytes | Number of bytes of content that AWS Elemental MediaPackage receives for each input request. If MediaPackage doesn't receive any requests for input in the specified interval, then no data is given. | Bytes | Multi | Channel | ✔️ |
| IngressBytes | | Bytes | Sum | Channel | ✔️ |
| IngressBytes | | Count | Count | Channel | |
| IngressBytes | | Bytes | Multi | Channel, IngestEndpoint | ✔️ |
| IngressBytes | | Bytes | Sum | Channel, IngestEndpoint | |
| IngressBytes | | Count | Count | Channel, IngestEndpoint | |
| IngressBytes | | Bytes | Multi | Region | |
| IngressBytes | | Bytes | Sum | Region | |
| IngressBytes | | Count | Count | Region | |
| IngressResponseTime | The time that it takes AWS Elemental MediaPackage to process each input request. If MediaPackage doesn't receive any requests for input in the specified interval, then no data is given. | Milliseconds | Multi | Channel | ✔️ |
| IngressResponseTime | | Milliseconds | Sum | Channel | ✔️ |
| IngressResponseTime | | Count | Count | Channel | |
| IngressResponseTime | | Milliseconds | Multi | Channel, IngestEndpoint | ✔️ |
| IngressResponseTime | | Milliseconds | Sum | Channel, IngestEndpoint | |
| IngressResponseTime | | Count | Count | Channel, IngestEndpoint | |
| IngressResponseTime | | Milliseconds | Multi | Region | |
| IngressResponseTime | | Milliseconds | Sum | Region | |
| IngressResponseTime | | Count | Count | Region | |
AWS Elemental MediaPackage Video on Demand (VOD)
| Name | Description | Unit | Statistics | Dimensions | Recommended |
| --- | --- | --- | --- | --- | --- |
| EgressBytes | Number of bytes that AWS Elemental MediaPackage successfully sends for each request. If MediaPackage doesn't receive any requests for output in the specified interval, then no data is given. | Bytes | Multi | PackagingConfiguration | ✔️ |
| EgressBytes | | Bytes | Sum | PackagingConfiguration | ✔️ |
| EgressBytes | | Count | Count | PackagingConfiguration | |
| EgressRequestCount | Number of content requests that AWS Elemental MediaPackage receives. If MediaPackage doesn't receive any requests for output in the specified interval, then no data is given. | Count | Sum | PackagingConfiguration | ✔️ |
| EgressRequestCount | | Count | Sum | PackagingConfiguration, StatusCodeRange | |
| EgressResponseTime | The time that it takes AWS Elemental MediaPackage to process each output request. If MediaPackage doesn't receive any requests for output in the specified interval, then no data is given. | Milliseconds | Multi | PackagingConfiguration | ✔️ |
| EgressResponseTime | | Milliseconds | Sum | PackagingConfiguration | ✔️ |
| EgressResponseTime | | Count | Count | PackagingConfiguration | |