Dynatrace for z/OS
With Dynatrace, you can get complete transactional insights into your workloads from the mobile frontend down to mainframe programs and everything in between so that you can troubleshoot anomalies on the code level. Furthermore, Dynatrace can accompany you in your hybrid cloud journey with end-to-end observability from the mainframe to the cloud.
Learn how Dynatrace addresses the most typical mainframe challenges:
Set up monitoring
Dynatrace provides code modules for CICS, IMS, and z/OS Java technologies so that you can achieve seamless observability with trace and metric insights. To learn more about the supported technologies, see Mainframe technology support.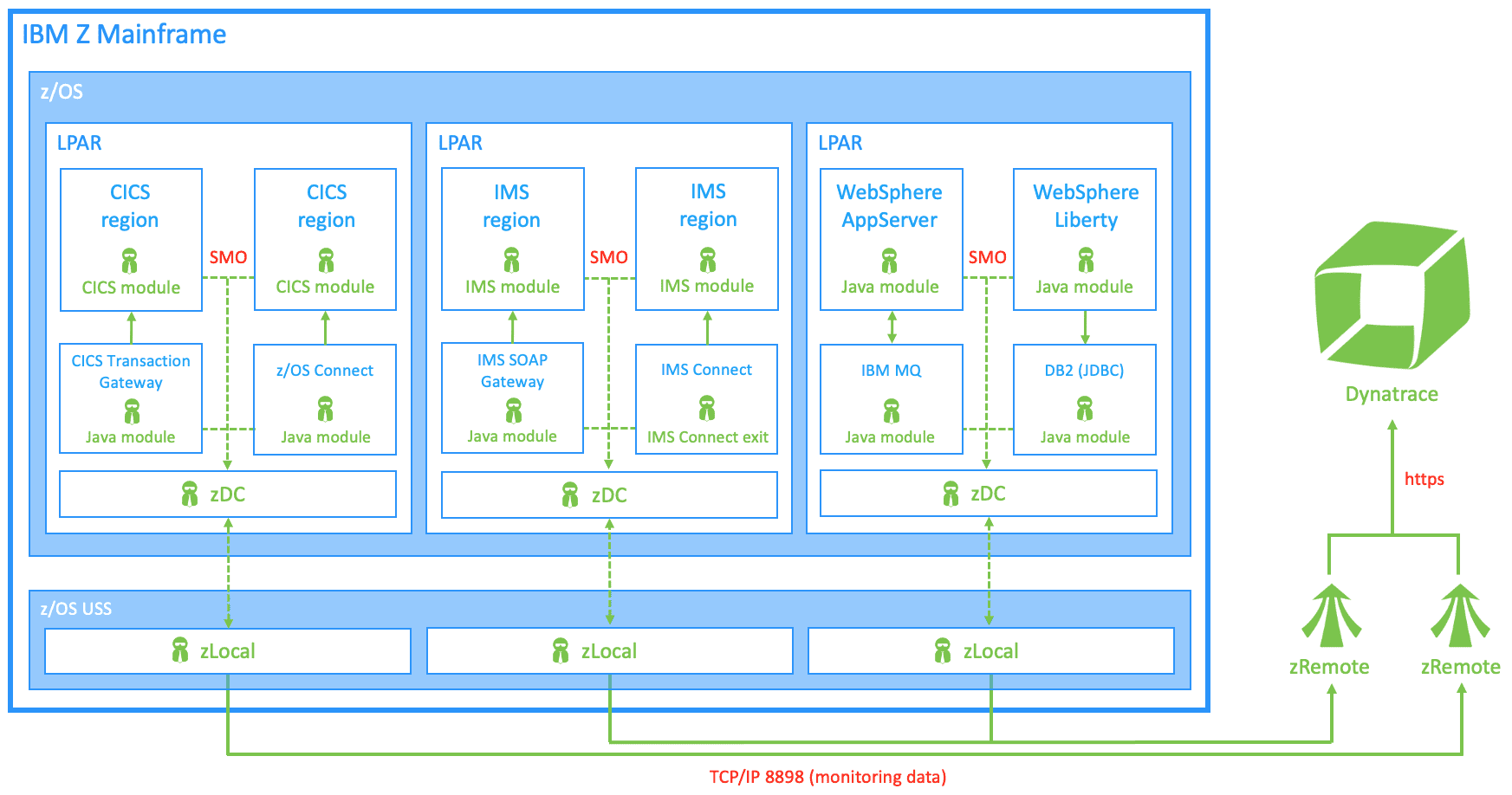 The CICS, IMS, and z/OS Java modules interact with the Dynatrace z/OS Data Collection (zDC) subsystem via a shared memory object (SMO) within an LPAR. The zDC subsystem manages this SMO, to which the modules write their monitoring data.
The zLocal, hosted in the z/OS Unix System Services (USS) environment, runs as part of the zDC. It manages the TCP/IP connection to the zRemote module, reads monitoring data from SMO, and transfers these data to the zRemote.
The zRemote module processes monitoring data received from the zLocal and routes that data, compressed and encrypted, via its local ActiveGate to Dynatrace. Hence, the zRemote module offloads much of the processing work from the modules incurred in instrumenting subsystems and applications to an open system.
To get started, see z/OS installation overview.
Licensing
Monitoring of the CICS, IMS, and z/OS Java modules are consumed based on million service units (MSUs). Therefore, z/OS monitoring doesn't contribute to the consumption of host units or host unit hours.
For more details about licensing, see Mainframe monitoring on IBM z/OS.
Frequently asked questions
Linux on IBM Z and LinuxONE
With Dynatrace, you can get observability for the Linux operating systems on IBM Z and LinuxONE mainframes using OneAgent on Linux. To learn more about the supported technologies on the s390 architecture, see Technology support.
Monitoring of OneAgent on Linux is based on host units consumption.