User behavior analysis
The User behavior analysis section displays a number of key performance metrics regarding user behavior, like bounces, top landing and exit pages, conversions and many more. Just expand the User behavior analysis section of the infographic on the application overview page to view the user behavior analysis options.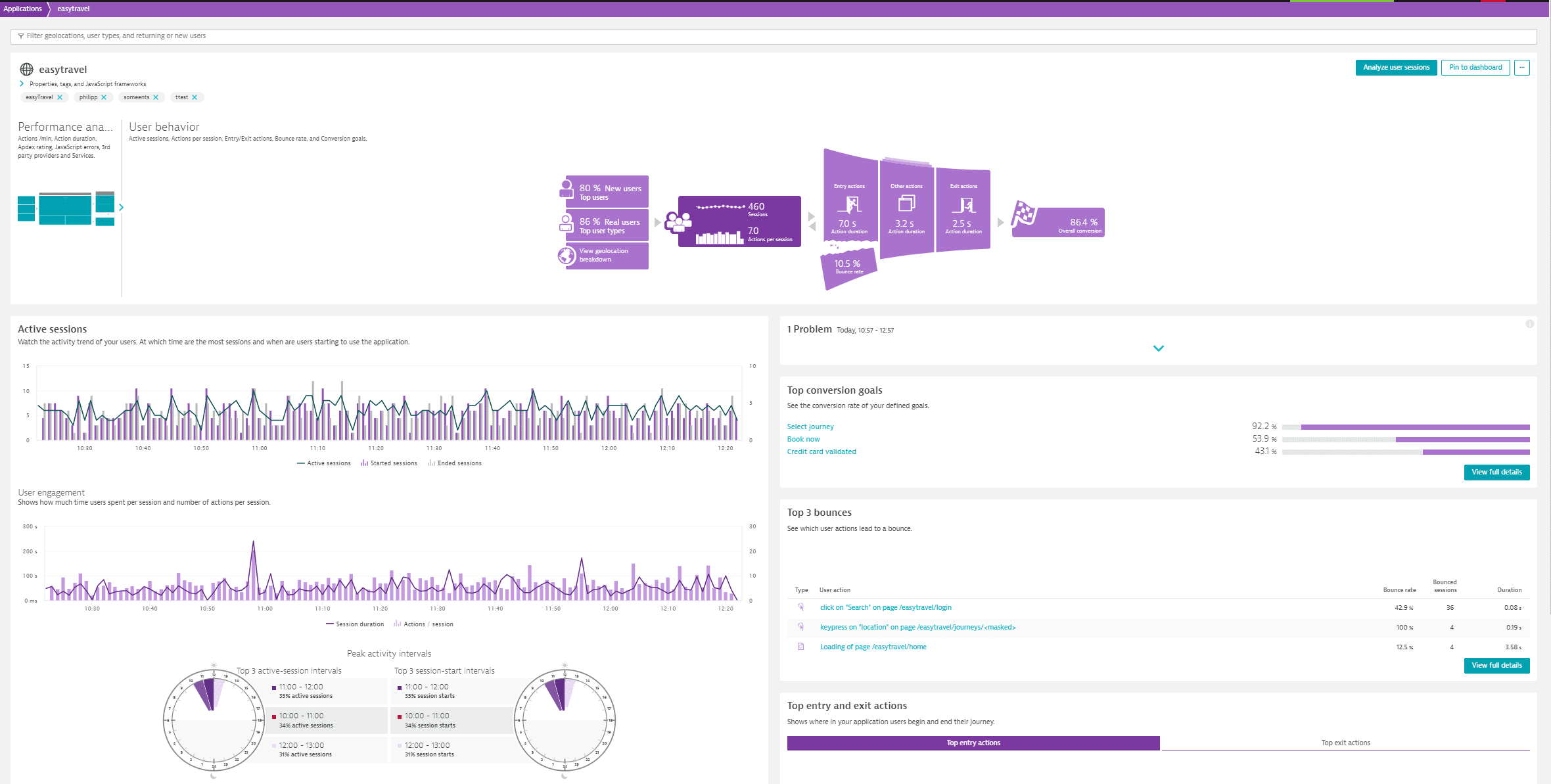 The infographic
Each area of the infographic appearing at the top is clickable, offering access to deeper detail regarding each metric. Whenever you select a part of the infographic, the left section right below the infographic shows different data that reflect the selected part. The discrete infographic parts are briefly described below.
Problems
The Problems section indicates problems that have been automatically detected by Davis, the Dynatrace AI-driven root-causation engine. Just select a problem to learn further details.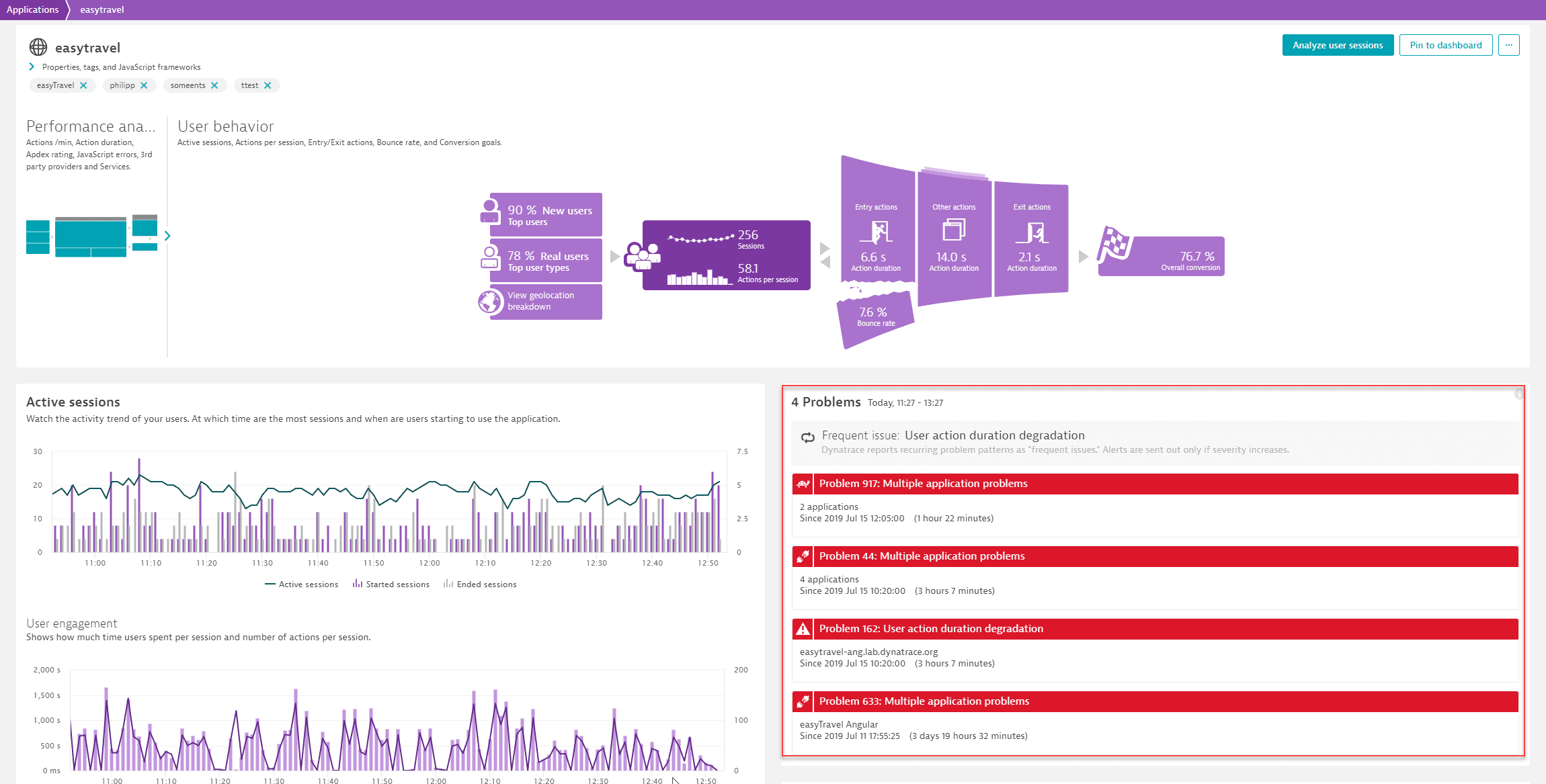 Top conversion goals
The Top conversion goals section shows the conversion rate of your defined goals. Select View full details at the bottom right corner of this section to review overall metrics related to your conversion goals or to analyze progress toward specific goals. Alternatively, you can access the conversion analysis page, if you select a specific conversion goal. In this case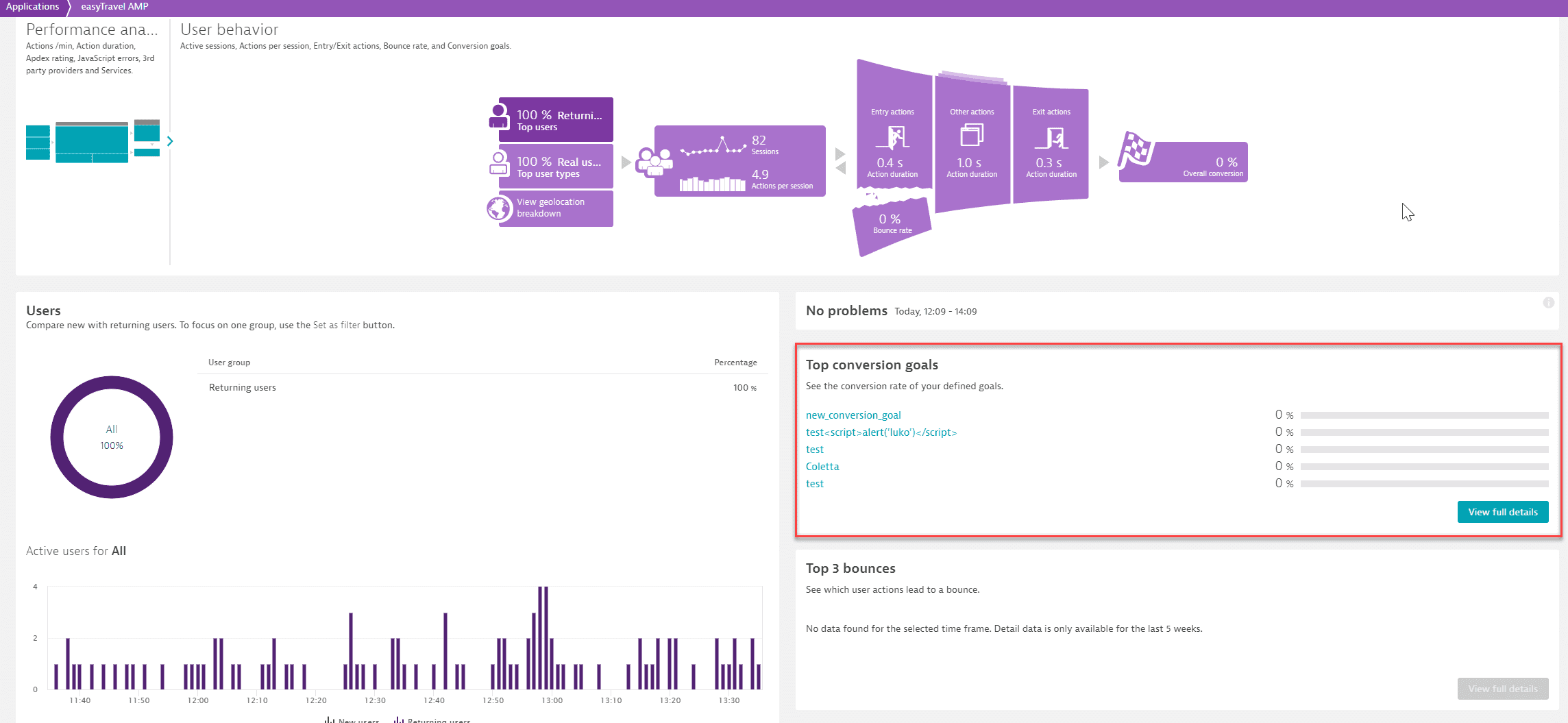 Top 3 bounces
In the Top 3 bounces section, you can see which user actions have the most bounces and compare the duration of bounced actions with the same user actions in sessions where those same actions didn't bounce.
Select View full details to view the full list and associated metrics for each bounce. Here you can compare the durations and JavaScript errors of bounced actions with the same action in other sessions in which the actions didn't bounce.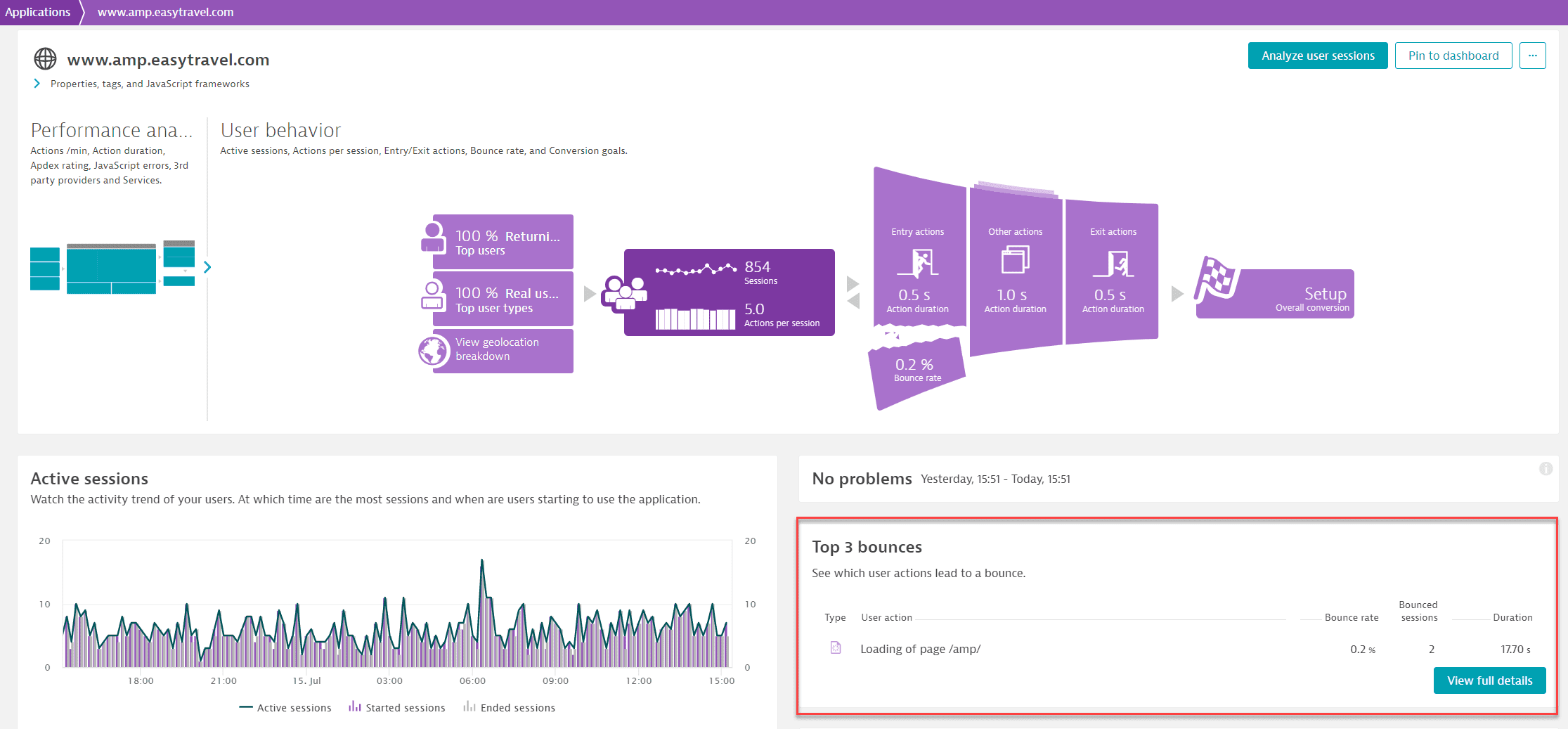 Top entry and exit actions
Ever wondered which of your application's entry and exit actions are the slowest or most popular? Not necessarily the special landing pages that you've set up, but the pages that your users actually use to enter and exit your application?
At the bottom of the application overview page you'll find the Top entry and exit actions section. Select a specific action here or select View full details. You'll find historical trends for all entry and exit actions here.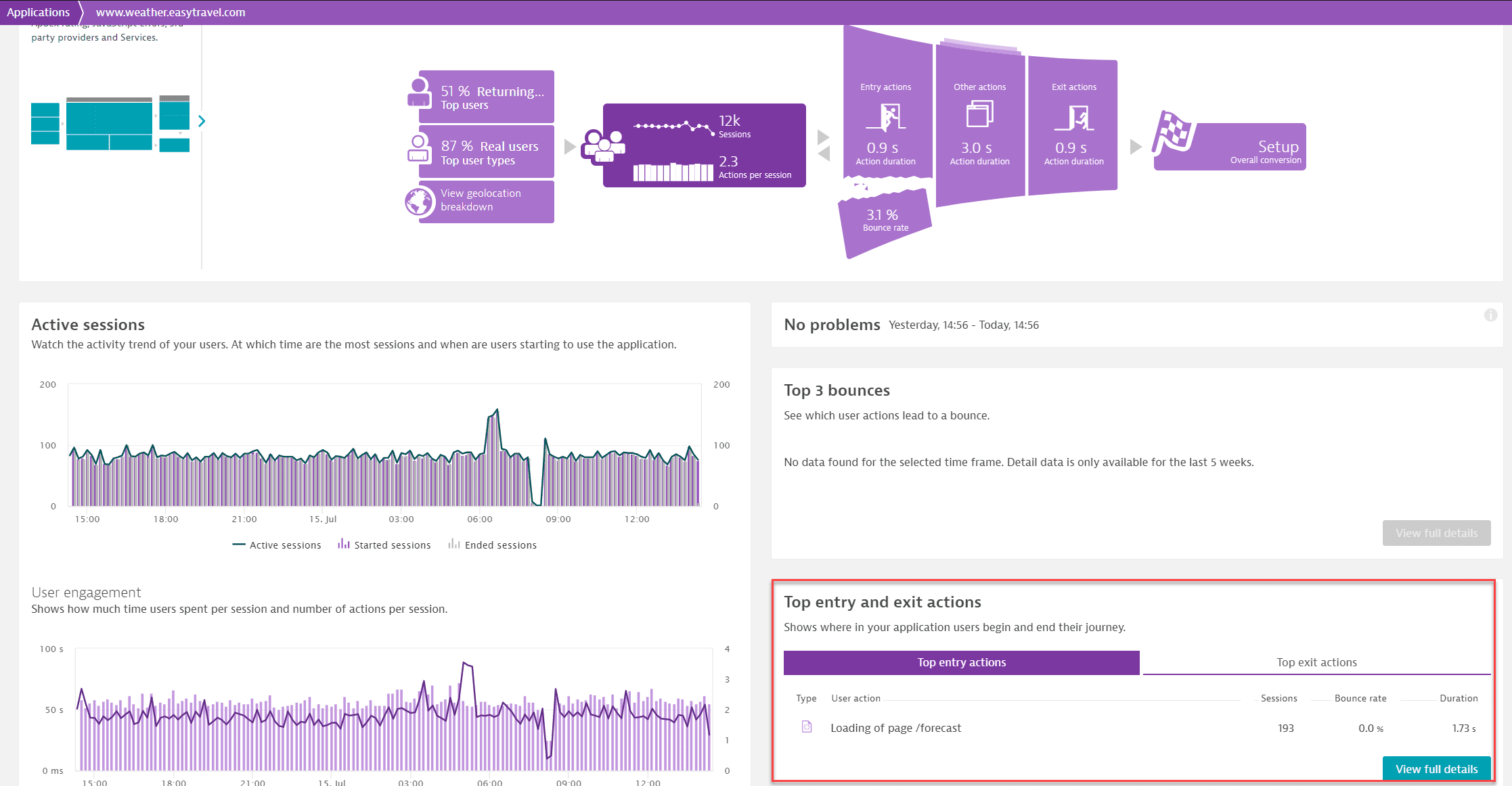 Events
Events represent system incidents that may be of interest to you. Such events include, for example, errors, new version deployments of your application, configuration changes, and more.