Service quality reports
Deprecation notice
The Availability and Service quality reports are now deprecated and will be phased out.
If you currently use these reports, you will continue to have access to them and receive subscriptions until a date as yet to be determined.
New customers do not have access to these reports and cannot subscribe to them.
While Dynatrace itself is an ideal tool for day-to-day monitoring purposes, service quality reports give you insights into hot spots in your environment and make it easy to share those insights with others. Reports are structured so anyone, technical or non-technical, can understand them.
Service quality reports are generated each week on Mondays after 00:00 or 12:00 AM, so they'll be there for you at the start of your work week. Each service quality report summarizes the monitoring insights that Dynatrace has compiled over the past week. They offer an overview of your applications, services, infrastructure utilization, performance problems, and the impact of performance problems on your customers.
Scope
Service quality reports address service quality across the entire environment, not per management zone. Analyzing and persisting the required aggregated data per management zone isn't possible. You need to have access to the entire environment to view these reports.
View reports
To view reports
In the Dynatrace menu, go to Reports.
Reports are sorted by date, with the most recent report appearing first.
To view details, select any report you're interested in.
If you're unsure whether you've already viewed a report for a given week, select the Unread filter to display all unread reports.
Reports include four sections/scores: overall environment (Dynatrace score), applications, services, and infrastructure. For each report section, Dynatrace calculates a score to show you how well your monitored components have performed over the past week.
Dynatrace score
Your Dynatrace score is an average of the applications, services, and infrastructure scores for your environment.
Example
The Dynatrace score is 92, which is the average of the Applications (85), Services (99), and Infrastructure (94) scores (278/3).
The down arrow and -3 next to the Dynatrace score indicate that the Dynatrace score is 3 points lower than the previous week's score.
The down arrows next to the Applications and Infrastructure scores indicate that those scores are lower than the previous week's scores. Scroll down your report to see details on those scores.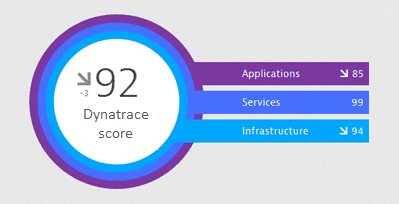 This report section also lists the top problem root causes.
Application score
This report section has three tabs for the three most used applications. Select a tab to view statistics on the selected application.
Application scores are based on application Apdex ratings. In brief, the Application score is the average of your application Apdex value and the percentage of user actions that are not affected by problems.
Services score
This score represents the percentage of service calls that were successful and unaffected by problems.
This report section also lists the top 10 services by load. Select any row in the table to see details on that service.
Infrastructure score
This score is the percentage of host time during which no problems were encountered.
This report section also lists the top 5 infrastructure problems and visualizes peak infrastructure usage over the week.
Subscribe to reports
To subscribe to emailed reports
In the Dynatrace menu, go to Reports.
Select a report to open it.
Select More (…) > Subscribe.
Share reports
You can share reports with anyone, with no need to sign in to Dynatrace. When you share a report with non-Dynatrace users, they receive a message with a private link that allows them to view the report without logging into Dynatrace.
To share a report via email
In the Dynatrace menu, go to Reports.
Select a report to open it.
Select More (…) > Share.
A shareable link is displayed.
Select Copy to copy the link to your clipboard.
Paste the link into an email and send it to the recipient.