What does the default Dynatrace home dashboard include?
The default Dynatrace home dashboard provides a quick overview of your system's health. The default set of dashboard tiles are designed to provide basic insights for various stakeholders in your organization. Business owners, developers, operations staff, and DevOps teams will each find valuable information on the default Dynatrace home dashboard. Best of all, you can customize your home dashboard at any time.
Understand how dashboard tiles work
Click any dashboard tile (see example dashboard below) to view further detail about the metrics displayed on that tile. Note that each tile serves as a shortcut to a list of entity types (hosts, processes, services, etc) for which monitoring data is available. For example, click the Databases tile to go to the Databases list; click the Apdex tile to access Apdex World map view; or click the Smartscape tile to access Smartscape view. To return to your home dashboard at any time, click the dashboard button in the upper-left corner of the menu bar.
Each tile provides near real-time insight into the health of one aspect of your environment during a specific timeframe (except for Smartscape, which always reflects activity of the last 72 hours). The selected timeframe is configurable via the timeframe selector in the upper-right corner of the menu bar. In the example below, the tiles reflect environment activity during the last two hours (the default timeframe). For full details on the timeframe selector see Can I select an analysis timeframe across all views?.
Health indicators
In the bottom-right corner of some tiles (for example, the Problems and Hosts tiles) you'll see a health indicator. Problematic entity counts are displayed in red text. The Hosts tile in the example dashboard below, displays a health indicator of 1/8. This means that, of the 8 hosts monitored in this environment during the selected timeframe, 1 host is currently experiencing a problem. Also, 3 of 82 synthetic monitors have detected availability problems. In total, the environment has 5 open problems.
Home dashboard layout
Making use of Header tiles, the default Dynatrace dashboard is visually organized into three sections, Quick overview, Application health, and Infrastructure. Each section is explained below. You can adjust this structure by adding your own tiles to support your team's unique needs.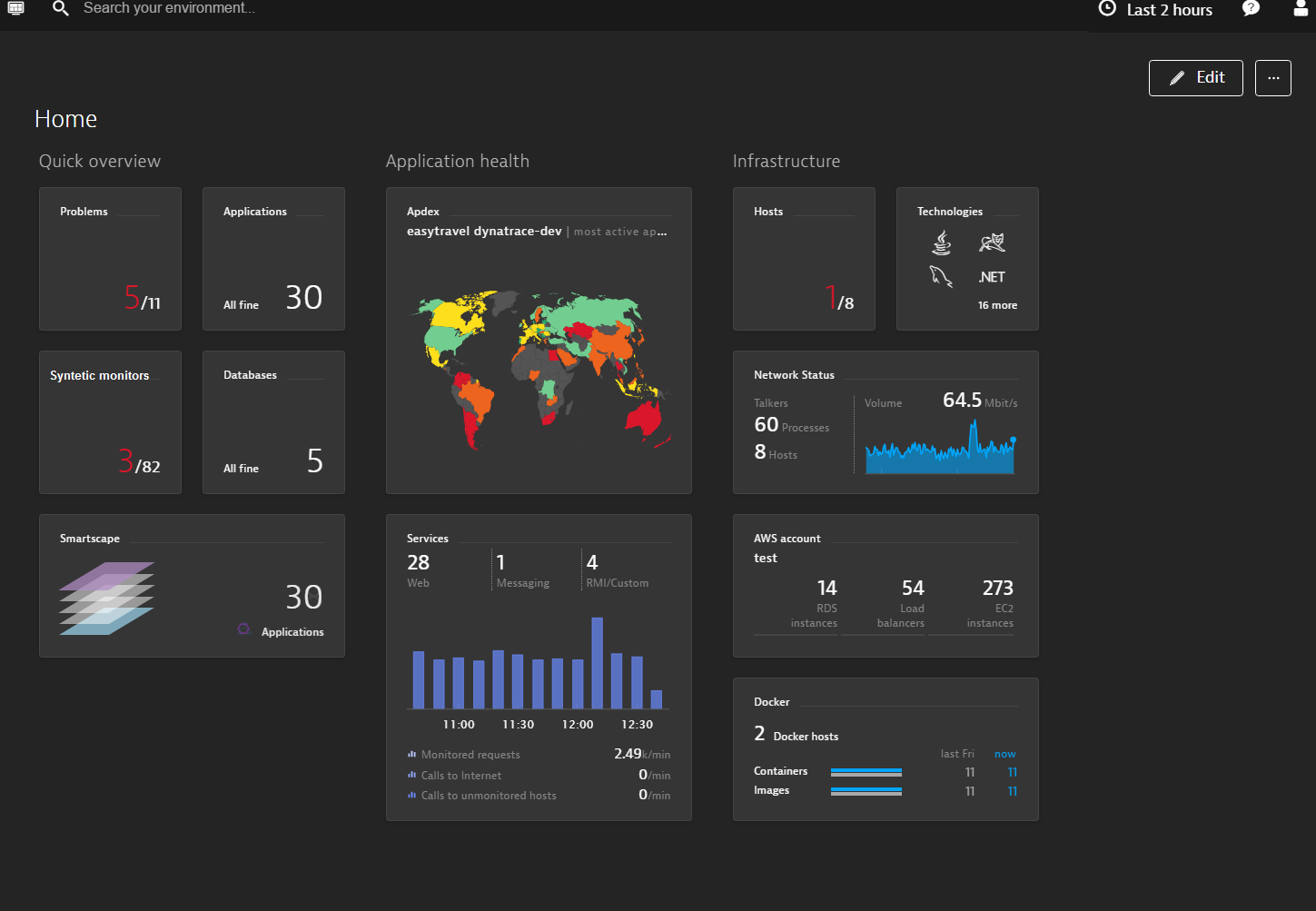 Quick overview
The Quick overview section shows high-level observations related to your environment. Problems, Synthetic monitors, Applications, Databases, and Smartscape are high-level analysis views. You can quickly access further detail on these points by clicking these tiles.
The Smartscape tile provides periodic health-status updates related to each layer in your technology stack—applications, services, processes, hosts (including PaaS-based hosts), and data centers.
Interestingly, even though 5 problems are currently open in the environment, the problems haven't yet affected the applications in this environment—all 30 applications remain healthy. This means that deeper analysis is required and that there may be potential opportunity for optimizing certain aspects of this environment. However, at least for the moment, the detected issues aren't affecting the customers who are using the applications. This is a great example of how Dynatrace detects problems before they affect customer experience.
Once you've set up a custom dashboard that provides quick insights into the unique aspects of your monitoring environment, if you don't see any problematic entities in the Quick overview section of your home dashboard, you can be confident that everything in your environment is performing well.
Application health
Moving to the right on the home dashboard, the Application health section provides a deeper level of monitoring detail. Two very different views on application performance are shown here. The Apdex tile shows how satisfied your customers are with application performance around the world. Varying performance levels are indicated with colors ranging from green (satisfied users) to red (dissatisfied users). Note that Apdex only provides performance data if you have a web-based or mobile app and you have Real User Monitoring enabled. The Services tile shows how well the services that are called by your applications are performing. In this example, all database services and other services are performing well.
Infrastructure
Moving further to the right, you can view insights related to the deepest levels of your technology stack. The Infrastructure dashboard section provides monitoring detail related to the Hosts, process groups (i.e., Technologies), and Network status of the entities that support your applications.
Note: Unless the timeframe selector is set to the last 72 hours (the default analysis timeframe used for Smartscape analysis), there may be a mismatch between the Smartscape health indicators and the health indicators displayed on other tiles.
The default home dashboard also contains an AWS account tile and a Docker tile. If your infrastructure is not based on these technologies, these tiles will be populated with sample data. You can remove these tiles and customize your dashboard to your needs as required.