Dynatrace Platform Subscription (prior to April 2023)
Please use this version of DPS documentation only if you signed up for early access to DPS licensing (prior to April 2023). Otherwise, please refer to the latest DPS documentation.
The Dynatrace platform subscription model (DPS) simplifies how you consume monitoring on the Dynatrace platform by basing all your consumption of Dynatrace monitoring functionality on a common unit of currency, the DPS unit. This approach consolidates the consumption of all Dynatrace monitoring units (Host units, Davis data units, DEM units, Mainframe units, and Application security units) into a single unit of consumption.
This page is provided for informational purposes only. The terms of the Dynatrace free trial offer and/or your Dynatrace license will be applied to any use of Dynatrace products or services. For more information, see Subscriptions and licensing.
DPS units
DPS units promote ease of use, flexibility, and transparency because, unlike traditional licensing models where specific product features and their usage limits must be defined in advance, DPS units enable you to commit to an annual monitoring volume that can be drawn down flexibly across all Dynatrace modules and capabilities at predictable rates.
With DPS units, you can quickly see how much of your committed monitoring volume has been exhausted and how much remains. Detailed breakdowns allow you to analyze monitoring consumption per Dynatrace Cluster (Dynatrace Managed deployments only), monitoring environment, or monitoring unit type.
The Dynatrace platform subscription model is based on the same monitoring units used across all Dynatrace capabilities and supports the following monitoring unit types:
Host unit hours (application and infrastructure Monitoring)
Premium high availability host unit hours
Digital Experience Monitoring (DEM) units
Davis data units (custom metrics, Log Monitoring, and events)
Mainframe units (mainframe monitoring)
Application security units (Runtime Vulnerability Analytics and Runtime Application Protection)
Each of these monitoring units has a fixed price point defined in your licensing agreement.
Dynatrace platform subscriptions (DPS)
Your Dynatrace platform subscription volume is based on the amount of your annual licensing commitments. These platform subscription commitments, collectively called your annual commit, are assigned to your account and can be used within the subscription year. Past consumption is archived at the beginning of each new subscription year, and your full annual commit volume is reset. Note that any portion of your annual commit that isn't used by the end of the subscription year is not carried over to the new subscription year.
How DPS units are consumed
Each hour, Dynatrace collects all usage statistics from your environments, calculates the consumption, and applies the monitoring-unit costs defined for your subscription. The total consumption is then deducted from your DPS annual commit. The remaining balance is the amount you have available for the rest of the subscription year.
There are two ways to track your Digital Platform Subscription consumption:
Account Management web user interface as described below
Tracking consumption via Account Management
Account Management allows you to view your Dynatrace Platform Subscription consumption and usage.
In Account Management, select Subscription > Overview from the menu bar.

If your display size is too small for the menu bar, open the menu in the upper-left corner of the page and then select Subscription > Overview.

Subscription > Overview offers three key capabilities for understanding subscription usage:

Account usage—a summary of how much of your annual commit has been used
Environment usage—a breakdown of how the annual commit has been used across your environments and capabilities
Usage details—historical chart and tabular view of usage by environment and capability
Account usage
Account usage provides a summary of how much of your annual commit has been used.

Annual commit—a textual summary of the current annual commit

Commit period—the subscription duration

A Dynatrace Platform Subscription can span multiple years, broken up into annual commit periods, with each period having an annual commit.

Dates are based on UTC and run from 0:00 on the start date shown to 23:59:59 on the end date indicated.
Environment usage breakdown
The Environment usage breakdown table provides a snapshot of cumulative usage by environment and platform feature. The values shown represent totals for the current commit period.
SaaS-based deployments show a list of environments, with current usage by feature and total DPS usage.
Managed deployments show a list of clusters with a drill-down into each environment, allowing you to view DPS usage by feature and total DPS usage by cluster and environment.
Environments are displayed using their friendly name (if set) and environment identifier.
You can use this information to quickly determine which environments are using up most of the DPS annual commit.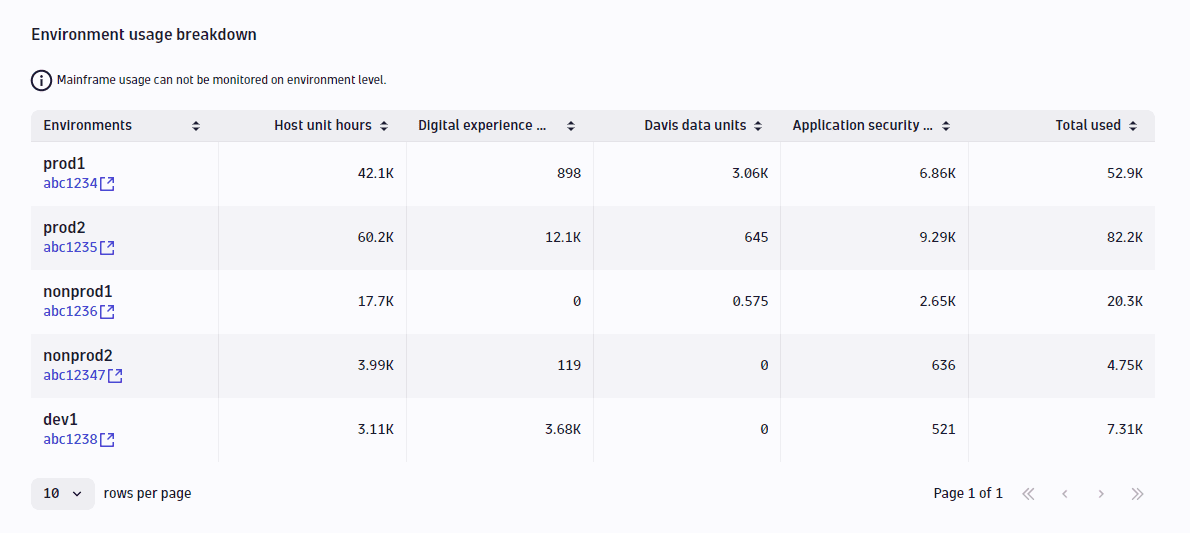 Usage details
Whereas the Account usage and Environment usage sections provide a summary of costs to date, Usage details allow you to analyze DPS usage with different views and filters.
The chart and the Environment usage breakdown table under it are updated when you change chart settings.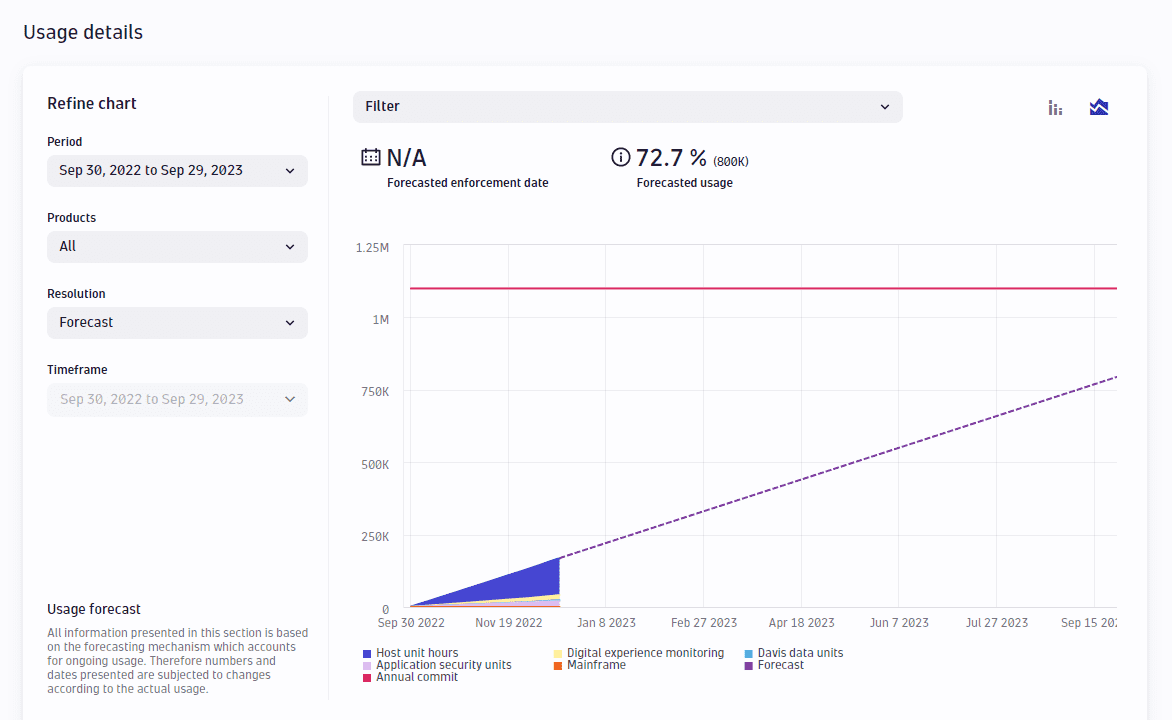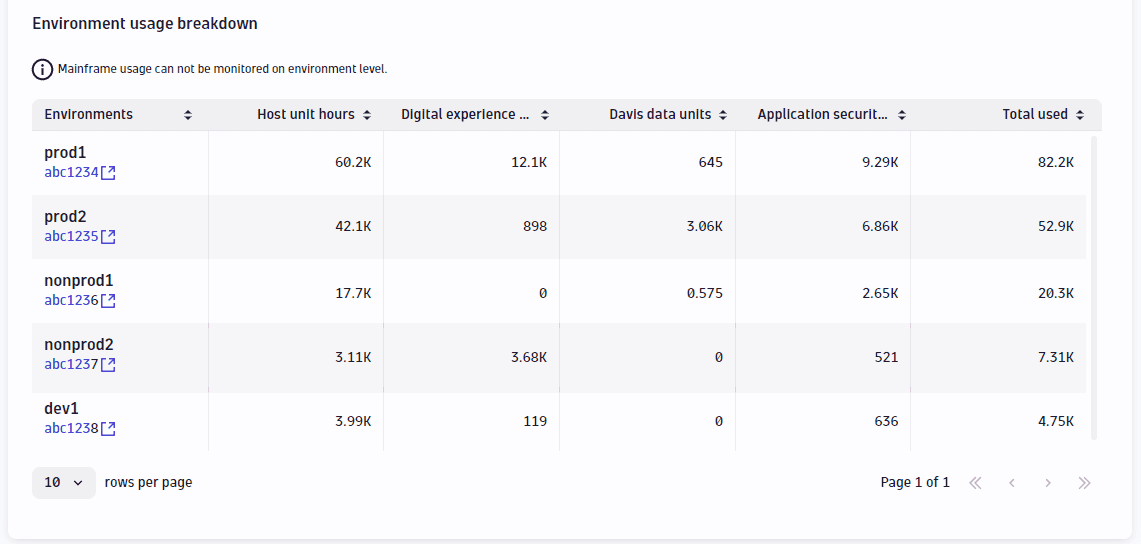 Period
You may have a subscription that spans multiple annual periods. When viewing usage details, Account Management displays usage for the current period of your subscription by default. To view usage for an earlier period, select a different Period.
Products
The table shows the cumulative usage for the feature selected in the Products list.
If you select All, the table reflects top-level feature usage (such as host unit hours and Davis data units).
If you select a specific product such as Davis data units, the table is updated to show the breakdown (metrics, logs, etc.) with the row total shown on the right. Selecting a time range also updates the table with cumulative usage for the user-defined period.
Select a Product to view subfeature usage. For example, select Davis data units to chart usage of custom metrics, log analytics, serverless, events, and traces.
Resolution
By default, the chart displays the Forecast resolution. This sets the timeframe to the annual commit period, showing cumulative costs to date and projected costs through the end of the period. The forecast model is linear across all data points in the annual period.

To be able to filter by product, environment, and timeframe, select a Daily or Hourly resolution.
Filter
The Filter setting above the chart allows you to show consumption information for just selected environments.
Legend
Each item in the chart legend is a toggle switch for that element: select it to hide or show that element on the chart. This can be useful, for example, if you want to disable viewing of the annual commit level versus usage in a low-usage environment.
Chart type
Use the chart buttons in the upper-right of the chart with switch chart types (area chart or stacked bar chart).
Timeframe
To change the timeframe of the chart, expand the current timeframe setting, specify a new range, and select Apply.