Can I automate installation using Windows Group Policy?
In addition to providing an EXE installer download, we also provide an MSI file that you can use with Microsoft Group Policy to remotely install Dynatrace OneAgent on your Windows machines. The MSI installer isn't pre-configured like the EXE installer, but it offers the same functionality.
Download and deploy the installer
Select Deploy Dynatrace from the navigation menu.

Click Start installation.

Select Windows.

On the Download Dynatrace OneAgent for Windows page, click the Download MSI package link to download the archive that contains the installation files. The archive contains an MSI installer file and a batch file with an example command line. Use the command line to deploy OneAgent instances with the default installation settings. You can add or skip any parameters in the batch command.

Configure your Group Policy (take a look at the Microsoft documentation if you need help):

Create a distribution point.
Assign a package (the OneAgent MSI installer with parameters).
Publish your policy.

Each successful OneAgent installation is recorded by Dynatrace. You will know that OneAgent is successfully deployed and that communication is established between your OneAgent and Dynatrace when your host name appears in the list (for example, EMAP003.emea.cpwr.co in the image below).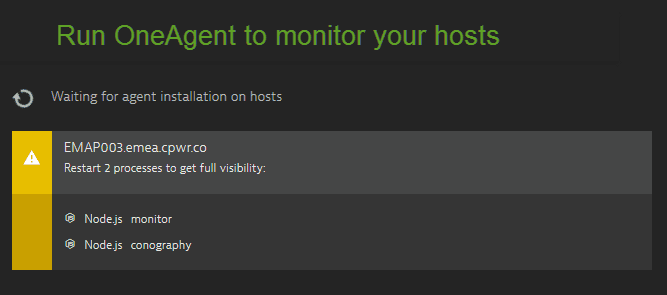 Next steps
Following Dynatrace OneAgent installation, you need to restart all processes that you want to monitor. You'll be prompted with a list of the processes that need to be restarted. Note that you can restart your processes at any time, even during your organization's next planned maintenance period. Though until all processes have been restarted, you'll only see a limited set of metrics, for example CPU or memory consumption.