Configure 3rd-party and CDN content detection
Dynatrace automatically recognizes more than 1,000 3rd-party content providers, including Google, Amazon, Twitter, and LinkedIn. Typical 3rd-party content includes Facebook and Twitter widgets, gravatars, and similar resources. It's worth monitoring this type of content to know exactly how it affects your applications and to understand if such content is the root cause of any page slow-downs.
CDNs (Content Delivery Networks) are typically under your control. Typically, your website will use a CDN to store and serve frequently-accessed static and dynamic content so as to speed up load times in certain geographic regions.
The difference between 3rd-party content and CDNs lays in the control you have over the data. If you rely on an external resource to deliver static or dynamic content to your website, for example images or CSS, think of the service as a CDN. If you use external data that you have no control over, the content is 3rd-party content.
When a host name can't be found in our list of known 3rd-party content providers, Dynatrace assumes that the host is a CDN.
3rd-party and CDN content settings
To see the full list of manual as well as auto-detected 3rd-party and CDN services that Dynatrace detects out of the box, along with related configuration settings, go to Settings > Web and mobile monitoring > Provider breakdown.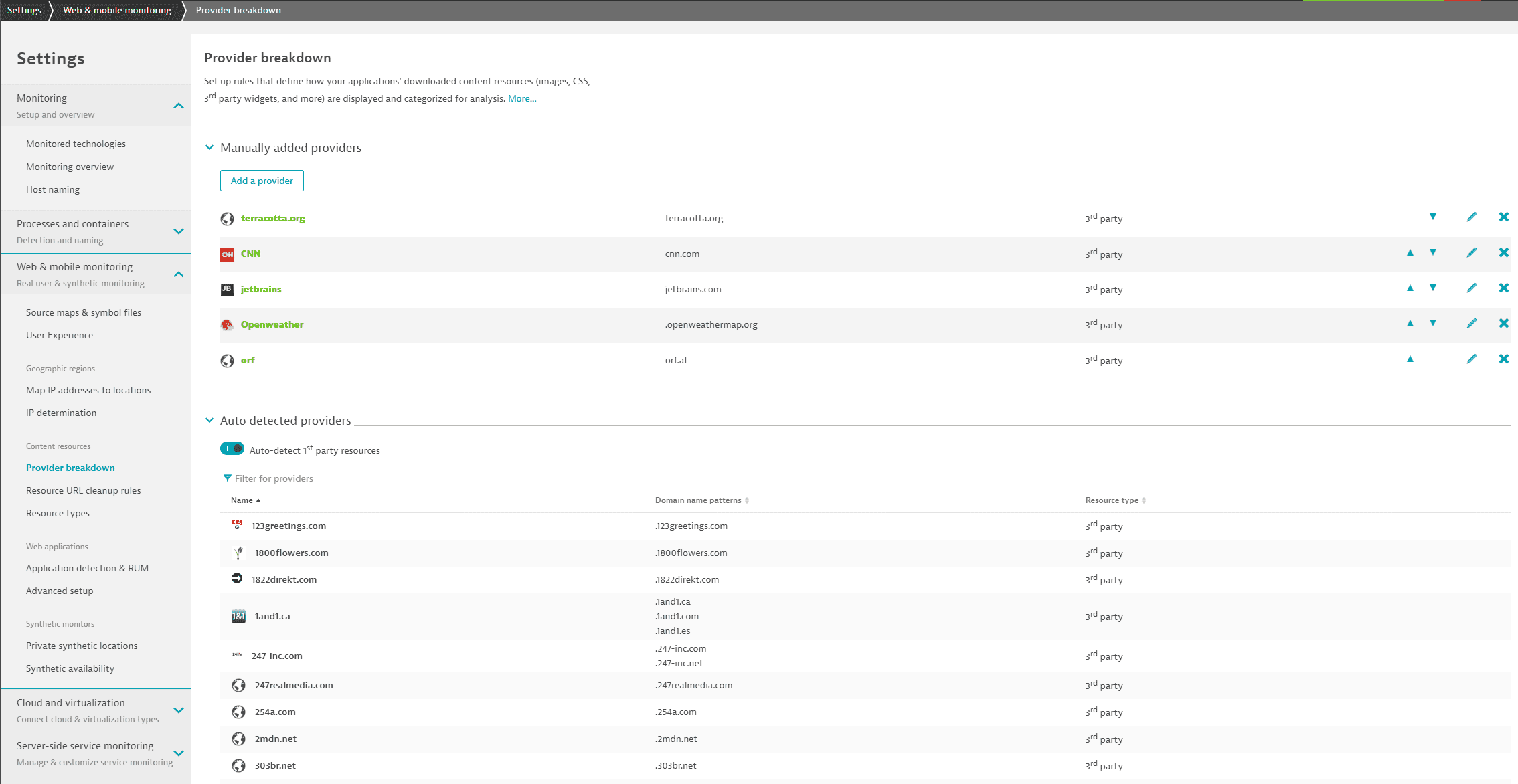 For auto-detected providers, sort the list by resource type to see all 3rd-party and CDN services. Click Add a provider to manually add providers that have not been auto detected. If you enable the Auto-detect 1st-party resources setting, Dynatrace will automatically leverage information captured by OneAgent to find out which domains are hosted by your organization and automatically categorize those domains as 1st-party.