What data is included in Real User Monitoring?
Dynatrace automatically recognizes more than 1,000 third party content providers, including Google, Amazon, Twitter, and LinkedIn. If you have such dynamic content on your website, it will be discovered automatically and displayed in a tile on your home dashboard.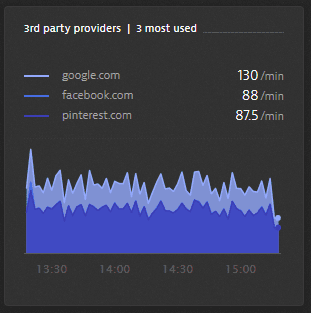 A few technical details
Your options for Real User Monitoring depend on how you set up process monitoring for your servers. If you enabled monitoring for web servers or Java application servers, Dynatrace OneAgent will immediately discover any applications that are running on those servers (assuming you're monitoring application processes that accept web requests).
Which users are monitored?
All users who use your application within a browser are monitored. In fact, the phrase "browser monitoring" is sometimes used in place of "Real User Monitoring." If you build a hybrid solution (a native application built on an embedded browser), then all application processes that pass through the web browsing channel will be monitored.
Not seeing Real User Monitoring data?
One of the following may have occurred:
Your web server isn't working. Please ensure your servers are up and processes are in operational state.

There is no traffic on your website.

Your agent isn't working properly. Go to Settings > Monitoring overview to confirm that the host running your software is monitored.

Your ActiveGate isn't working properly. Confirm it's up and running via the Monitoring overview .
If you're still unable to resolve this issue, please contact us at Dynatrace Answers. Also consider installing Dynatrace OneAgent on a different machine.