Problem overview page
The problem overview page provides you quick insight into problem details.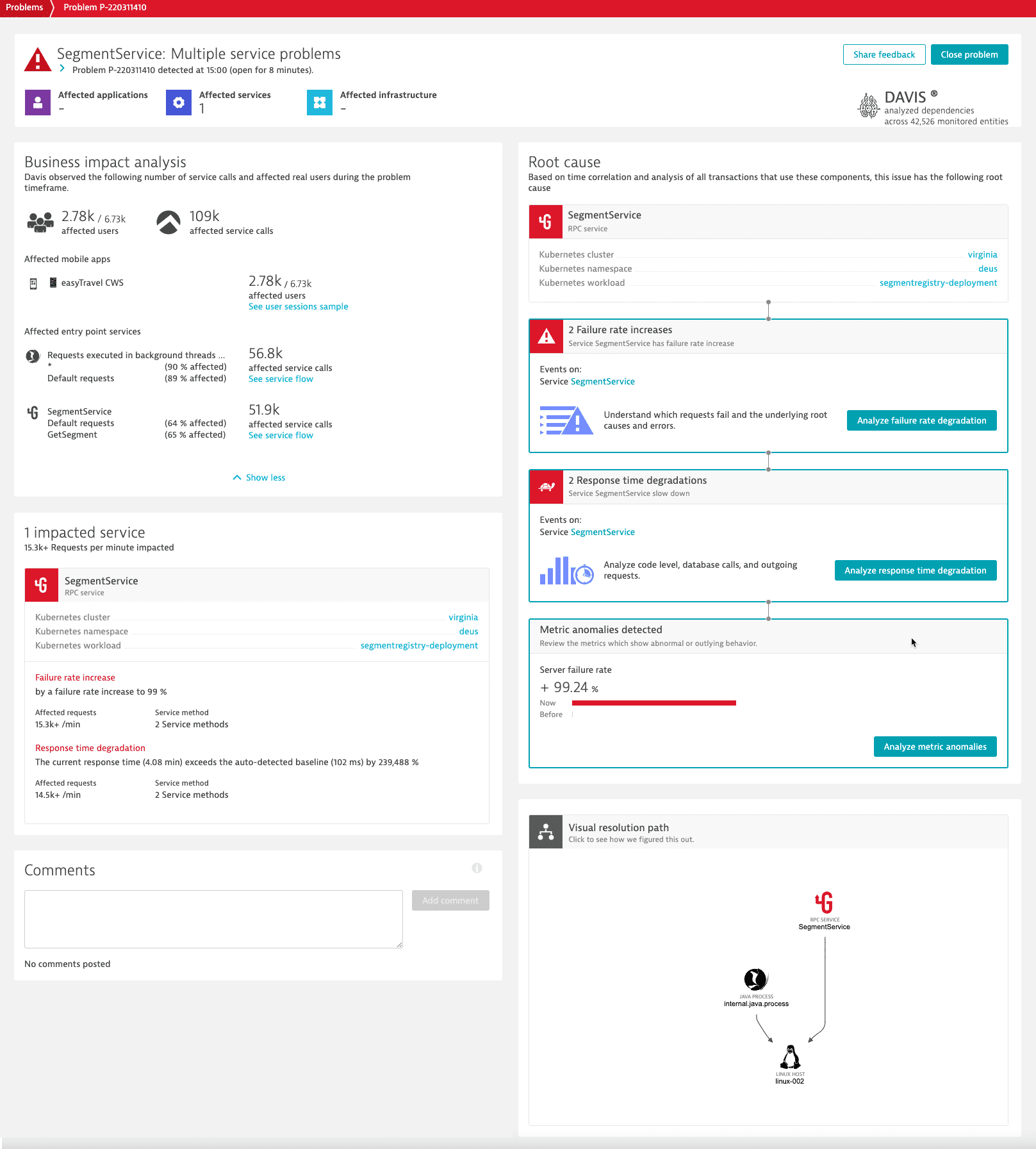 The upper section displays the number of applications, services, and infrastructure components that are affected by the problem.
To manually close an open problem, select Close problem and provide your reason for closing the problem.
Davis® is the AI causation engine behind Dynatrace problem analysis. To rate how Davis performed for this problem, select Share feedback and then select the thumbs-up or thumbs-down icon. You can also add an optional comment. Your feedback helps us to improve Davis and solve your problems.
Personal data notice
To correlate the problem with your feedback, Dynatrace stores the problem context—problem type, severity, and events. Your personal information is not collected.
If you want to provide personal data (for example, your name and email address), add this information as a comment. We can't guarantee that we will respond.
The impact analysis section includes details about the direct consequences of the problem. It might also provide information about the business impact of the problem.
The root cause analysis section includes details about the underlying root causes of the problem. It shows the trace of the problem through your environment or points to a metric event configuration violation that triggered the problem.
To access a problem overview
In the Dynatrace menu, go to Problems.
From the Problems page, select the problem you want to analyze.
Problems with red icons are active problems while problems that feature gray icons are closed problems. You can alternatively access the Problems page by selecting the Problems dashboard tile.
Problem overview pages can also be accessed from individual entity pages. Active problems are indicated in red. Closed problems aren't displayed. Select any problem listed on an entity page to navigate to the problem's overview page.