Because each application environment is built on a unique set of hosts, services, and infrastructure components, and because each team in your organization may have different workflow requirements, Dynatrace makes it easy to create your own fully customizable dashboards. You can easily create, modify, delete, and switch between dashboards.
Select Dashboards from the navigation menu.
Click the Create dashboard button in the top-right corner.

Type in a Dashboard name and click Create. The dashboard then opens in edit mode.
Customize your new dashboard with tiles, as shown in the video below. To add a tile, drag it from the tile catalog and drop it on an open spot on your dashboard. The tile's configuration settings are then displayed automatically. As you edit a tile your configuration changes are rendered instantly, so your changes are always shown in context with the rest of your dashboard.
Select a default analysis timeframe for your tile by clicking the Timeframe selector in the upper-right corner of the dashboard. See the Timeframe selector section below for more details.
If your new dashboard is to only be accessible by co-workers who have permission to access a specific management zone, click the filter button in the upper-right corner and select the appropriate management zone.
Once you've finished configuring your new dashboard, click Done.
Clone an existing dashboard
You can't edit built-in or shared dashboards for which you only have viewing permission. To customize such a dashboard, first clone it. This will result in an exact copy of the original dashboard, which you can then modify.
Select Dashboards from the navigation menu.
Click the browse button (...) in the upper-right corner of the tile and select Clone.

Select the newly cloned dashboard, and click Edit to modify it.
Multiple dashboards
With multiple dashboards at your fingertips, you may want to have all your dashboards open at the same time in multiple browser tabs. Go for it. This is perfectly fine.
1-click dashboard access
Use the Dashboard

button in the upper-left corner of the page to return to your current dashboard at any time. For example, if you've drilled down through a few pages in the course of investigating the root cause of a problem, to return to your current dashboard, just click the Dashboard button.
Default filters
Data displayed on a dashboard can be filtered using the global timeframe selector and management zone filters. To configure a dashboard so that it always opens with the same default timeframe and management zone, open the Settings tab when editing a dashboard, enable the respective toggles, and configure your desired settings.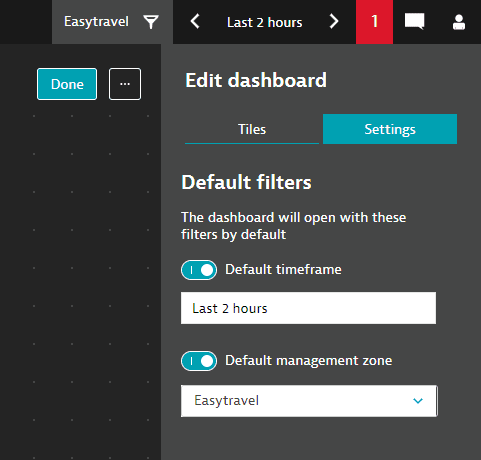 Dashboard tile refresh rate
Every dashboard tile refreshes automatically to update visualized data. Depending on the content shown in a tile and especially the applied timeframe, the refresh interval can vary. The table below provides definitions for dashboard tile refresh rates.
| Dashboard timeframe | Refresh interval |
| --- | --- |
| Last 2 hours and below | 1 minute |
| Last 2 hours to last 6 hours | 5 minutes |
| Last 6 hours to last 24 hours | 15 minutes |
| Last 24 hours to last 72 hours | 30 minutes |
| Last 72 hours and below | 1 hour |