Configure a top-list visualization in Dynatrace
Shows query results as a top list.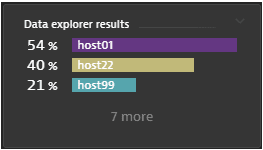 Select a different metric
By default, this visualization shows the first metric of a multi-metric query.
To select a different metric from a multi-metric query, select the letter next to the metric you want to visualize. In this example, you would change the selection from A (CPU usage %) to B (Memory used %).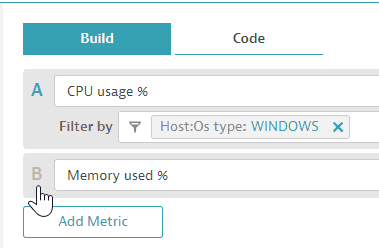 Visual settings
Visualization

required


You must select Top list to display this type of visualization.
Last value

optional


In certain cases, you need to see the last reported value for a metric, not the total aggregate over the time span, to help you understand the current state. To do this, turn on Last value.
Per-metric visual settings
Rename a metric
You can change the name of a metric as it is displayed in the chart legend and chart pop-ups. The query definition retains the metric's original name.
To rename a metric
In the Visual settings section, select Edit (pen icon) for the metric you want to rename.

Edit the name, and then select the checkmark to save the new name.
Add color override
To force a different color (override the color palette) for a specific series such as a selected host
In the Visual settings section, select Add color override

Select the series from the list

Select the override color for that series
Thresholds
To enhance your visualizations, you can set thresholds that are reflected in your visualization.
Set thresholds
To set thresholds
In the Thresholds section, enter threshold values

Adjust threshold colors optional
Tile text color is adjusted automatically for contrast with the background threshold color.
Hide or show threshold colors
To hide or show threshold colors without deleting the threshold settings, in the Thresholds section, select the eye icon.