Configure and use a heatmap visualization in Dynatrace
Shows query results as a heatmap.

Select a different metric
By default, this visualization shows the first metric of a multi-metric query.
To select a different metric from a multi-metric query, select the letter next to the metric you want to visualize. In this example, you would change the selection from A (CPU usage %) to B (Memory used %).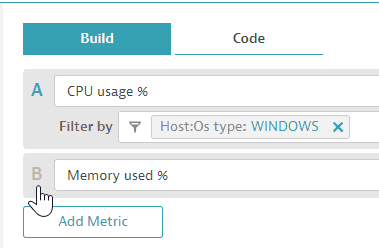 Visual settings
Visualization
You must select Heatmap to display this type of visualization.
Resolution
Resolution is the X axis (time) granularity of the visualization.
To allow the Data explorer to automatically select an appropriate resolution for the selected timeframe, set Resolution to Auto
To specify a certain resolution, select one from the list
Some resolutions are unavailable for some timeframes. If you select an incompatible combination of timeframe and resolution, Dynatrace automatically selects a resolution and displays an explanatory message such as: Auto-resolution applied. Resolution value of [6 hours] applied. Selected timeframe doesn't allow for [5 minutes] resolution. To override auto-resolution, select a different resolution from the list.
Y axis
Whether to show the Y axis by value or split by dimensions.
Buckets
The number of buckets to display on each axis.
The default value for each axis is Auto.
If you change one of the bucket values to a number, you can return it to Auto by clearing the value.
Per-metric visual settings
The Visual settings section also displays visualization options per metric selected for the query.
Rename a metric
You can change the name of a metric as it is displayed on the chart and in the chart legend. The query definition retains the metric's original name.
In the Visual settings section, select for the metric you want to rename.
Edit the name, and then select the checkmark to save the new name.
Change color palette
To change the color palette for a metric, in the Visual settings section, select a new palette from the list.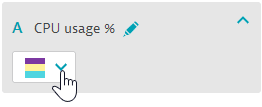 Format
Use the Format setting to configure the number of decimal places displayed for the selected metric.
None = No formatting
Auto = Dynatrace selects an appropriate format
Other selections specify the number of decimal places to display: 0, 0.0, 0.00, 0.000
For example, where None would display 5.062357754177517 %, Auto would display 5.06 %.